More stuff that Sessions/Horowitz/Huber have known for almost a year can now be made public by letting this guy testify to Congress, so they may now know it too:
hotair.com/archives/2018/…
Of course, what most media people haven't figured out yet, is that this is headed straight towards both Pientka's and Strzok's 302 interview forms being changed after the fact to justify a criminal charge of perjury being made against General Flynn.
At some point in his interview, I'm sure
@GenFlynn
alluded to the fact his phone calls with Kislyak were monitored & recorded & TRANSCRIPTS of the conversations were part of that selfsame intelligence report that were leaked to Ignatius of the Washington Post.
That has been kept strictly under wraps by the media until now, because the narrative started by Ignatius in WaPo was that NOBODY knew exactly what Flynn & Kislyak said to each other & this was precisely WHY Flynn needed to be investigated by the FBI.
In fact, here's a quick summary of events:
1)
somebody leaks parts of a classified intelligence report to Ignatius about Flynn calling Kislyak several times in December 2016.
2)
that leaker VERY CAREFULLY AVOIDS mentioning transcripts of the actual conversations exist
3)
Ignatius is used willingly to get a narrative started: 'OMG FLYNN CALLED THE RUSSIAN AMBASSADOR, THEY TALKED ABOUT OBAMA'S NEW SANCTIONS AGAINST RUSSIA BUT *NOBODY KNOWS* HOW IT WAS DISCUSSED! This Flynn guy needs to be investigated because hey LOGAN ACT & stuff!"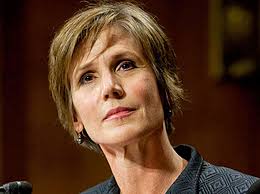 4)
Ignatius' planted story based on a leak done is such a careful way so as to place Flynn under suspicion of having committed a crime appeared on January 12th, the day after Buzzfeed ran the entire Steele Dossier.
5)
Having placed Flynn under suspicion with a carefully crafted strategic leak, the FBI's 7th floor then dispatches 2 agents to interview Flynn about Ignatius' story & get him on the record about these phone calls with Kislyak from late December.
6)
The two FBI agents dispatched to interview Flynn about the phone calls are Joe Pientka and Peter Strzok. They interview Flynn & according to multiple sources, INCLUDING JAMES COMEY & ANDREW MCCABE testifying to Congressional oversight committees, Flynn didn't appear to lie.
7)
Skip forward from the day of the interview, January 24th, 2017, to late October of that year. Mueller makes his first indictments, and when they are unsealed, it's revealed that Gen. Flynn has been indicted for PERJURY for lying during his interview about the Kislyak calls.
8)
On Dec. 1, before presiding Judge Ruldolph Contreras, Flynn pleaded guilty to the charge of lying to both Strzok & Pientka during his interview about the Kislyak phone calls, calls for WHICH TRANSCRIPTS EXIST, which Flynn is fully aware of.
How does Flynn know this?
9)
Well that's easy. It was reported at the time and never mentioned by the media again, so people quickly forgot about.
But I'm not most people & don't forget so here it is: look at the date.
washingtonpost.com/world/national…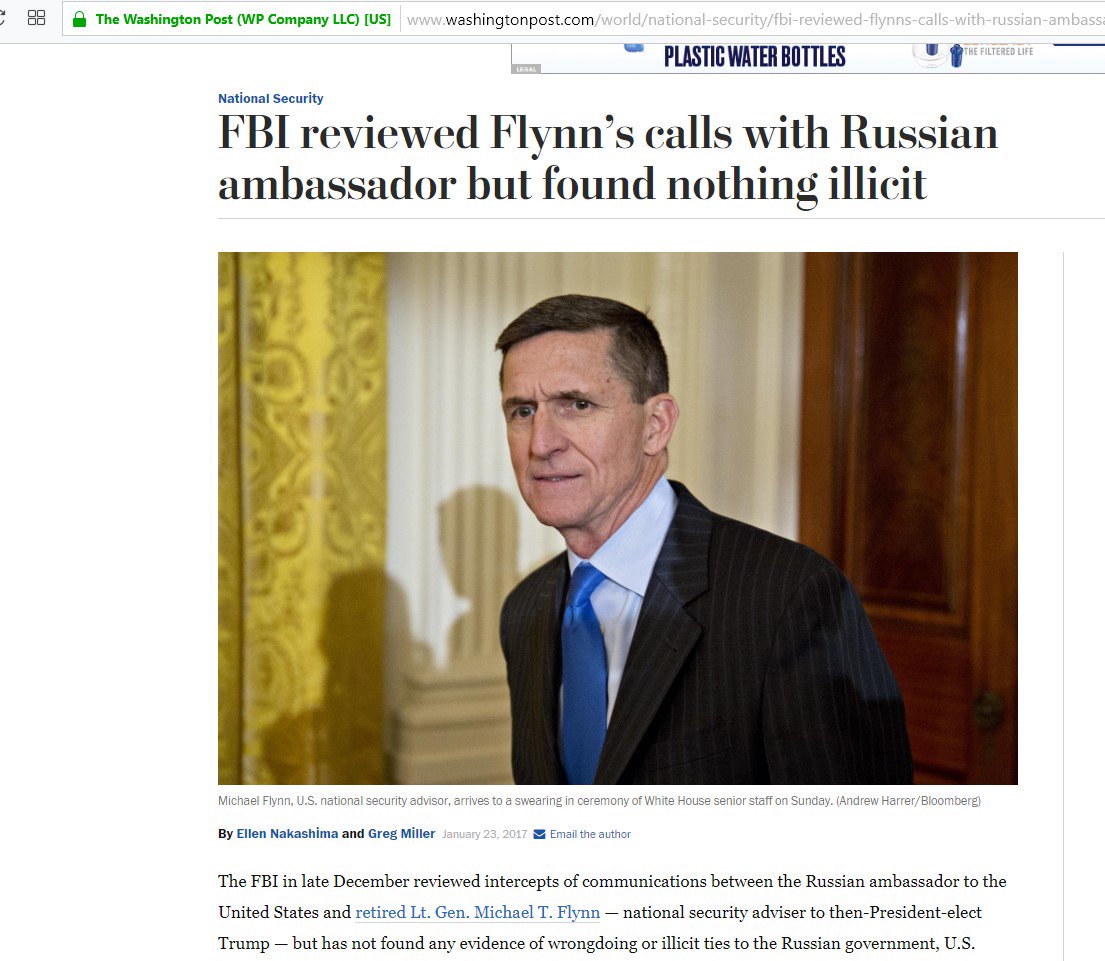 Look at the very first line in the news story:

"The FBI in late December *reviewed intercepts* of communications between the Russian ambassador to the United States and retired Lt. Gen. Michael T. Flynn..."

Wait, what's that? Intercepts, you say? 🤔
10)
So try to grasp this: Michael Flynn just pleaded guilty for lying to 2 FBI agents about what he said to Kislyak during phone calls which were INTERCEPTED & transcribed, where the FBI had originally reviewed those transcripts and then CLEARED HIM OF HAVING DONE ANYTHING WRONG.
11)
What happens immediately AFTER Flynn enters this guilty plea on Dec. 1?
First, the presiding Judge. Ruldoph Contreras, is suddenly removed from the case. The media insists on reporting that he recused HIMSELF, which is not the case.
Somebody YANKED him.
Judge Rudolph Contreras was unceremoniously yanked off the case AFTER the plea had been entered. He was replaced by Judge Emmet Sullivan, who has a long history of going after Fed. prosecutors for Brady violations.
Brady violations = prosecutors HIDE exculpatory evidence.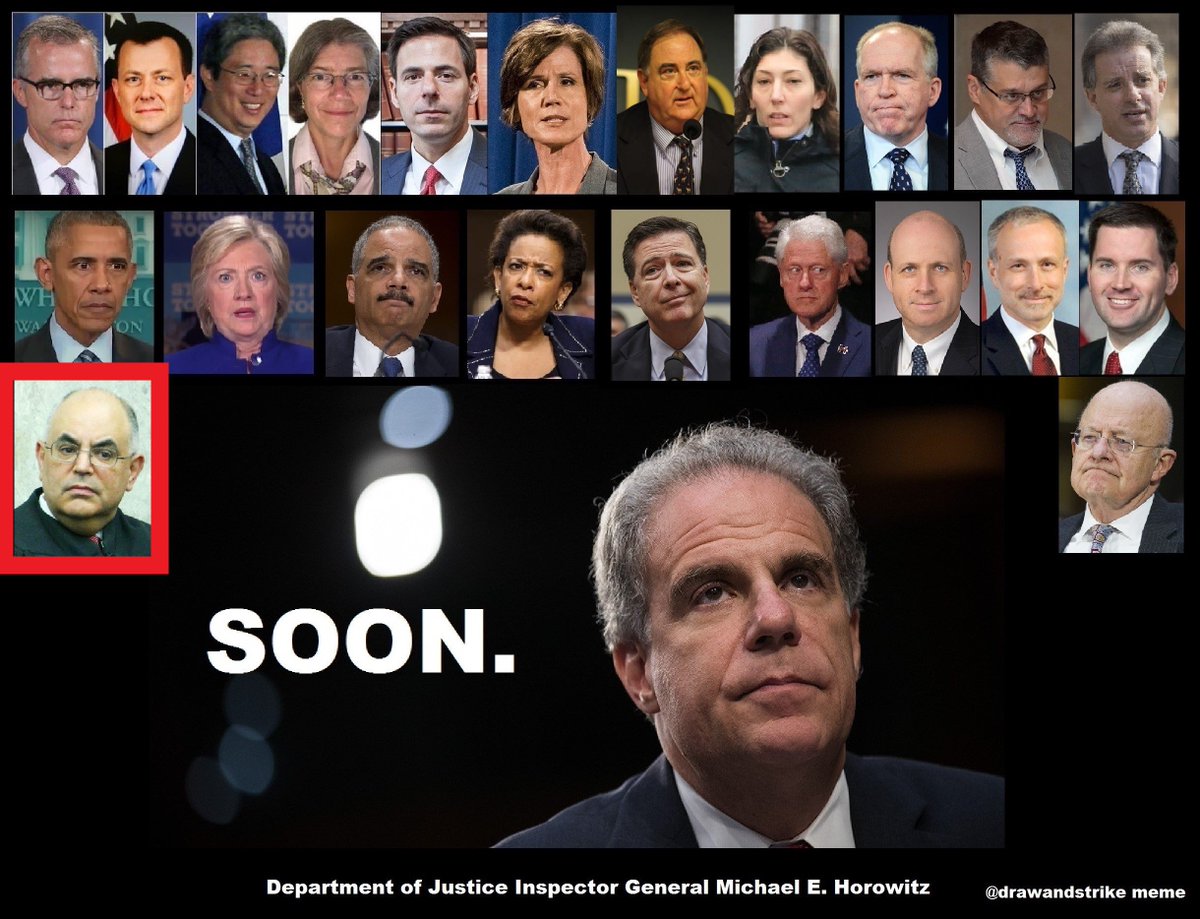 12)
The next thing that happens is that the first batch of Peter Strzok/Lisa Page text messages get released to the media after THIS guy gives them to Congress: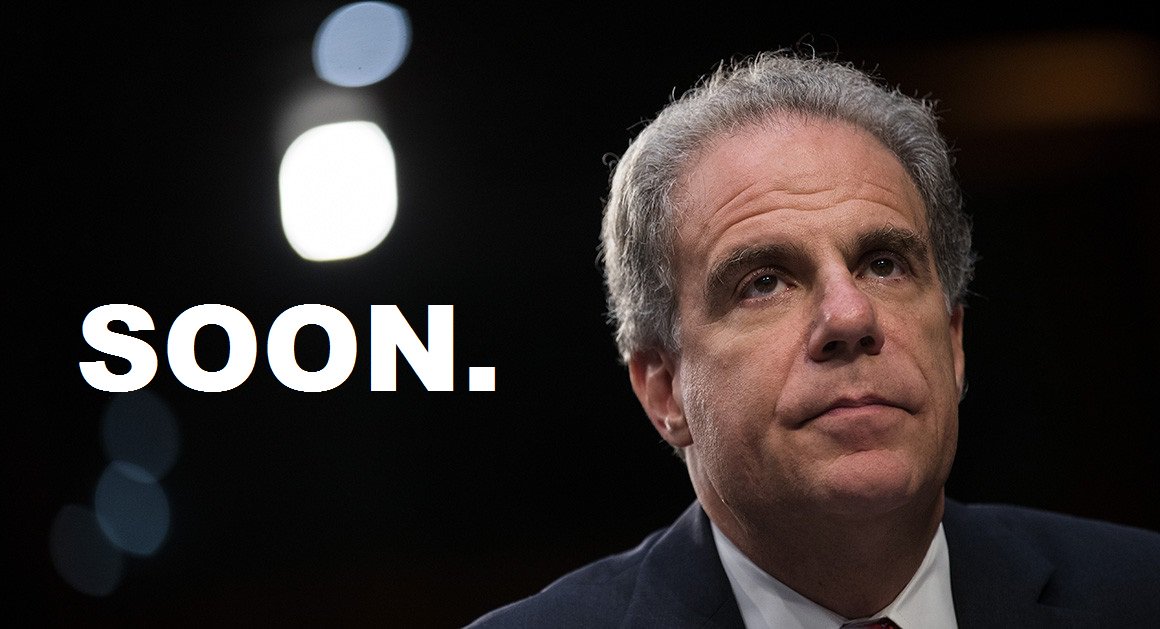 13)
The next thing that happens is that both James Comey and Andrew McCabe are asked about Flynn's Jan. 24, 2017 interview while testifying before Congressional oversight committees. Both men go on the record saying the interviewing FBI agents didn't think Flynn was lying.
14)
After all the evidence starts to come out, suddenly McCabe & Comey REVERSE COURSE & claim Flynn did lie during the interview. Comey especially has been going around claiming he was 'misunderstood' about this.
15)
There is something that can settle the matter. After ever official interview, FBI agents fill out an interview form, which is a LEGAL RECORD, it's called the FD-302.
Both Strzok & Pientka would've filed a FD-302 following the interview with Flynn.
16)
Here's where it gets interesting: once the 302 forms are looked at, & they say Flynn wasn't deceptive OR the agent who filed that form now says it's been CHANGED since he filed it to now say he saw Flynn lying, it's game over for the Flynn prosecution.
17)
You can bet BOTH Pientka & Strzok are eventually going to testify to Congress under oath, just as they have been by Horowitz & John Huber in recent months, & they are going to be presented with their 302 forms from that interview & asked about it.
18)
Because here's what I suspect happened: both agents after the interview stated to superiors Flynn was not deceptive, & filed 302 forms to that effect.
And then SOMEBODY higher up decided make use of this interview to nail Flynn for a bogus crime.
19)
And one of the first things they'd have to do in order to make a frame of Flynn work is get at least 1 of the agents on board with the frame & talk him into altering his 302 form in order to file a perjury charge.
20)
But the problem here is that there were TWO agents at the interview, and it's very likely 1 of them, Pientka, didn't go along with the plot.
It could also be Strzok has been flipped by Horowitz/Huber & states his 302 form says Flynn didn't lie, or he ALTERED IT LATER.
21)
Now Senator Chuck Grassley is requesting to have FBI agent Joe Pientka made available for an on-the-record, transcribed interview where you can be sure he's going to be asked at length about this Jan. 24th interview of Michael Flynn.
22)
And at that interview, Pientka will be shown the FD-302 form and he's going to be asked if it's still accurate.
Recall who it was going all around D.C. in December/January 2017 telling anybody who would listen that Flynn was violating the Logan Act?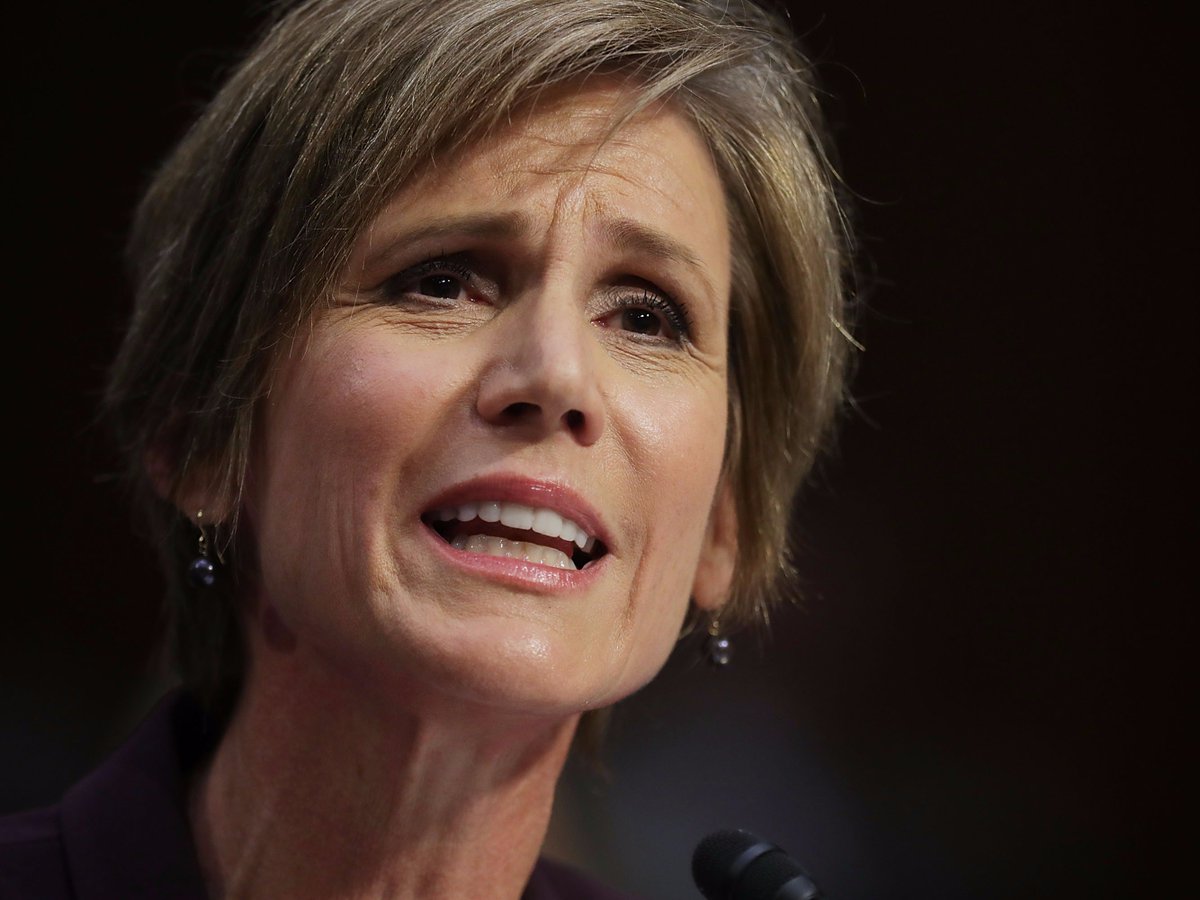 23)
And somebody, we still don't know who 😉 makes a very crafty strategic leak to Ignatius of the Washington Post that placed Flynn under suspicion of having just...what was it? Oh yes....having violated the LOGAN ACT.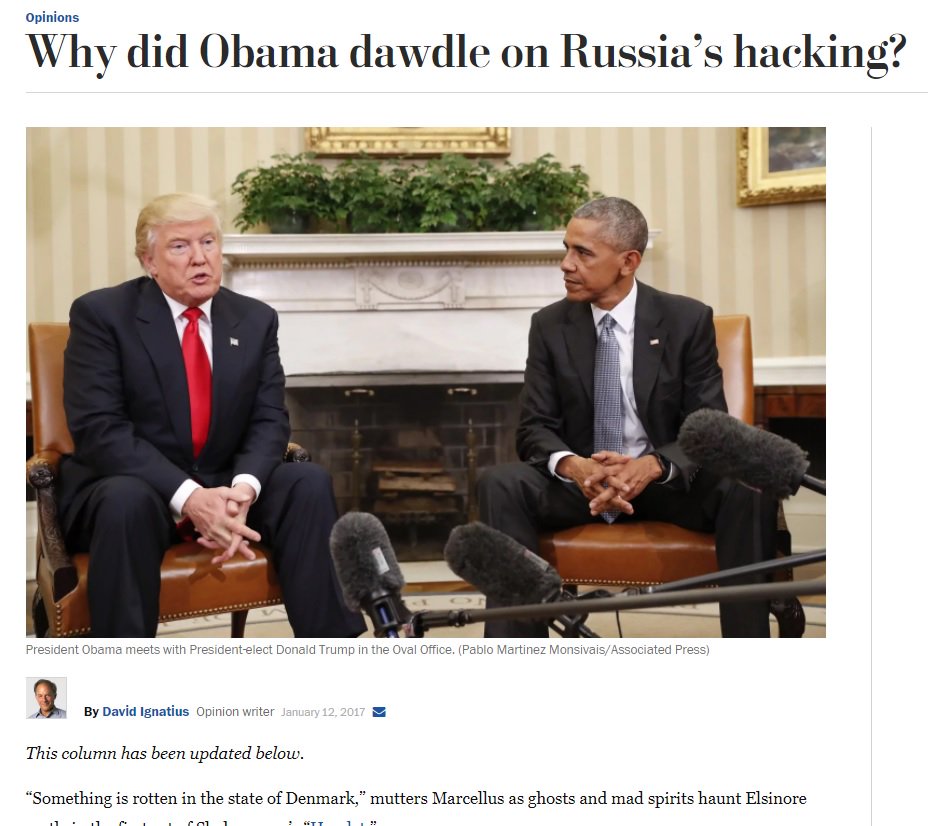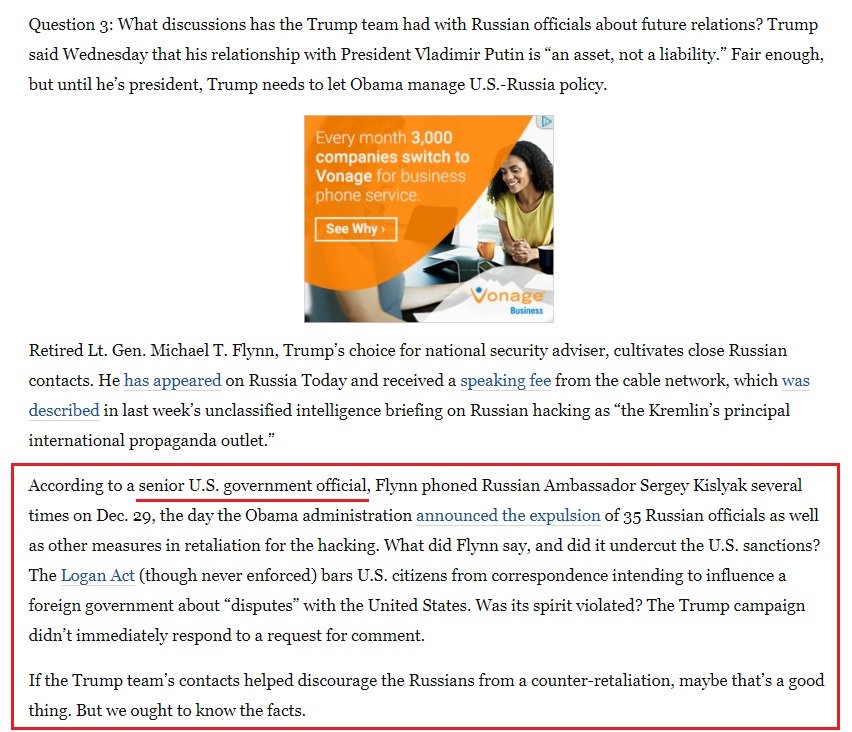 I've been saying for a year: anybody who thought a 33 year intelligence officer who once headed the Defense Intelligence Agency didn't know all phone calls to the Russian ambassador are intercepted & transcribed is a moron.

And the media is full of morons.
There WERE transcripts of Flynn's phone calls to Kislyak, Flynn KNEW this and he KNEW the leaker who came after him in the Washington Post on January 12 in that article by Ignatius was very carefully HIDING that fact.
So here's something ELSE you can expect to see come up in the forthcoming testimony from both Strzok & Pientka before Congressional Oversight committees:

The TRANSCRIPTS of the phone calls.

Yes, they exist. And they are EVIDENCE.
Comey, McCabe & Yates aren't NEARLY as smart or clever as they thought they were.
And the bloodhound is closing in.
/end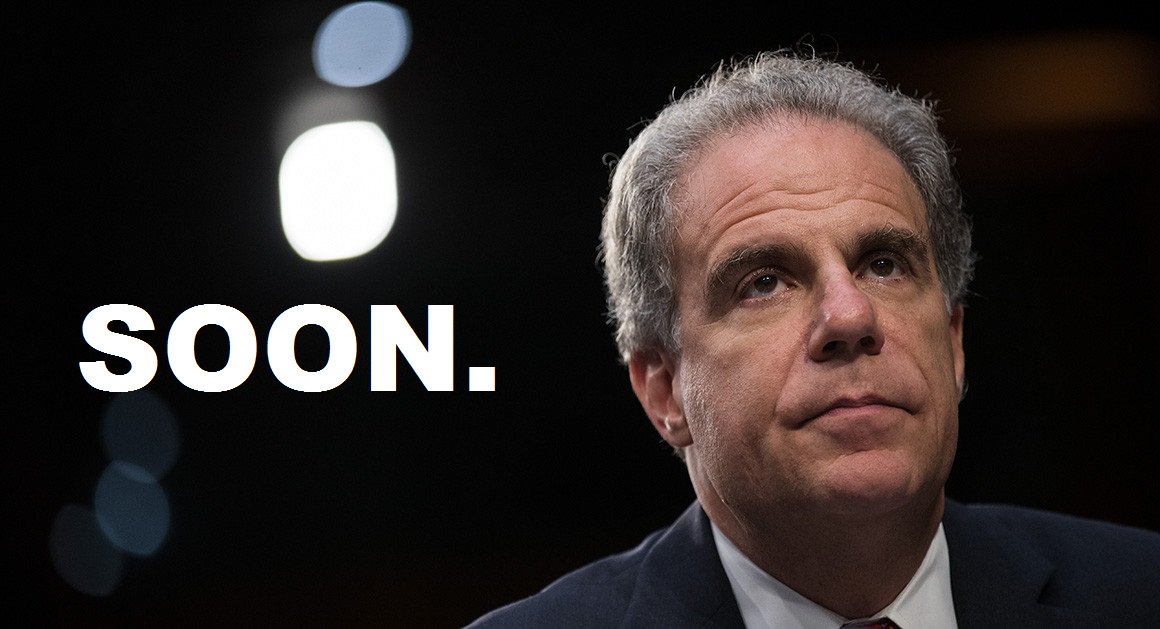 ADDENDUM: You know you are over the target when the gaslighters are out in force already by the time you end the thread.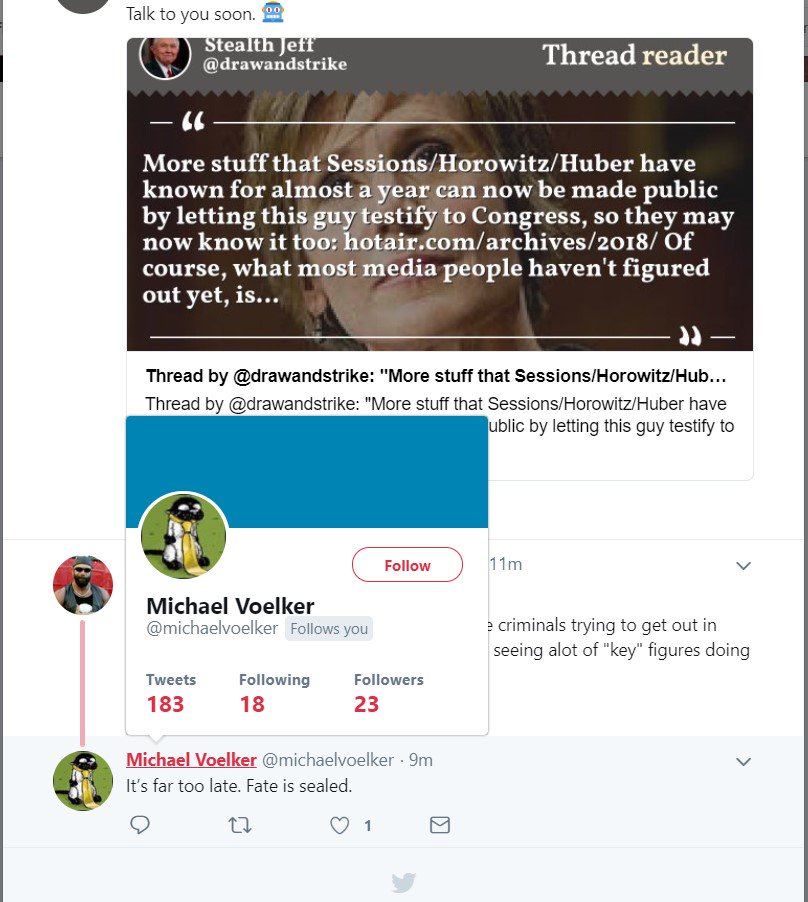 Yes yes, if Flynn presents exculpatory evidence that Mueller's team hid from him and withdraws his guilty plea, he's guilty of NEW CRIME.

You've figured it all out, bro! 🙄

Contreras wasn't yanked off the case & replaced by Sullivan, I fantasized it.


A fine example of 'this is my narrative and I'm stickin' to it!'