How to unroll threads
Method 1: The Bot
Follow Thread Reader App on Twitter so you can easily mention us!
Make sure it's a Twitter thread, not a solo tweet or a reply to a tweet before you unroll anything.

Reply from any of the tweets from the thread mentioning our name @threadreaderapp with a keyword "unroll" (optionally you can also put hashtags to categorize your threads) @threadreaderapp unroll

You can practice here first!

You can also Quote Tweet (or Retweet with comment) "@threadreaderapp unroll" instead of replying to the original author which may clog the reply section. This request will not appear on the author's timeline but on your timeline only.
Method 2: The Website
Go to the website ThreadReaderApp.com
- On the homepage find the search box
- Enter the link of any of the tweet that is part of the thread
- Click on "Find unroll"
Error Messages
"Sorry, we only unroll consecutive tweets from the same author, please reply to one of the main tweets from the thread; not a comment."
We currently don't unroll conversations or only one tweet. Make sure you are unrolling consecutive tweets from the same author.
"Sorry this Tweet is too old, Twitter does not allow to retrieve it."
Twitter's API limits site like ours to retrieve only 3200 tweets from a certain user. So, if somebody tweets 3200 today, the tweet from yesterday will be considered too old. But once it's unrolled, it'll stay as long as it's on Twitter itself.
"Thread Reader is not authorized to see this thread. It is probably a private account."
When someone protects their Tweets and make their Twitter account private, only their current followers will be able to see their Tweets. Thread Reader cannot unroll threads from private Twitter accounts as we cannot see the tweets.
"This thread has been removed from Twitter, or is not a valid Thread URL."
Threads can be deleted by the author, of by Twitter at any time. Since we are in sync with Twitter, anything that is deleted on Twitter will get deleted from our site as well. You can save it as PDF if you'd like to archive it for later use by becoming a Premium member.
"This user is not available on Thread Reader"
This means the Twitter user does not want their threads to be on our site.
Unroll FAQ
What if someone already asked for this unroll?
The bot 🤖 will unroll it anyway, as it is tireless; however, several users requested we prevent redundant unrolls for popular threads. Here's how you can help!
If you see an unroll request, Like it ❤️ or Quote Tweet it 🐦 to move it up ⬆️ and make it more prominent (instead of making your own unroll request)
Follow us on Twitter, so that other folks' unrolled replies appear more prominently for you in the future (like the screenshot above on the right!)
You can also Quote Tweet "@threadreaderapp unroll" instead of replying to the original author which may clog the reply section. This request will not appear on the author's timeline but on your timeline only.
Read more on our thread here!
Does it work for private (or locked/protected) Twitter accounts?
No. In order for the bot to work, the bot must be able to see the Tweets.
The thread (or the PDF) is missing some tweats!
Most likely the thread was unrolled before the whole Twitter thread was created, or the author added a few more Tweets to the thread later on.
You can click the "force a refresh" link at the bottom of the thread.
The refresh takes 2-10 minutes to take effect.
Once you see the thread is updated, you can request for a new PDF archive after 4 hours. This will then get you the updated PDF.
Threads that exceeds 600 tweets may cause errors and cannot be saved as PDF.
I asked for an unroll but didn't get any resonse!
Due to Twitter's API limit, we sometimes need to skip replying to the following cases:
Threads that already had many unroll requests
Old threads (more than 3,200 tweets away)
Solo tweets (not a Twitter thread)
Also, make sure your Twitter profile is public and open to replies as we cannot reply if your account is set to private or inaccessible to replies.
You can also turn on notifications for our Twitter account on desktop and mobile, to make sure that you never miss a tweet. Here's how:
Author FAQ
What are you doing to help Twitter thread authors?
We want to help authors reach a bigger audience by making it easier for people to share thier contents on other social networks, blogs, messengers or emails as Twitter threads tend to be confusing for non-Twitter users (it often only shows the first tweet, or it starts in the middle and hard to find where the thread starts.)
We also have the following feature for free to help authors spread their work:
Free PDF archives of their own threads
Publish threads on their own blogs using Micropub
Authors can access all these features by creating a free account with us using Twitter login then go to My Authored Threads page.
We also honor authors' decision to not show ads on thier threads on our site. You can set this on the Settings page after logging into our site using Twitter login.
Is Thread Reader stealing other people's content?
The simple answer is NO.
When all of us sign up on Twitter, we are authorizing Twitter to make our content available to not just Twitter, but to the entire Twitter network.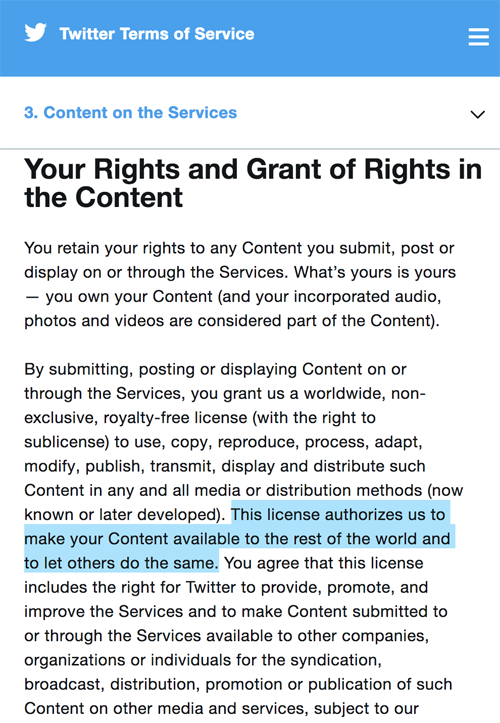 From Twitter's Terms of Service: "This license authorizes Twitter to make your Content available to the rest of the world and to let others do the same."
You can read the complete Twitter's Terms of Use here
This means our content is available not just on the Twitter website, or the Twitter mobile App, but also embedded tweets on many news websites, blogs, etc.
It also means you can access Twitter content (as many of us do) from literally hundreds of third-party clients such as @Twitterrific, @Tweetbot, @Hootsuite, etc.
Each successful app shows Twitter content in a special way that some users prefer. @ThreadReaderApp is no different. We use Twitter APIs (app programming interfaces), and comply with Twitter terms just as every other Twitter app.
Why do you have ads and Premium features?
You must know that Thread Reader is not a startup. It's just two indie developers working very hard to make it happen. Everyday we are working on this project, doing marketing, support and development. We don't have any external funding on purpose.
Even if we're passionate about what we're doing, in the end if we don't get any money to live, we'll have to get back to a more classic desk job.
We also want to stay as independent as possible.
Thread Reader is already bound to Twitter through their Terms of Service – and somehow through some of their obscure developer rules – but we don't want to depend on any other entity/person that could decide who and what can be published on the website.
You may think that it doesn't cost much to run a site like this? But you're mistaken.
Let's run the numbers: a good full stack developer is paid $150,000/y+, a normal Startup probably has 4 engineers: that's $600,000/y. Add some support and marketing people and you're close to $800,000/y in labor costs. On the technical side we'd like to keep it simple but still: sending emails (like subscriptions alerts) costs $1,000/y, hosting and bandwidth is cheap but still adds up $5,000/y. Even Twitter API is going to be paying at some point. Plus you need a bunch of other services like security audit, backups, software licences, etc. probably another $10,000/y.
That means we'd be close to $1,000,000/y to make this profitable not even talking about taxes. We can assure you, We don't even make close to that!
That said, we do honor authors' decision to not show ads on thier threads on our site for free if authors wish to do so. This can be set on the Settings page after logging into our site using Twitter login.
How do I block Thread Reader from unrolling my threads?
Authors can remove all past and future content in a very easy and straightforward way. You only have to mention the bot @ThreadReaderApp with the keyword: BLOCK ME (case is important) using the account you want to be removed from the site.
That would be: @ThreadReaderApp BLOCK ME That's it.
For future thread, we check if authors have explicitly blocked us and do not unroll their threads. For past threads, we remove all the content immediately from our server, but it may take up to 24 hours to be deleted from all internet caching. (We use Cloudflare, excellent service!)
Please note that other Twitter users can still try to unroll your threads by mentioning our name with a keyword "unroll." We will reply saying the author does not want their content on our site.
Do you save content forever?
Thread Reader does not save the content forever, it is forbidden by Twitter term of service.
I want to remove certain threads from Thread Reader or I need to report a thread that should be removed
Multiple times per day, the service will sync with Twitter and update existing threads so they stay up to date. Anything deleted on Twitter gets deleted on our site. Also the bot will remove blocked/suspended accounts as well as deleted threads. We basically let Twitter handle the moderation.
Free Features
You can have a free account on ThreadReaderApp using Twitter login or by email.
Connection via email works without a password: Simply enter your email address and you will receive an email with a connection link. That link stays valid until you request for another one. Keep that link private.
Requesting for another connection link will not disconnect you from other places, so feel free to ask multiple links (but remember only the last one will connect you).
My Threads
On My Threads you can save all the threads such as
Unrolls you asked on Twitter (Twitter Connect only)
Unrolls from the authors you added on "My Authors"
Bookmarked threads
Unrolls you "liked" on Twitter. Read more here. (Twitter Connect only)
You can also categorize threads by hashtags (Twitter login only) by putting any hashtags at the time of unrolling threads on Twitter. More info on this thread!
Bookmark a thread
You can save a thread to read for later by bookmarking it. Simply click on the button "Bookmark" on the threads's page on the top, and it'll be listed both on the homepage and on your account page.
Like a thread (Twitter Connect only)
You can save a thread by liking our reply to somebody else's unroll request on Twitter. Read more here.
Dark Mode
You can view our site in Dark mode with a free membership! We already support dark mode based on your device's system settings but this is a great feature if you don't have that option or if you'd like to override that setting by site.
Free Features for Authors
Are you the author of Twitter threads? We have the following feature for free to help you spread your work:
Free PDF archives of your own threads
Publish threads on your own blog using Micropub (here's a tutorial)
Authors can access all these features by creating a free account with us. In order for us to know which threads you authored, make sure you use Twitter login instead of email login to our site to access these features. After logging in, you can access these features from My Authored Threads page.
Premium Features
Thread Reader comes with multiple advanced features that are available for Premium user. Take some time to read below how you can benefit from these.
PDF Archives
Content can be removed from Twitter (and so from Thread Reader) at anytime for many reasons.
Thread Reader App allows you to ask for a PDF archive on any given Thread.
These PDF are very well formatted and ready to be to archived or printed. It has all the links and text saved in a nice looking page without any extra noise.
This is a Premium feature, with Premium you will have access to unlimited archiving.
See example here:
Auto-Save PDF to Google Drive or Dropbox
You can automatically save your PDF archives to Google Drive or Dropbox!
It's super easy to link your Google Drive or Dropbox with our service, simply go to My Archives page, click on the button "Auto-save to Google Drive or Dropbox" located on the top right, and connect with Google Drive or Dropbox. You will then be asked to authorize ThreadReaderApp. Once successfully connected, you can test it and we will send you the latest PDF you have to your cloud.
For Google Drive, when the permissions screen is shown, make sure to check the "See, edit, create and delete only the specific Google Drive files you use with this app" checkbox. This may not be checked by default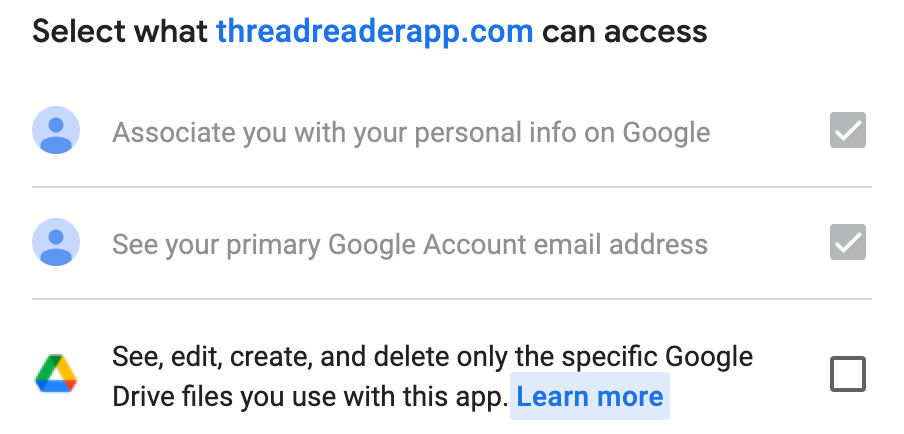 We also support Webhooks if you'd like to use other cloud services.
Please note that this only works for newly created PDF so make sure you download all the already created PDF to your local drive.
Send Free PDFs to friends!
Once you become a Premium member, you can email PDFs for free to your friends directly from our site! Just go to My Archives and click on the icon next to the PDF you'd like to send and enter your friend's email address. Your friend does NOT need to have an account with us!
My Authors
You can add your favorite author to "My Authors" and you will get an email when new threads are unrolled on Thread Reader.
You can add any author to "My Authors", the option is found on each thread page or author page: simply click on the + My Authors button and login with Twitter to confirm. Be sure to double check your email in the Setting section of your account.
Then in your account you can manage all your authors and delete in one click.
For each new thread unrolled you will get an email and your account will be updated with the new unroll in My Threads section.
Auto-Save to PDF
You can automatically save all the threads (>4 tweets) of your favorite authors to PDF archives! Just toggle the switch on the authors to activate.
No Ads
When you support Thread Reader with a Premium membership, no Ads will be displayed on the website. This will make the experience faster and will prevent tracking.
Be sure to be logged in to benefit from this.
Refund
If you were charged but don't want to remain Premium, you can contact by email at hello@threadreaderapp.com For an yearly subscription, in your first month, we will refund you without any condition.
When you get your Premium membership, a receipt is sent by Stripe or PayPal to your email address. We do NOT offer invoices for businesses as Thread Reader App is NOT a B2B product but a product for people (B2C).
Cancel Your Premium Subscription
Go to your Settings page to view your subscription details, including your subscription plan, expiration date, and payment information.
If you subscribed with a credit card, you can cancel your subscription on that page. You can update your credit card information from there too.
For subscriptions purchased through PayPal and do the following steps:
Log in to your PayPal account.
Click Profile at the top of the page.
Click My Money then click Update beside My preapproved payments to find your payment.
Select the payment, and then click Cancel.
Close Your Account
You can cancel your membership on your Settings page. (Premium members, please email us at hello@threadreaderapp.com)
Progressive Web App (PWA)
We don't have a native app like the ones you download from Apple's App Store or Google's Playstore but we have PWA (Progressive Web App) that acts and behaves almost the same as native apps! Here's how to install:
Desktop
Open Thread Reader App on Google Chrome.
Click on the download icon that appears in the address bar on the right and click Install
Android
Open Thread Reader App on Google Chrome.
Tap Settings (Top right corner) on Chrome
Slide down and tap "Add to Home Screen."
iPhone/iPad
Open Thread Reader App on Safari.
Then tap the 'Share' button, scroll down and tap 'Add to Home Screen.'
Something is not working!
If you find any other bugs or glitch, please let us know by email at hello@threadreaderapp.com (send us a screenshot if possible) and we'll do our best to help you and fix the bug.