A) One year ago today my Trump photo was released. I have planned on doing this thread for a while but the fact that Sarah Sanders brought my name up at the podium today makes it even more appropriate for me to share some thoughts on what happened.
Hope you'll take a look....
B) I am in a position of tremendous privilege. I have access to resources that allowed me to deal with this in a way others who aren't as privileged couldn't have. And that's exactly why I'm speaking out, I don't want this to happen to someone who doesn't have my resources.
C) I get asked a lot by people what the point of the Trump mask photo was...I've answered the question in interviews but the answer has gotten lost in the mix. The image was inspired by Trump's sexist comments to Don Lemon about Megyn Kelly from the 2015 campaign.
D) So the mask photo was meant to be a play on those sexist comments about Megyn.."blood coming out of her eyes, blood coming out of her wherever.." FYI, I am no Megyn Kelly fan, she has made horrible racist remarks, but there's no doubt Trump's comments about her were sexist
E) The photo shoot for the Trump mask photo was actually for new photographs for my tour/headshots etc. We decided to do the Trump mask shot at the last minute. My assistant went out and bought a $10 dollar halloween mask and ketchup...that's it. This wasn't some elaborate setup
F) Did I know the photo would cause controversy? Of course..but I thought it would be a one or two day thing. My point was to do something provocative in an attempt to keep the spotlight shining on his sexism. In my mind that's the role that comics are supposed to play...
G) Our job is to shine a bright light on issues people are afraid to talk about, speak truth to power, push boundaries, take risks, and by being provocative...force people to pay attention to important issues. And yes..we often do that through humor but provocation is also a tool
H) Trump's sexism during the campaign and before he ran for office were no secret, but by May last year I was nervous that all of the Russia stuff and the chaos Trump was causing was taking the focus off what his misogyny. I felt it was important to make a big bold statement
I) Two things in hindsight. The point was sending a message about his sexism "blood out of her eyes..." - not about an image of a head (or in this case a mask), so I would have probably done a blowup doll instead of a mask. That wouldn't have pleased Trump but wouldn't have
J) Allowed the message I was pushing for to get totally co-opted. The second thing I would have done was handle the release differently. The photographer asked me when he should put it out and I told him to do it when he felt best. Not releasing the image with context
K) And the fact that it ended up on TMZ totally allowed for my intended messaging to get lost in the mix. I was honestly hoping for something along the lines of this Der Spiegel cover...I never intended the photo to end up on a gossip site first.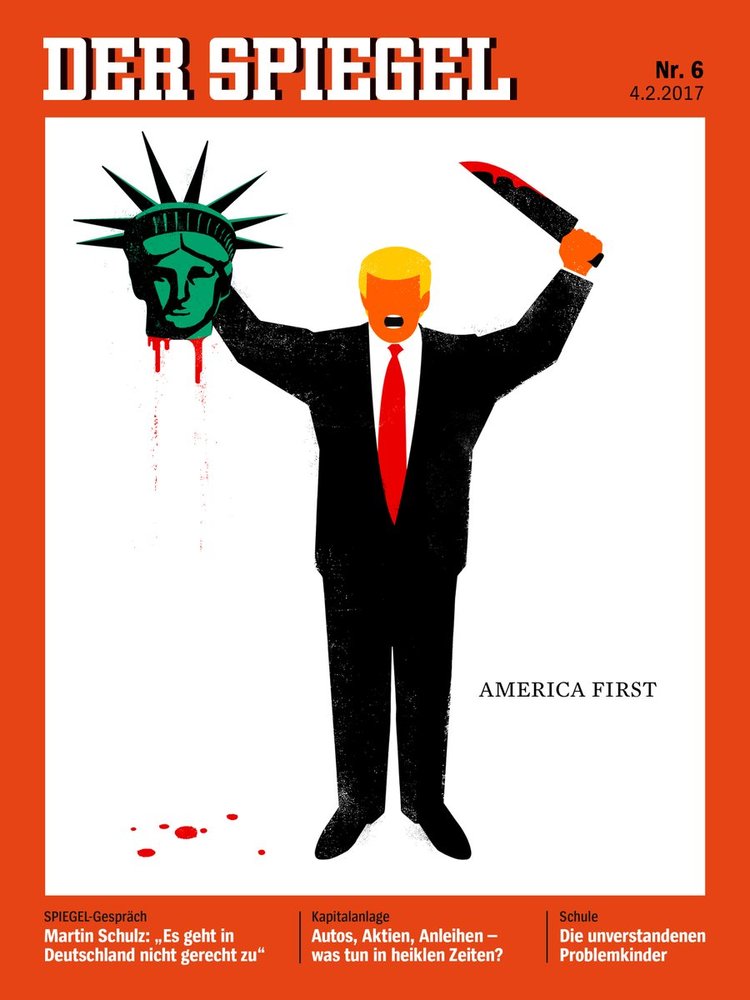 L) As most of you know when TMZ put up the photo the sh*t hit the fan. Death threats started flowing in...critical tweets from Democrats/progressives...nasty tweets from Republicans. The night the photo came out I got an urgent call from Rosie O'Donnell.
M) First thing Rosie said to me was "what if Daniel Pearl's mother sees this?" Call me naive, but I had not thought of that connection. Rosie told me I should delete the photo/video and apologize. For the first time in my career as a comic, that's what I did.
N) My video apology, specifically when I said "I'm just now seeing the reaction to these images..." was in reference to anyone who has dealt with what Daniel Pearl's family did. After I posted the apology, things did start to calm down..until the next morning..
O) As I said earlier in this thread, I'm in a position of privilege and I take responsibility for what I do and say. But I'm a comic...my job is to push the line.
@JimCarrey
explained it best two days after my Trump photo came out.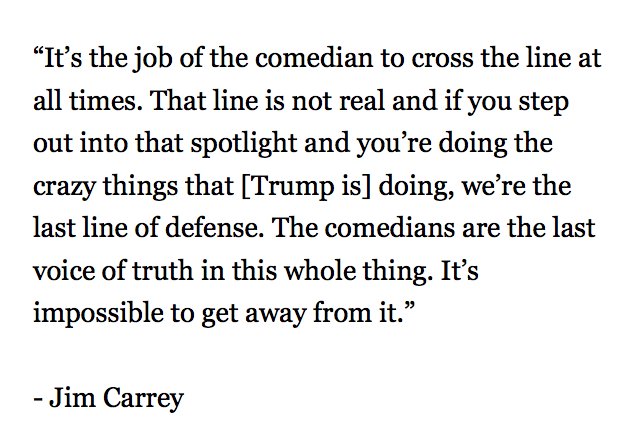 P) After my apology video, things started to calm down..but the next morning...Trump tweeted this which started a process I was completely naive to which I like to call the Trump wood chipper.
Q) I learned that day the power of the presidency and the power of the Trump machine. Immediately the death threats started pouring in again but more violent and serious than the previous night. The news networks broke into their programming to put his tweet up.
R) The way I like to look at it is Trump is the most powerful news director and campaign director. A tweet from Obama was just a message..a tweet from Trump is an order to his millions of followers and the news media. And that day I was the target of that order.
S) People will say to me "well you started it, he was just responding.." Ok...I was a comic/citizen responding to the President. I was punching up...he decided to punch down and use his following to go after me. Was that appropriate use of presidential power? I don't think so.
T) Next, Melania Trump released this statement. Again, using the power of the White House to punch down. I believe this is the first time a First Lady has used her platform to question the mental health of a citizen. The White House freaks out when reporters do this to Trump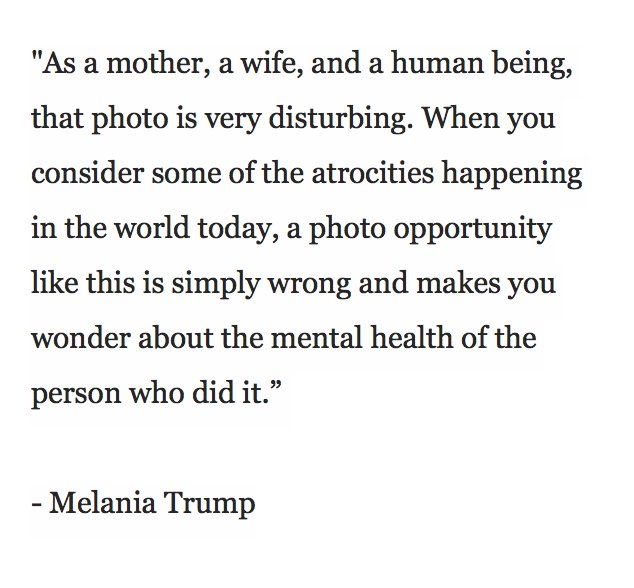 U) I have the first amendment right to put out these images. People may not come to my shows, they may not buy my books, but I have the right. It was just plain wrong for the President of the United States to use his power to come after me or anyone else he is offended by.
V) No other president in modern times has used his power this way and that's why I keep speaking out about this. I don't want this to happen to others and while it doesn't always make for uplifting interviews - I'm not going to stop shining a bright light on this.
W) By this point with POTUS and FLOTUS weighing in the death threats were coming in at a rate we couldn't keep up with. The FBI told me that there were real credible threats against my life. I had to hire security, people were calling my poor 97-year-old mom threatening her.
X) Again, after I posted that apology video things were calming down, Trump reignited all of it. It was terrifying. In the midst of all this, bomb threats were being called into my shows that had already been scheduled. I later learned the bomb threats were robo calls.
Y) Venues started to cancel my shows. I don't blame them, they were getting bomb threats and threats from donors about pulling funding. I bring this up though to point out a key fact...my shows weren't cancelled because ticket holders..my fans..wanted their money back.
Z) The shows were cancelled because the President of the United States and his family were offended by an image I released and decided to unleash an army on me. That's what's not right..that's what I object to. I'm an adult, I can deal with fallout..I've dealt with it before..
AA) But no one should use their power to do this to another citizen, in particular no President should do this. As my shows were getting cancelled, the president's second favorite website TMZ started to post my show cancellations live.
thedailybeast.com/tmz-goes-maga-…
BB) This led to the perception that there was a movement against me, not just of Trump supporters but that everyone was against me. People don't take the time, and I don't blame them, to learn and realize my show cancellations were because of organized/fake bomb threats.
CC) I could sell a lot more tour tickets if I just stopped talking about all of this and focused on telling jokes about the Kardashians. But I feel a responsibility to keep talking about this abuse of power because one day it's not going to be a famous comic that deals with this
DD) It's going to be your daughter or son, your sister or brother, who says something that the president, his family, and their administration find offensive and will have their lives ruined.
EE) Then, Don Jr made this statement to Good Morning America. I remember when he did because its when everything got worse. A key line in bold below explains why...remember I was getting death threats, tons of fallout and he gave permission to his dad's followers to keep going.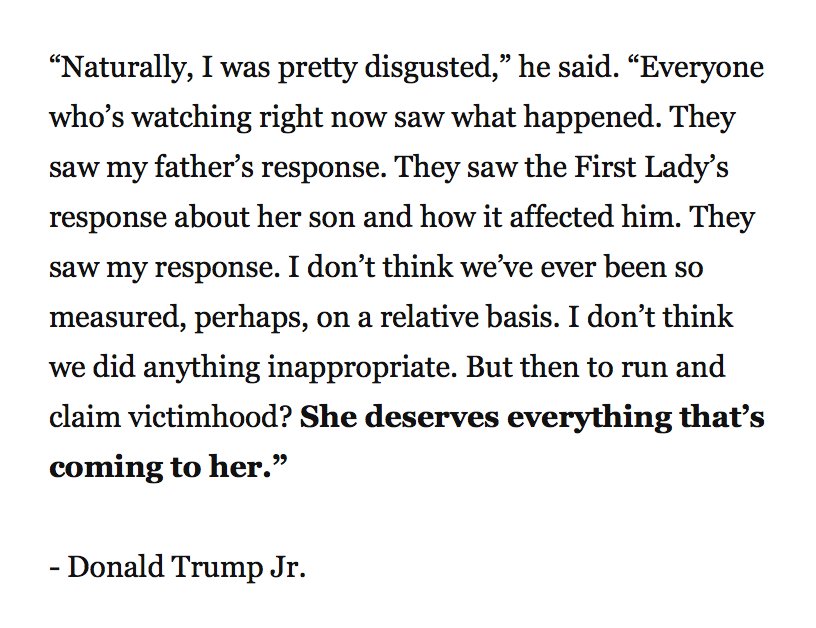 FF) I couldn't get a crisis manager or publicist at the time to take me on (it's not lost on me that Harvey Weinstein never had a problem getting anyone to work with him). Lisa Bloom was willing to help so I gladly accepted her advice and signed the check.
GG) Lisa wanted to do a press conference the next day. Every single one of my friends was against this. I was hearing from so many people that told me not to do it. By then it had been scheduled and I thought if I cancelled it, it would make things worse. I was wrong.
HH) As many of you know, the press conference was a total disaster. It only made things worse. I said something in that press conference that people keep quoting over and over.."he broke me." I want to be clear about something..he did..for two days.
II) People have assumed that for the past year I've been sitting in a state of brokenness. I haven't. I've been working my ass off, doing a lot of writing, pitching, I did my world tour and now i'm in Canada before coming back to the US for my stateside tour.
JJ) A day or two after the photo came out, the Secret Service and US Attorney contacted my lawyer saying they wanted to talk to me. Now I get it, the Secret Service has to look into everything along these lines. I thought it was going to be a quick call and it would be done.
KK) That wasn't the case, it wasn't a quick call to smack my hand. They kept the investigation open for two months. Remember in all this I'm no stranger. I'm a famous comic. No rational person can think that I pose a serious threat to the president. I would have understood a call
LL) But keeping an investigation open for two months and hauling me in (which they did) for an interview over a photo of me, 110 pound Kathy Griffin, holding a halloween mask with ketchup is nothing less than an attempt to intimidate. I've spoken with former Secret Service
MM) And they were surprised to learn how long the investigation was open and what they made me go through because while I have what they call "the means and opportunity.." I didn't have the intent. No rational person thought I did. They thought my photo was offensive not serious.
NN) Finally, after two months, the investigation closed. By this point I was left with no US touring opportunities, no TV, 99 percent of the entertainment business thought I was kryptonite. Again, I was in a position of privilege but what if I weren't? Meanwhile...
OO) Male celebrities who had made statements or put out images that were considered offensive by the Trump crew didn't face any impact. Johnny Depp, Snoop Dogg...they went right back to work. I can't see anything but sexism in that.
PP) Because I couldn't tour in the US and wasn't getting any TV gigs, I setup a world tour in 15 countries. Overseas, audiences accepted and understood what I was trying to do with that image. And of course they hated Trump. But in every airport I was detained when I landed
QQ) And made to go through a second layer of vetting that no one else was. Again, the power of a presidency put into action. The words of the president and the platform he has hold significant weight.
RR) After my world tour I came back to the US still kryptonite. People in entertainment who regularly rail against Trump still thought I was kryptonite. I finally realized I just had to go back on tour myself..I couldn't wait for them or seek permission.
SS) I setup a few dates, including Carnegie Hall which sold out in a day, and was so touched and moved by the reaction from my fans.
TT) I added another 20 or so cities to my tour and hope it does well but it's no guarantee. And I hope to have a regular presence on TV again. For years I've made hundreds of millions of dollars for show promoters and tv networks. I've sold over 1.2 million tickets for my shows
UU) I've won two Emmys and a Grammy. I have a supportive and amazing fan base but there is a cloud over everything because of Trump's actions. And that's why I'll keep returning to my main point...we can't let this happen again. We just can't.
VV) Trump didn't win in the long run. I won't let him. I have scraped my way back into touring and I will keep pushing and I won't give up. But i know I'm in a special position...Trump's abuse of power keeps getting worse and worse. What's next?
WW) Many people didn't know what I was going through in the past year, they assumed I was off enjoying myself and taking time off or that I was broken. They didn't realize the abuse of power stuff fully until I started talking about it. My wonderful friend
@DebraMessing
told me
XX) That she didn't realize until she read this article in
@NYMag
what happened. My point is we need to keep track of when Trump goes after people. Don't just react at the moment, make sure people are ok days, months later.
thecut.com/2017/08/kathy-…
ZZ) The only way to deal with a presidency that abuses power and is authoritarian in nature is to make sure that we back up those that the administration has tried to knock down. It's exhausting but so important if we have any hope of preserving our democracy. Thank you. xoxo KG