In today's edition of the Caucasity that Indigenous people face,
@RealNealTapio
calls for an end to Reservations because of "incest and molestation leading to welfare dependency, despair and high suicide rates". 😒😒😒😒😒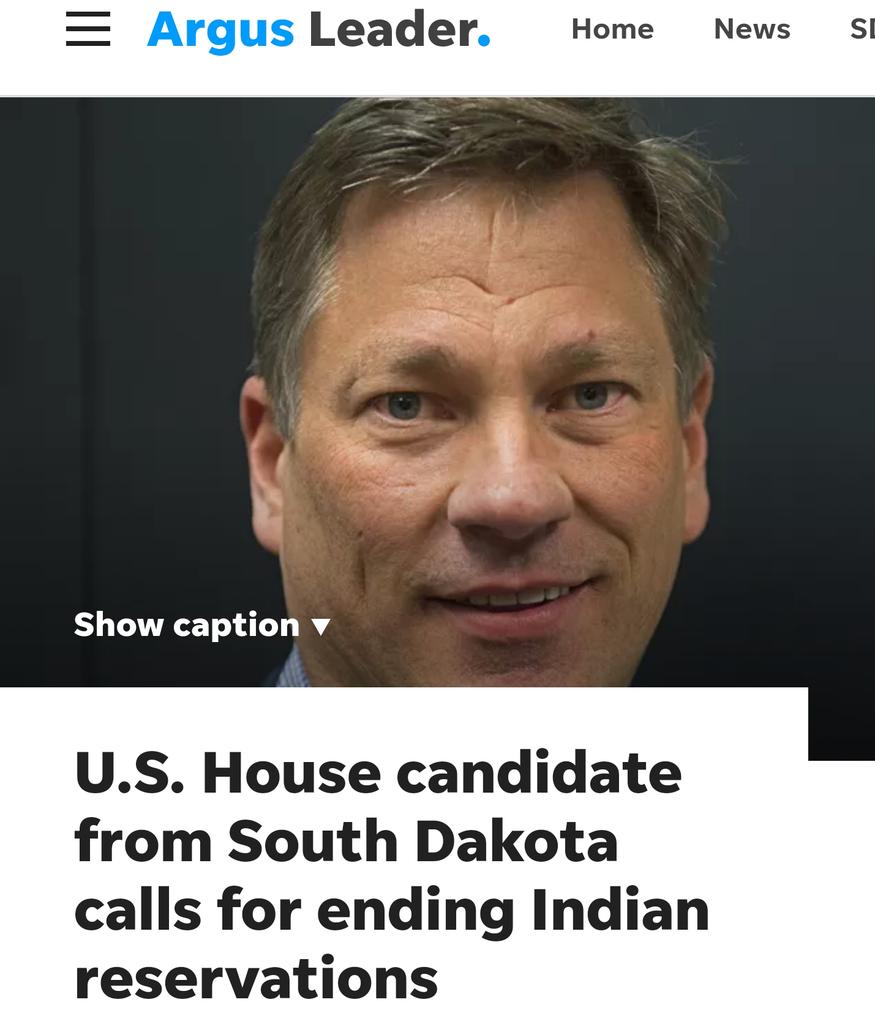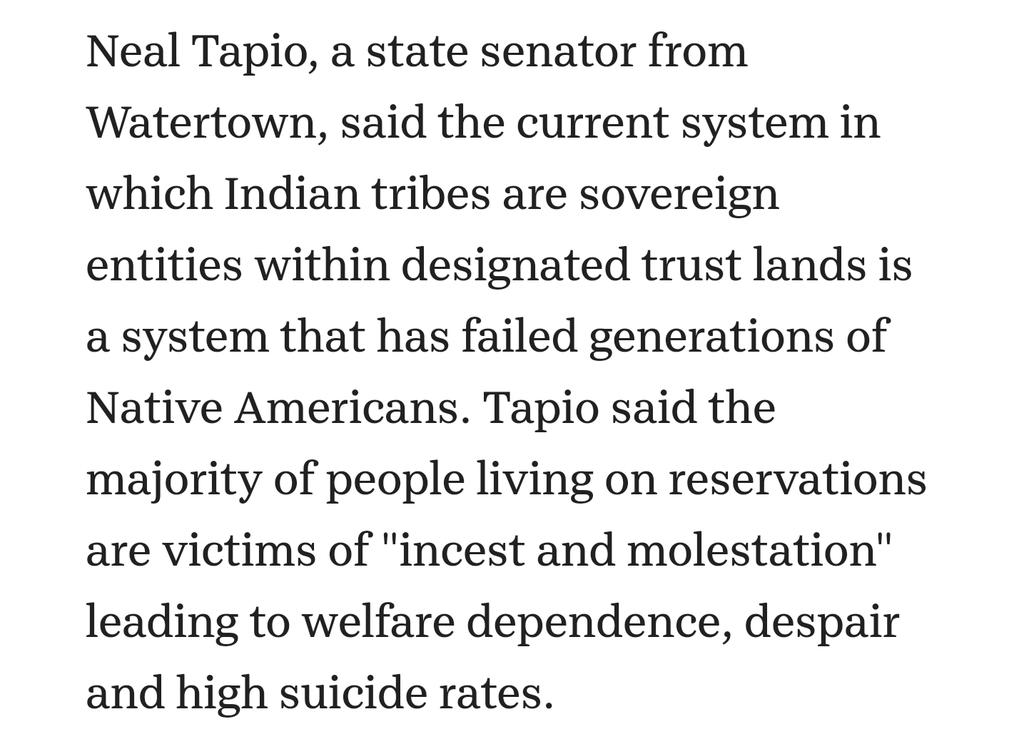 Let's talk about this because the termination policies that Indigenous people have always faced are no longer covert or subtle moves being made by the U.S.
The survival of Indigenous people, despite the maximum efforts of the United States government to eliminate us, will always be the greatest failure of this country because this land is still ours, we have not been vanquished and WE ARE STILL HERE.
With the tremendous progress that we have made as Indigenous Nations in developing our economies, in gaining political power and the power to represent ourselves and our communities, we are a threat to the "American Exceptionalism" that the U.S. so desperately wants to portray
Especially now, when
@realDonaldTrump
and his MAGA cronies are so desperately trying to tip the scales back in favor of white supremacy, when they are so desperately trying to gain control of what lands we have left to exploit their resources...to exploit our people.
The renewed efforts under
@realDonaldTrump
's regime to terminate us through policy are not surprising since it's no longer acceptable to slaughter us, put bounties on our heads so once again Non-Natives could make a good living hunting, killing & mutilating us & selling our skins
Although I wouldn't put it past them to try. That being said let's talk about Reservations.
Reservations despite popular beliefs were not reparations, not welfare, or gifts. They were prisons meant to contain the "Indian problem", to starve us out and hopefully be mass graveyards for the vanquished Indians.
Because In 1887, the US Congress passed the Dawes Act and this ended the reservation system and authorized the federal confiscation and redistribution of reservation lands.
The Dawes Act was passed as an attempy to destroy our tribal governance and assimilate us into mainstream US society, it was meant as a means to replace our communal values with the values of white settlers, values centered on individuals rather than community.
This began the era of tribal lands being divided up into individual land allotments that often required Natives who accepted them to live away from their tribe. Natives who accepted these land allotments were also granted U.S. citizenship.
Now this act didn't extend to the 5 Civilized tribes who were exempt due to the treaties that they had established with U.S. prior to the Dawes act which is why the Dawes commission was established in 1893..they desperately wanted their lands.
The establishment of the Dawes commisson also gave way to the Dawes Rolls.
Now, because they wanted the lands of the 5 Civilized Tribes known as Indian Territory for what is now Oklahoma, the Curtis Act passed in 1898 amended the Dawes Act. p
And it took assimilation efforts to a whole new level because the Curtis act required complete abolition of tribal governments & tribal courts, allotment of communal lands to people "registered" as tribal members, and sale of lands declared surplus.
The complete dissoluton of tribal land titles and the governments of the 5 Civilized Tribes gave way the land known as Indian Territory to join the union as the state of Oklahoma.
Now, let's look at the impact of what this act actually did. The Five Civilized Tribes lost 90 MILLION acres of land that was sold to Non-Naties, they didn't see any of the profits and many were given land allotments that were too small and the land not workable for farming.
Now as if this fuckery wasn't enough, in 1906 the Burke Act aka the Forced Fee Patenting Act was passed and amended the Dawes Act to require the government to assess whether individuals were "competent and capable" before giving them fee simple patents to their allotted land.
Take a guess about how that worked out for Natives.
Especially because another added provision was that Natives NOT be granted citizenship until the final validation of trust patents and AFTER a probationary period of 25 years because U.S. believed that we were "Not Prepared" to be U.S. citizens.
After WW1, Natives who served were granted citizenship but US citizenship was extemded to the rest of our Native peoples until 1924 and only because it would have been an embarrassment for the U.S given the # of Natives in the military, their role in winning crucial battles
and not to mention the 25 MILLION dollars that Native Nations rounded up to buy war bonds that helped keep this Nation afloat..which equaled to about $75 per Native because at this time there were just under 350,000 Natives still alive in U.S.
In 1934, 10 years after Natives were granted U.S. citizenship, The Indian Reorganization Act or the Wheeler-Howard Act was passed and this was monumental in many ways although it didn't extend to Hawaii and Oklahoma and Alaska had to be included in another law.
The IRA's goal was "to conserve/develop Indian lands & resources; to extend the right to form business and, other organizations; to establish a credit system; to grant certain rights of home rule to Indians; to provide for vocational education for Indians; and for other purposes.
Essentially, the Indian Reorganization Act restored our right to self-governance, our sovereignty although again this was not without provisions as the BIA retained its power to oversee our tribes and lands.
Now, I know it's a lot of history but I want you and
@RealNealTapio
to understamd that the "Reservation system" has already been eradicated, what we have today is not a "Reservation system".
While certain lands are protected as Reservations, while we call these communities the Rez.....what we have today are Sovereign Nations residing on what homelands they have left, on what lands they have been able to reclaim.
Now that you have an idea of what reservations are and how they came about, let's talk about the conditions in many of our Native communities known as Reservations.
Talking about the rez is always a catch-22 for Natives because there ARE horrific conditions that exist and that is all that anyone sees, all that anyone wants to hear about because it reinforces the idea that we are vanquished, that we need to be assimilated, ruled over
They see the conditions that exist as our fault, as a reflection of who we are because it is easier than to see these conditions for what they really are....a reflection of complicity, violence, and the real values and foundation of the United States.
Horrific conditions exist.....poverty, alcoholism, substance abuse, paracolonial diseases(diabetes, RA, lupus, cancer), suicide, mental illnesses, corruption, etc. No Native has ever denied these conditions exist or tried to sweep them under the rug.
We talk about these issues because it is a matter of life and death for us, it is necessary for us effectively advocate for our communities, against policies that allow and worsen these conditions
and these conditions have nothing to do with who we are as Indigenous people or our communities because these conditions are the result of the U.S.'s termination policies, of broken treaties and responsibilities to the citizens of this Nation.
I say citizens of this Nation because these conditions do NOT just exist within Reservations, these issues do NOT just affect Natives yet somehow they have become synonymous with our identities as Native people.
This is why it's such a catch-22 for us to speak about conditions in reservation communities. We're less than 2% of the entire U.S. population, the only interaction or reference to Natives that folx have are through racist Native mascots, Hollywood NDN tropes, Whitewashed History
and when we speak about the conditions in reservation communities, non-natives pounce and showcase those conditions as means to reinforce the negative stereotypes and miseducation that they've been exposed to in order to justify the genocide and oppression of Native peoples.
They ignore the fact that all of the people in these communities continue to survive despite all the obstacles and policies that keep our communities in these conditions, that keep us lacking basic necessities like clean water
Our communities don't need to be dismantled, our lands don't need to be seized.....We need for the treaties to be honored, we need the resources to address the conditions in our communities, more importantly we need for the U.S. and non-native society to recognize our humanity