Amrou Al-Kadhi defends PRH's new diversity policy by appealing to aesthetic relativism — no such thing as literary merit, therefore publishers should judge manuscripts according to whether they promote inclusion.
independent.co.uk/voices/penguin…
His critique of literary merit will be familiar to anyone who has been exposed to the neo-Marxist, post-modernist ideology that's all-pervasive in higher education across the Western world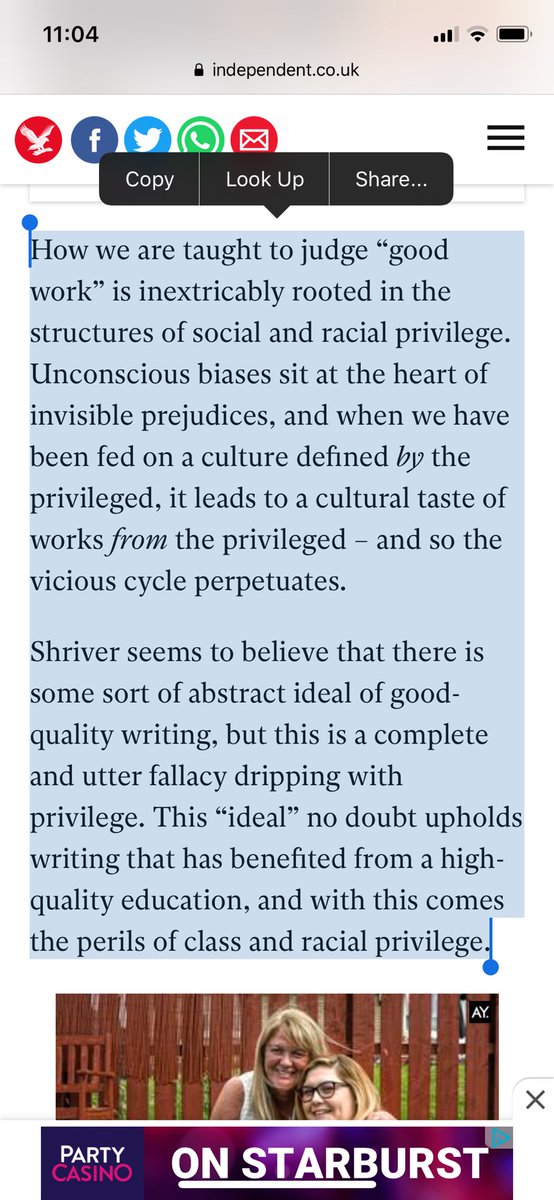 Multiple problems with that critique. Evidence that "unconscious bias" exists and operates in the way he describes is threadbare at best. See this comprehensive debunking by David French in the National Review
nationalreview.com/2017/01/implic…
If the concept of a "good book" that infuses the Western canon leads to a "culturally unconscious bias towards writers from privileged backgrounds" how do you account for the inclusion in that canon of so many writers from under-privileged backgrounds, starting with Shakespeare?
Defenders of literary merit, like me, believe great books transcend boundaries of class, race, gender, sexual orientation, etc. and speak to our universal humanity. That's why they appeal across those boundaries and across time. That's truly 'inclusive'.
Because literary merit is genuinely inclusive, writers of all different classes, races, genders, sexual orientations, etc. can possess it, as they have done for more than 2,000 years.
To argue that if publishers judge books according to literary merit alone then the overwhelming majority of books that will be published henceforth will be by white, hetero-normative males is to do writers who don't fall into that category a disservice.
On the contrary, if we continue to judge books according to their literary merit, authors that aren't posh, white, male, etc. will continue to be published, and in even greater numbers, because they're just as good as their posh, white, male counterparts.
I'm not denying the existence of privilege or prejudice, but the way to prevent them distorting what books are published is to create a truly level playing field, not tilt the field in favour of authors who aren't posh, white, male, etc.
And, contra neo-Marxist, post-modernist dogma, we've made huge strides in levelling that playing field over the last 50 years. How can I possibly say that, given that I'm a privileged white male? Because that's what the evidence tells us.
28% of all Oxford students, including graduate students and those born overseas, are BME. If you just look at British-domiciled undergraduates, it's 18% — exactly the same as the percentage of BME 17-21-year-olds in England and Wales.
If you look at international comparisons — ie hard data, as opposed to progressive groupthink — Britain is among the *least* racist countries in the world
washingtonpost.com/news/worldview…
Britain has never been more tolerant of homosexuality than it is now. A National Survey of Sexual Attitudes and Lifestyles in 1990 found that 46% of white respondents aged 16-24 thought same sex relationships were wrong. In 2010, that number had fallen to just 12%.
People of colour, women, LGBTQ+, etc. have never had more opportunities in Britain than they do at present. Still some way to go, but solution is more equality of opportunity — better state schools — not diversity quotas.
No need to lower the bar to ensure applicants who aren't white, hetero-normative males get into top universities or get jobs in the professions. They're perfectly able to do secure those benefits on merit alone.
And no need to abandon literary standards to ensure minority authors get published in ever greater numbers. They're eminently capable of getting published on literary merit alone. To argue otherwise is not 'progressive'. It's condescending and insulting. //