A) I've been warning about the dangers of TMZ with respect to what they cover, don't cover, and how they frame "news". Now they're trying to mess with my friend
@LisaLampanelli
and just like my support of
@iamsambee
, I'm not going to allow TMZ to do to Lisa what they did to me.
B) Last weekend Lisa did a gig in San Jose and dealt with a heckler which is typical. The guy kept interrupting her act and when she confronted him and said he was getting thrown out (with a refund) he tried to give her $100 to shut up. So this jerk is at her show, ruining it..
C) For people who paid good money to see Lisa and then has the audacity to tell her to shut up. So Lisa, doing what she does best, goes off on him. It's something she always does with hecklers. Someone sent a tape of it to TMZ and this is how they framed it: "Nuclear Meltdown"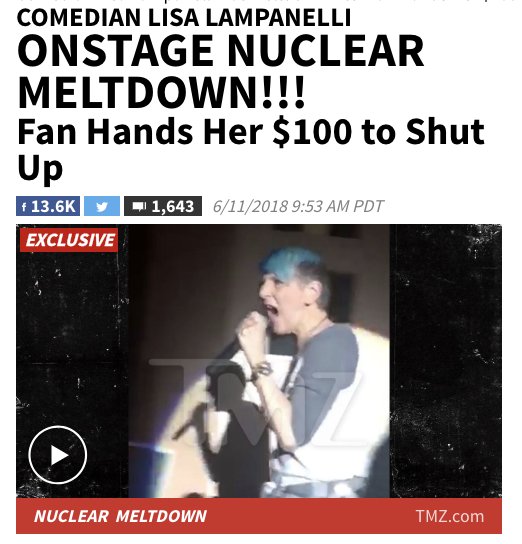 D) Lisa is standing up for herself and her fans and she's treated, by TMZ, like a crazy woman. She didn't go after the guy unprompted - he went after her. They have "Nuclear Meltdown" on top and in the description of the video.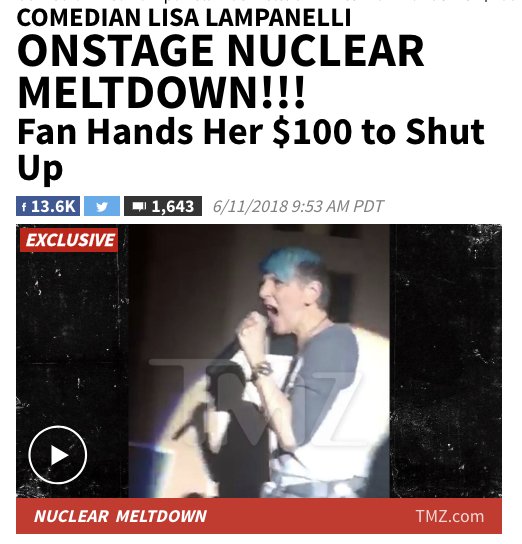 E) Women already have to deal with being seen as crazy and TMZ has taken a moment that was not Lisa's doing and turned it against her. Watch the video they posted. Really important to watch/listen because Lisa does nothing out of the ordinary (for her). This clip isn't newsworthy
F) Lisa is famously, and proudly, an insult comic. She wasn't using the "N" Word like Michael Richards. She wasn't insulting a child. She was doing what she always does and TMZ thinks this is worthy of an "Exclusive"? This is a meltdown? This is what she does all the time!
G) But what TMZ is counting on is that most people won't read past the headline. What they're counting on is for people who ARE NOT
@LisaLampanelli
fans, and thus aren't aware of her comedic style, to watch and think she's nuts. Look at Lisa take on a heckler a few years ago...
H) There are tons of clips like the one above on Youtube but the framing of TMZ's headline/story make it seem like this is a one-off..unique...that she's on the decline..that she's not doing well. Lisa has been doing this for 30 years!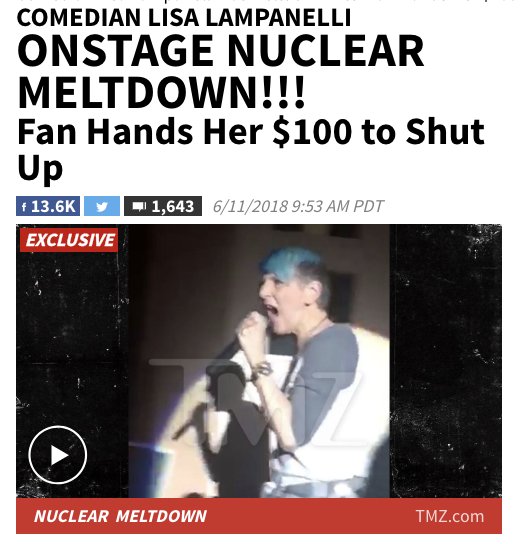 I) Lisa is 56..already a difficult time for women comics (trust me, I know). And now, even though she's been doing this for years, she has to respond to news stories (from Fox News to USA Today) about her "nuclear meltdown".
J) This is what TMZ does to women and people of color. They take normal incidents and they elevate them to scandal. They take scandalous incidents and turn them into career ending incidents (what they tried to do to me). And then even after the story does damage..they keep going.
K) The day after the "nuclear meltdown" story, TMZ approaches
@JamieKennedy
to ask him what he thinks of Lisa's "nuclear meltdown." What does Jamie have to do with this? (This isn't attacking Jamie). But here's the thing, look how they frame Jamie's reaction..
L) "Jamie Kennedy Jaw Literally Drops After Watching Lisa Lampanelli's Meltdown" - and in the description of the video they add "Pure astonishment." So given the way they framed it you'd think that Jamie thought Lisa was some sort of whack job, right?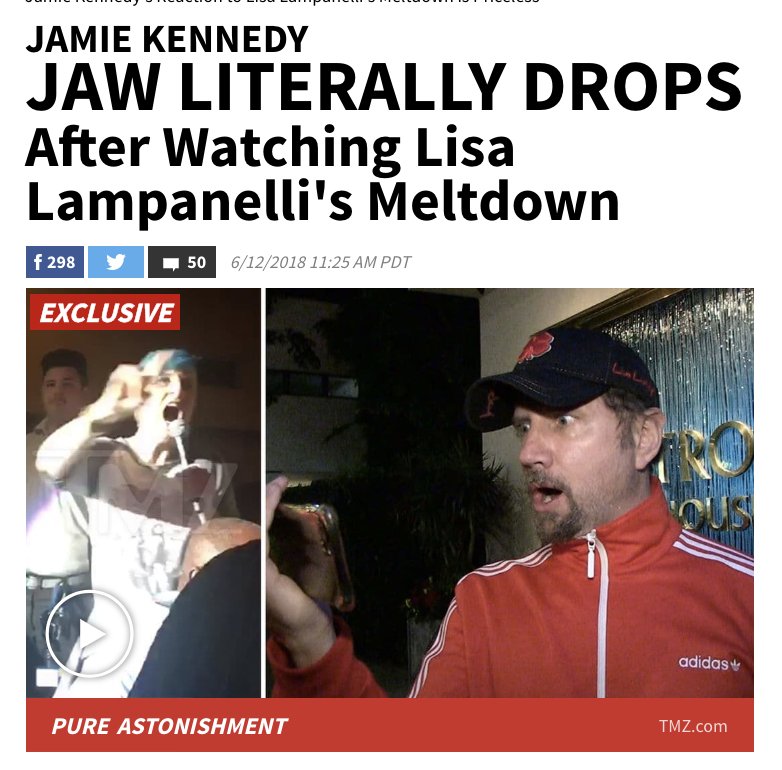 M) Nope.
@JamieKennedy
had a perfectly appropriate reaction: the heckler was a jerk and Lisa destroyed him. Again, most people don't read headlines so they're never going to know that Jamie supported Lisa..TMZ is banking on this. The outrage machine feeds them money.
N) Tabloids have been pulling this crap for years but there's a difference in the new media world. TMZ has the power to destroy lives and careers and they tend to pull punches when it comes to bad people and punch when it comes to good people.
O) Read this important
@LachCartwright
story about how TMZ has protected Trump repeatedly over the past few years. TMZ pays cash for tips - ever wonder why they haven't broken any big Trump stories? This story explains it all.
thedailybeast.com/tmz-goes-maga-…
P) And now with the ATT/Time Warner merger approved, there are reports that TMZ is going to be sold off by ATT. While TMZ has done dangerous things, they've been held back somewhat by TW..what's TMZ going to look like when it's private hands? I suspect it's going to be much worse
Q) What kills me is, Lisa had to go on TMZ to explain what happened at her San Jose show. This happens all the time at her shows and she has to explain to people who are trying to frame her in the most sexist way why she stood up to a heckler?
R) This stuff tends to stick to women our age and I wrote this thread to stand up for my friend
@LisaLampanelli
and also to continue to warn everyone about the dangers of TMZ. There's no way I'm letting them do this again.