Imagine you're living in a perfect VR simulation.
(This isn't a simulation universe thought experiment, I promise.)
Everything is running perfectly smoothly; there's absolutely no way to know it's a simulation because everything that would be happening in reality happens here.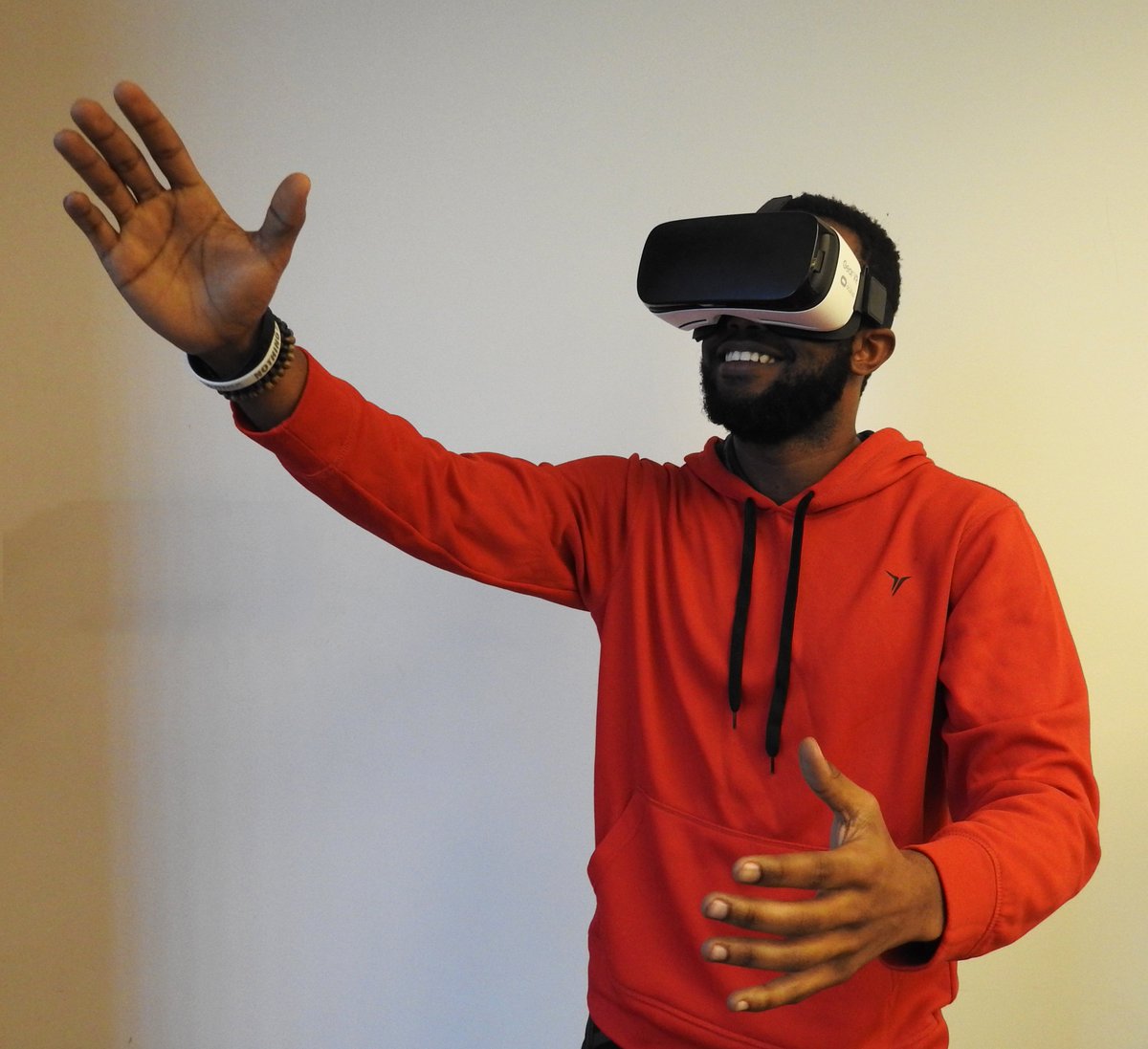 As the person inside the VR experience, there's zero reason to even think about being in VR. It's a perfect experience. It's a 1:1 ratio.

What happens in the world is what you would be experiencing, virtually.

That is, until there's a glitch.
SIDENOTE: If you're a fan of the Matrix, like I am, this is the perfect opportunity to bring up the deja vu cat.
(If you have no clue what I'm talking about, it's highly likely we aren't friends, and if you'd like to be, you should watch the movie.)
Back to the idea.

You'd never know you're living a VR experience until the system has a hiccup of some sort. Whatever was supposed to happen *doesn't* happen.

It would be as though something just violated the universal laws of physics.
Maybe something fails to drop to the floor. Maybe something winks out of existence. Maybe something inexplicably changed from one thing into another. Maybe two solid objects passed right through one another without incident.
Now, here's an interesting question.

Where has this been happening, already, for thousands of years?

(There's a simple answer, and I'll wait for you to think of it just long enough for me to write my next tweet.)
Give up?
.
.
.
.
.
.
.
.
.
MAGIC SHOWS!

That's it! Magicians have been doing exactly this thing for thousands of years!

How? They were the very first people to understand we never live 100% in reality. We live in our IDEA of what we EXPECT reality to be.
This is a POWERFUL distinction.

We live in the universe of our expectations. For the most part this works perfectly.

Until it doesn't.

Early magicians had an intuition that this was the process, because without it, humans couldn't experience "magic" in the first place!
Humans would always have a 100% accurate view of what is happening, and react accordingly. There would be no mistakes, no misjudgements, no cognitive errors; nothing.

But. . . . we have all of those (and more).
That's why it's so difficult to know where our thinking is going wrong. As a colleague of mine is known to say:

"You can't see the whole picture when you're standing in the frame."

It is very difficult to see outside the context of your own experience.
Notice I said "very difficult." Not impossible.

How do you do it?

Talk to people. READ.

Communication allows you a window into other worlds. They challenge the assumptions you're not even aware of having!

This process is essential if you want to be successful in any way.
Geniuses wake up to this fact early on, and work diligently to challenge their minds so they can discover what they think they know that just ain't so.

Low quality minds are only interested in reinforcing their ideas.

HUGE lesson there.
Disproving your bedrock assumptions is uncomfortable. It's disorienting. It's not fun.

But to succeed it's necessary.

And the fastest path to recognizing your assumptions is to talk to someone like me. Hell. TALK TO ME!

That's why I wrote a whole book about this stuff!
I've dedicated my whole life to "seeing through assumptions" and helping people wake up to the beliefs that are holding them back from what they want.

Until you've had it all go wrong, you can live your entire life not understanding what's actually at play.
That's what's so insidious about this problem: most people never wake up to it. They happily live in their VR simulation of what they THINK life should be, without ever ONCE opening their eyes to the real beauty that surrounds us.
To me, it's the most important problem to work on because it affects every single other area of life.

It is THE fundamental issue.

So. Take off your mental VR goggles. Have the courage to face reality. Embrace the discomfort of realizing you've been living a simulation.
If you're tired of living the same problems over and over and over again, now's the time to deal with the truth of the matter.
Where do you start?
Well, glad you asked. I would humbly suggest you get a copy of my book that deals exactly with this stuff.
thinklikeamindreader.com
It's available in paperback on Amazon, and there's a video course to accompany it. They reinforce each other, but do not depend on previous knowledge of one or the other.

But I'd suggest you get both. Not just because it gets me paid (took a lot more to produce these than $$$).
I would suggest both because it will help you get a high resolution image of your problems. It will fill in the details you might miss while reading or watching.

The more avenues you can explore an idea the better 'map' you'll have of it; you'll be able to read & watch.
So click over, visit the site, and I can even send you the first chapter to read to see if it resonates.

My hunch is, if you've made it this far into the thread, I'm pretty sure it will.

So.

Change your mind, change your life.

Let me show you where to start.
If this tweaked your mind at all, and gave you something to think about, I'd invite you to retweet the first post in the thread. Chances are pretty good that your followers might appreciate the mental exercise too.

It helps me reach new folks & helps you by providing cool stuff!
Plus, it helps your followers by exposing them to new/interesting ideas.

The mythical WIN-WIN-WIN situation!

Finally: Thanks for being along for the ride. I genuinely appreciate getting to share my thoughts with you.

See you next thread.