1.
Finally got around to finishing Stuart Reges's piece on the gender gap in compsci/tech. Can't say I'm surprised about the uproar around it but it's unfortunate. This all makes perfect sense to me.
3.
I failed the first programming class I ever took though remained interested in tech. Never got past low level tech support & writing documentation. I switched into administrative work and the highest paying job I ever had was as an office manager at a software company.
4.
I had higher verbal scores than math but I was interested in computers and the Internet and if I had applied myself, I could probably have been a sysadmin. It wasn't for lack of trying on the part of the men & boys who mentored me in college.
5.
One mentor, a thesis committee member and the head of our networking dept, told me he almost offered me a job as one even though I was totally unqualified, but he sensed that I needed to get out of town and thought that if he'd offered, I would have felt obligated to accept.
6.
He was right. I still managed to find my way into tech after moving to Boston, but something I finally realized a while ago when I was unfulfilled working in tech is that just because you're good at something, doesn't mean you have to or should be doing it.
7.
I am really good at herding nerds, streamlining processes, and general office management. I'm pretty decent at tech support and teaching tech to beginners. But at the end of the day if there's no joy in that work, why do it?
8.
Most of the men I've known have found far more joy in programming & tinkering w/ hardware than most of the women I've known. Most women's eyes glaze over when people start talking tech. Obviously this isn't all women, but the ones who find joy in tech work are in the minority.
9.
I'm told that I'm really good at listening even when the talk has gone beyond my understanding which is probably why I did so well herding nerds.
11.
I think it's possible that if they drastically rethink how tech companies/jobs are structured (as
@JamesADamore
suggested in the Google memo was needed) then they might be able to retain more of the women who are leaving but it's hard to say.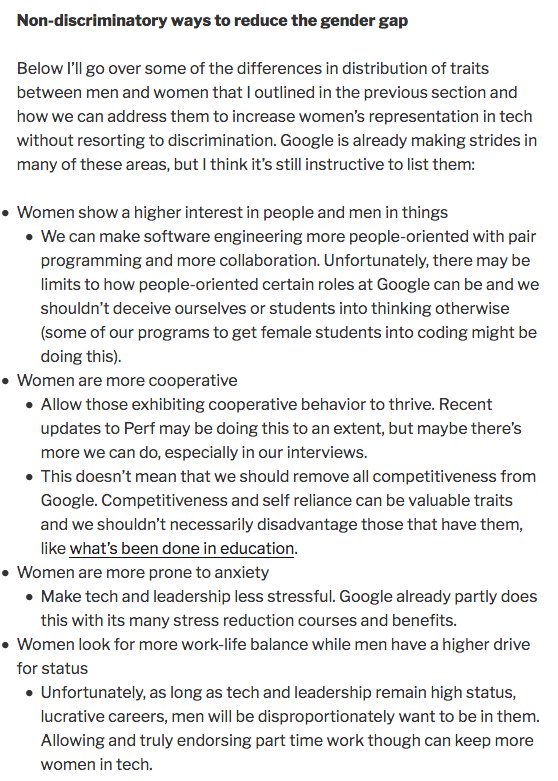 @JamesADamore
12. But if we're headed in the direction of more egalitarian countries, then the numbers don't look promising for changing the trend.