Do not be disheartened by the recent failure of the Secure Elections Act. Election integrity groups had already withdrawn support of the latest watered down version of the SEA anyway. 3/
politico.com/newsletters/mo…
The Secure Elections Act was missing the following 2 key elements that are included in the
#PAVEAct
: (1) That states must give voters the option to HAND mark their ballots; and (2) that states must conduct robust manual audits (Risk Limiting Audits) for every federal race.
4/
Also, there was NOT to my knowledge a massive show of public support for the Secure Elections Act. If we can rally this type of massive support behind the
#PAVEAct
, we may achieve a different outcome.
5/
A big part of our leverage is holding individual lawmakers to account.
@royblunt
is the chairman of the Senate Rules Committee. Focus on him and any other senators who we can identify as standing in the way of meaningful reform.
6/
This holding of individuals to account likely played a huge part in the successful opposition to closing polling states in GA. GA Secty of State Kemp could not handle the negative publicity directed at him personally.
7/
If we criticize "Congress" generically or one political party generically, it will not have the same effect bc it will not negatively impact public perception of any individual senator.
8/
Unfortunately there seems to be a culture in DC of not often publicly shaming the individual senators who obstruct meaningful reform. So we must identify these obstructionists ourselves & do this ourselves.
9/
So we must identify and expose the individual senators who weakened & destroyed the Secure Elections Act while concurrently demanding that they now pass the
#PAVEAct
.
10/
For now, it would be fair to hold
@RoyBlunt
, the chairman of the Senate Rules Committee, to account for weakening & destroying the Secure Elections Act.
11/
Here is an example of what this might look like. No profanity please.
12/
We must also continue calling and emailing g the other members of the Committee. We can get this done if enough of us demand it. The question is whether enough of us will demand it.
14/
BTW, I do not want 2 mislead: neither the Secure Elections Act nor the
#PAVEAct
would directly effect the midterms. But if we can get our leaders to rally around & start discussing PUBLICLY core election integrity principles, like
#handmarked
#paperballots
, no touchscreens....15/
... and the importance of ROBUST audits conducted MANUALLY, it will inform state decisions that are being made right now as to what type of equipment to buy and what type of election integrity legislation to pass.
16/
It would also inform candidates of the need to actually challenge suspicious election outcomes, the lawyers who argue those challenges, and the courts who would decide them.
17/
Our leaders must clearly articulate what shld be done 2 secure our elections BEFORE the midterms churn out more suspect election outcomes. Otherwise, having implicitly acquiesced 2 the current situation, we will be in a bad position 2 challenge those outcomes after the fact.
18/
Here is a link to the
#PAVEAct
so you can read it for yourselves. The requirements for "paper ballots" and "Risk Limiting Audits" are clearly written, as is the requirement that states give voters the option to mark their ballots by HAND.
wyden.senate.gov/imo/media/doc/…
19/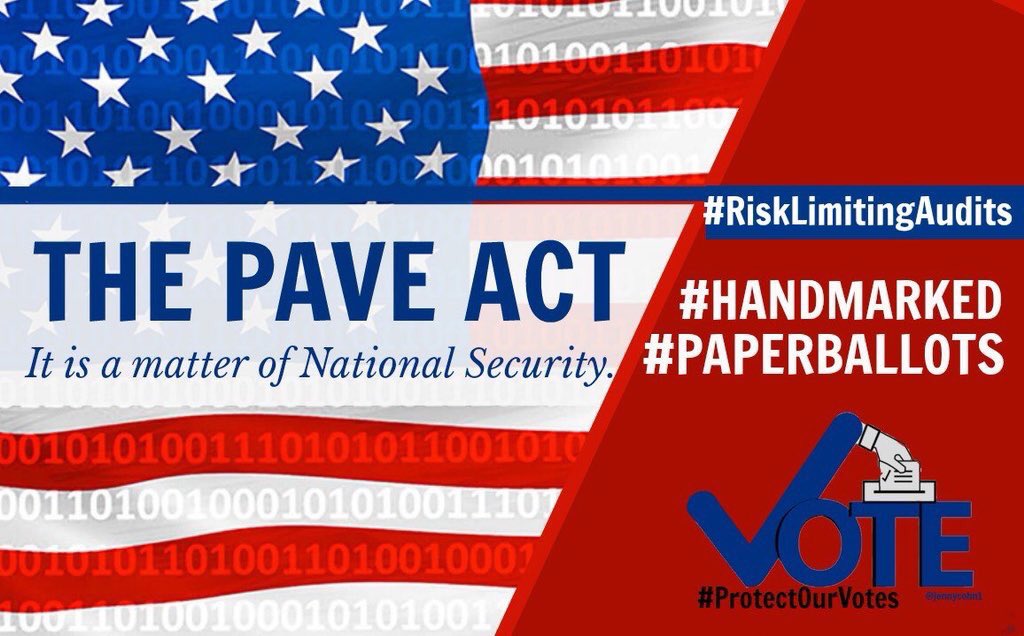 Clarity in legislation is important because it makes it a lot harder for new and misleading changes to be introduced without anyone noticing or understanding their impact.
20/
So let's do this. Let's form our own grassroots movement as voters to get the
#PAVEAct
passed. Thank you.
#ProtectOurVotes
21/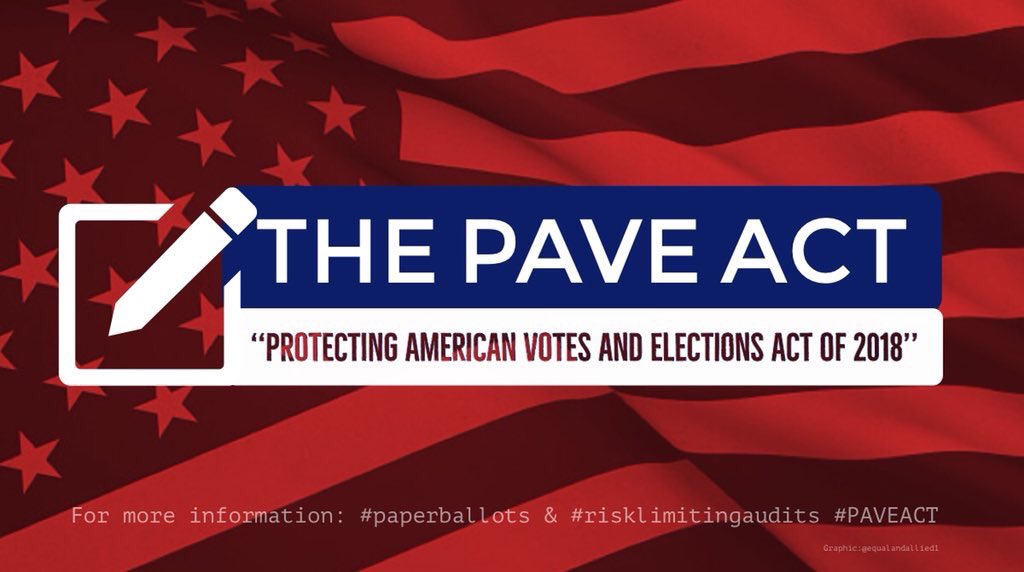 P.S. I do NOT mean to suggest there is nothing we can do to DIRECTLY protect the midterms, while also advocating for the
#PAVEAct
. We can, for example, demand that counties using touchscreens have enough emergency paper ballots at the polls for 2-3 hours of peak hour voting.
21/
We can also demand that counties with paper based systems use that paper to conduct MANUAL audits for every race in the midterms.
22/
We can--and really must--do this too. 23/
In fact, here is an entire article with scripts and contact information for election integrity action items that we can still do to protect the midterms. (Post card gallery in progress/I will add more.) 25/
medium.com/@jennycohn1/th…