A) I have a story to tell and it's related to the whole Les Moonves situation. Normally, I hate when women are blamed for their husband's misconduct...it happens all the time. And after the first allegations against Leslie were revealed, I hoped his wife wouldn't face blowback.
B) Julie Chen has always been nice to me and I had no reason to believe that she knew about her husband assaulting women before they got married. So I reached out to her and told her I would love to come on her show and I didn't need to make it about her husband/CBS
C) She never got back to me...but I figured she was just swamped with the scandal and didn't think anything of it. Then, several days ago I learned of how Julie has treated people from folks that I know personally.
D)
@yashar
's story about Janet Jackson having her career ruined by Leslie reminded me so much of what women faced in this business from powerful men who were offended that the women didn't kiss their ring.
bit.ly/2wQtAiK
E) And then this clip of Julie speaking so smugly about Janet Jackson in 2017 really set me off. Julie knew her husband helped to destroy Janet's career and this is how she speaks?
G) I feel like my career is finally headed towards a good place again, but by tweeting all this I am risking being blacklisted further. But I can't stay quiet about the kind of shit that goes down in this industry.
H) I did this long thread last week about the kind of abuse that goes down in this industry that doesn't directly involve sexual misconduct. I hope you'll read it if you haven't already.
I) In early 2014 I asked my then agents (different agency from where I'm at now) if I could having a meeting at CBS about replacing Craig Ferguson. (to be clear this isn't a ding at James Corden, I like him).
J) My agents told me that Leslie wasn't going to consider any women for the spot. Yes, they met with a few women, but they weren't actually going to hire a woman is what I was told. Welcome to reality!
K) Since Joan Rivers show ended in 1987, only one woman has had a show on a network (NOT CABLE) and that was
@iamwandasykes
in 2009-2010. In 31 years only one woman has been given a shot and that was not one of the majors (ABC, CBS, NBC). Leslie perpetuated that culture.
L) So Les Moonves is heading out of CBS...will anything change? Nope. People still remain silent and women are still blacklisted every day. I can promise you if I asked any number of people I know who are in entertainment and successful to speak out about Leslie they wouldn't!
N) This letter was published in August of 2017 and CBS refused to comment to
@yashar
when he asked them about the email for this profile he did of me. Seriously read the email, it's just insane what men get away with in this business.
thecut.com/2017/08/kathy-…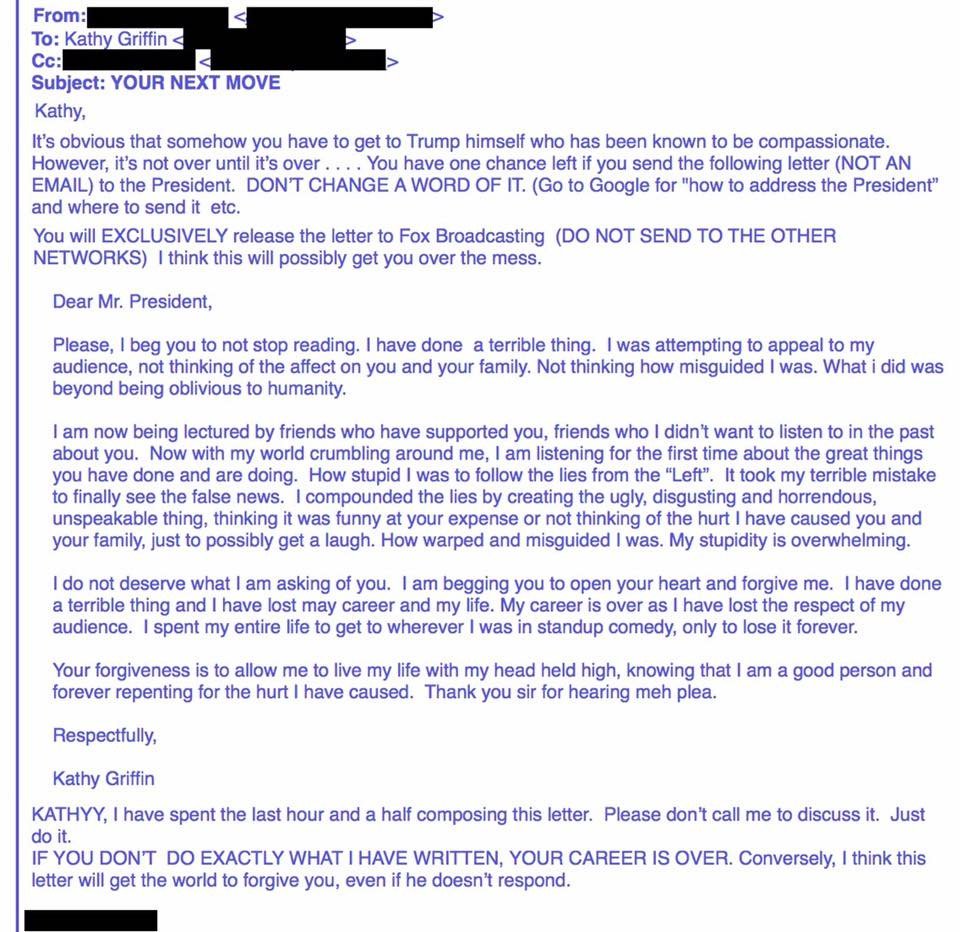 O) I have saved so much of the money I've made in my career for this very reason, so I can have the financial freedom to speak out against powerful people. Do I enjoy getting blacklisted and missing out on opportunities? No..I'd rather be working...
P) But this is the responsibility that comes with privilege. I really hope my women colleagues who financially secure will join me in speaking out against women like Julie and the indignities imposed on his by men in this business. It's not going to change until we start talking.
Q) I want to tell everyone about my amazing lawyer Bill Sobel....Bill spoke to Ronan Farrow, on record, for his first story. Bill is also
@Illeanarama
's lawyer. At the time he spoke to Ronan, Bill had no idea if Les was going to keep his job. I'm so proud to have him on my side.