NHC Update, 11am:
Hurricane
#Florence
continues on track for a history-making landfall in North Carolina -- with potential simultaneous new all-time East Coast records for wind, rainfall, and storm surge.
A word on each of those three main threats:

/1
grist.org/article/north-…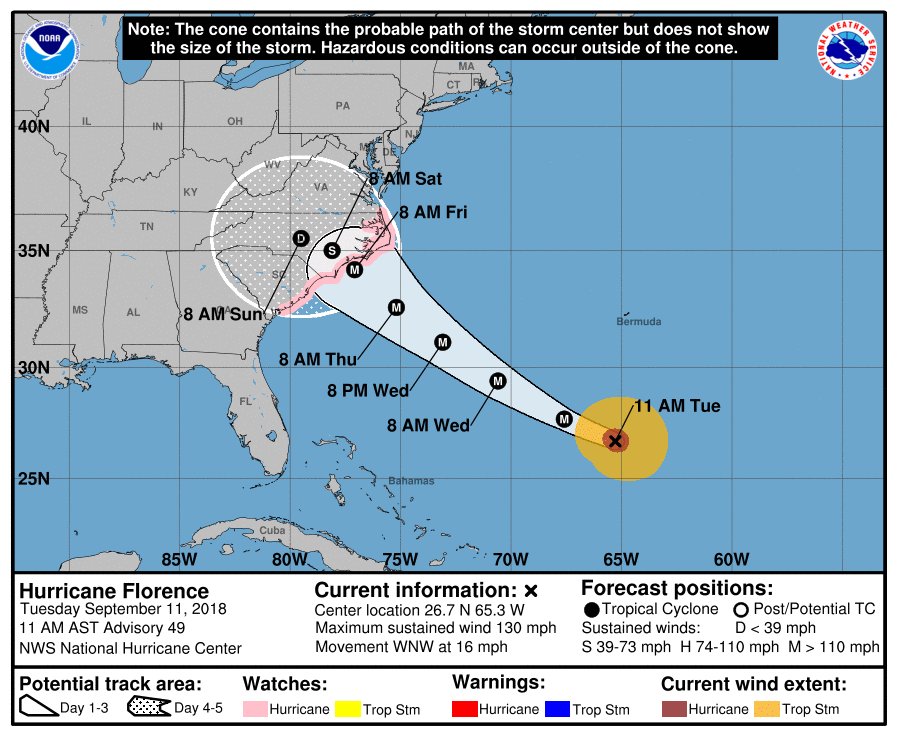 The worst storm surge depends on exactly where
#Florence
hits and whether or not it happens to be high tide.
It's likely that damaging surge will extend hundreds of miles up and down the coastline, from southern South Carolina to Virginia.
/4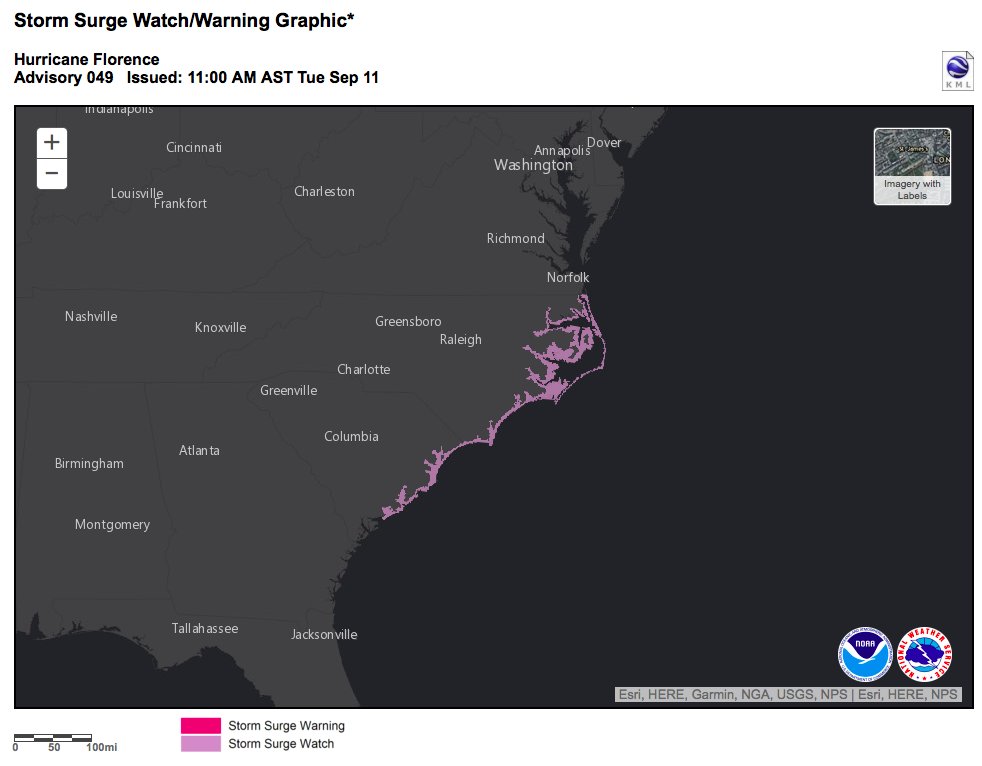 Storm surge like this will scour the coastline bare -- especially on fragile barrier islands.
#Florence
could permanently change the region's geography.
Decades of sea level rise hasn't helped -- the ocean is about a foot higher now than it was when Hazel hit in the 1950s.

/5
When
#Florence
makes landfall, it will likely do so as a Category 3 or 4.
Winds as strong as Florence's will produce "catastrophic" damage, according to the
@NHC_Atlantic
. Their prediction: "Most of the area will be uninhabitable for weeks or months."

/6
The combination of water-logged soils & strong winds will produce extensive power outages. It could take weeks to repair them.

Millions more people live in the coastal Carolinas than generations ago when Hazel & Hugo hit.

There is more to lose now. Recovery will take years.

/7
When
#Florence
arrives, it will be hundreds of miles wide. After it makes landfall, it will slow to a crawl and stay over the region for days.
20-40"+ of rain are possible.
That will produce an abject rainfall flood & could shatter the East Coast hurricane rainfall record.
/8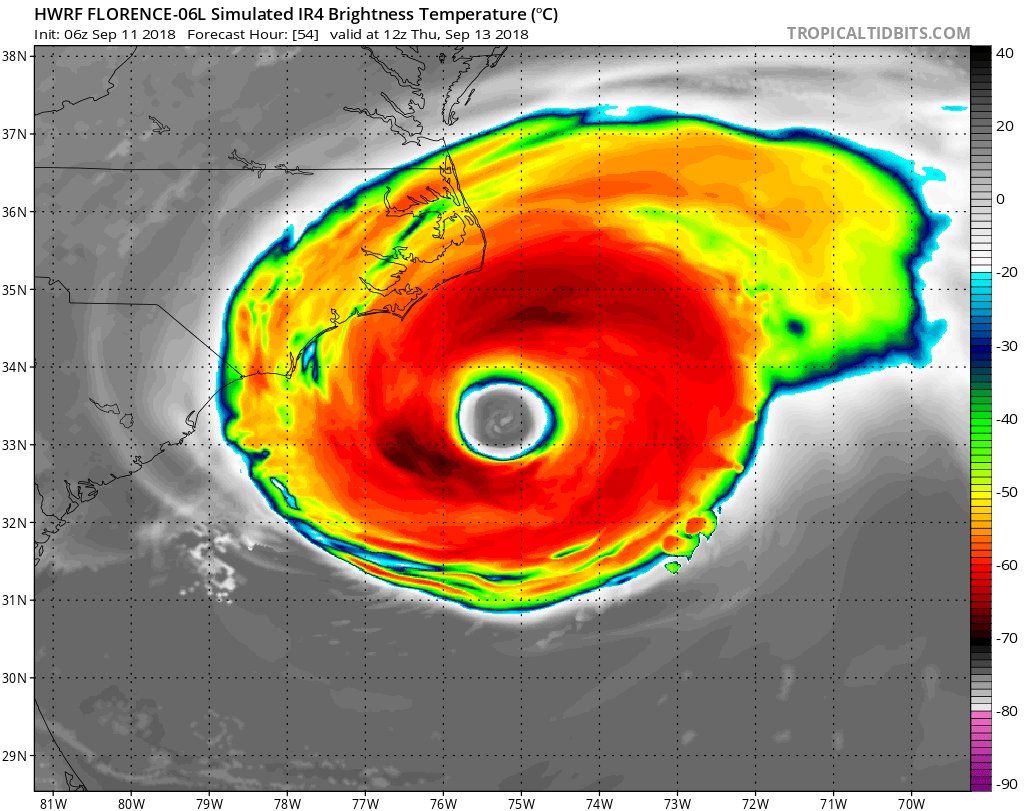 Heavy rain from
#Florence
will extend for hundreds of miles inland, worsened by the effect of so much moisture pushed up against the Appalachian Mountains.
All that water has to drain back to the ocean. That will take a week or more, pushing rivers to record heights.
/9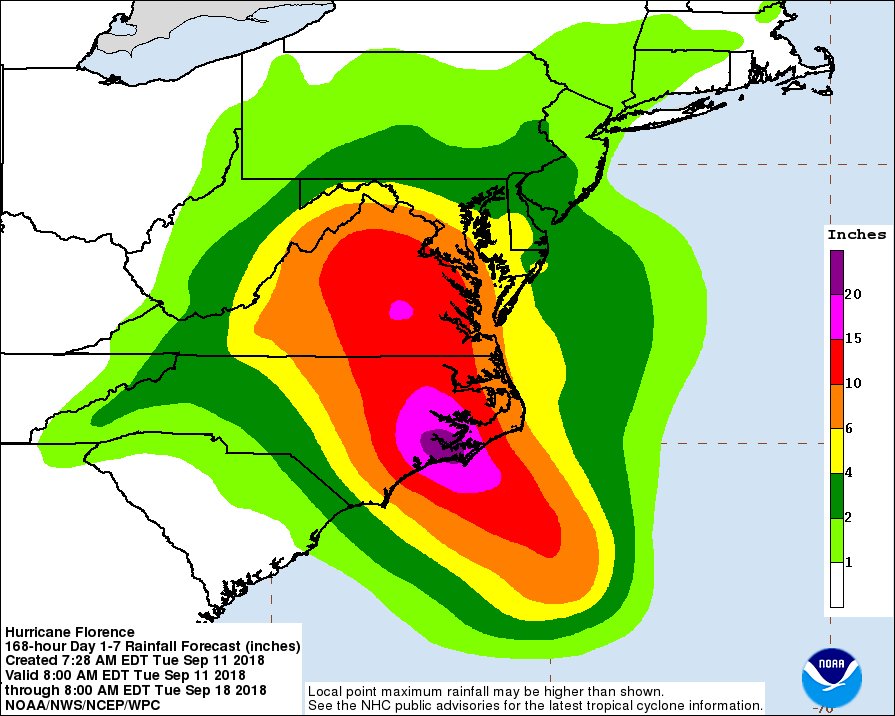 I have a more detailed analysis of the historic threats from
#Florence
here:
grist.org/article/north-…
Please share this.
It's very important not to underestimate this storm. Help others. Work together.
Now you know what's coming. Please, take action.
10/10