A) I want to use this incredible, heartbreaking post by
@gwen_fulton
about poverty and natural disasters to talk about the weather, Trump supporters, and fake news. This post by Gwen is as beautifully written as any major newspaper op-ed...
Full Post:
bit.ly/2pcUQUq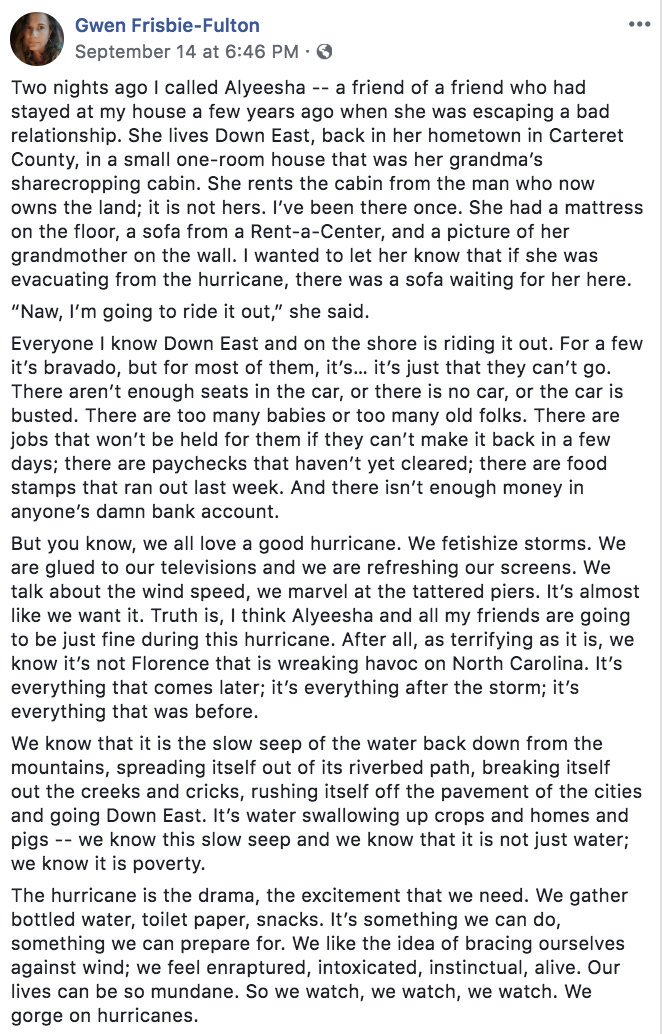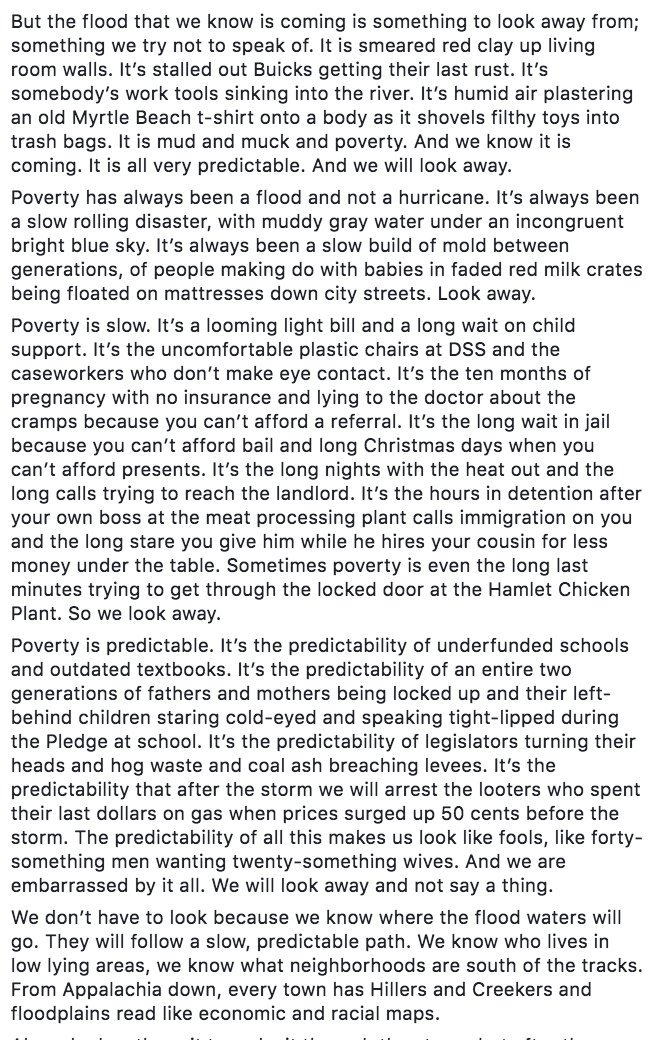 B) First, something I mentioned last week but that's worth repeating given that we are in hurricane season. We need to stop judging people who don't evacuate. A vast majority of people who don't evacuate are not thrill seekers or irrational people...they're poor.
C) Evacuating is a luxury...yes, a luxury. Let's acknowledge a few stats...
5% of US households are unbanked. Meaning they have no bank account. This means they rely on cash and check cashing stores. Good luck finding money when everything is shut down.
bankingjournal.aba.com/2018/05/fed-su…
D) A BankRate study in 2018 showed that only 39% of Americans could cover a $1,000 unexpected expense. Evacuating is expensive and unexpected...especially if you have kids.
bankrate.com/banking/saving…
E) Last year, Americans spent $34 billion in overdraft fees. That means people that you know (and perhaps yourself) spent a huge amount of money because they don't have money.
forbes.com/sites/learnves…
F) If you're spending money on overdraft fees to put food on the table or keep the lights on, think you have the money or the ability to get the money to evacuate for an undetermined period of time? No way.
G) A recent study showed that about 189 million Americans have credit cards, that leaves millions of Americans without the ability to easily access last minute resources.
H) So putting all of that in perspective, how much does it cost to evacuate? Well, a study out of the University of Pennsylvania in 2011 estimated those costs at $340-$525 for a Category 3 hurricane.
opim.wharton.upenn.edu/risk/library/J…
I) So given that many Americans have bank accounts in the negative, rely on check cashing, don't have credit cards, you think they can just get up and leave? Not possible. We must stop judging and acknowledging the horror of being trapped with no resources.
J) I also want to address what I think is a more recent phenomenon which terrifies me. This idea that is perpetuated by some Trump supporters that certain weather reporting is fake news intended to hurt President Trump. I find this to be absolutely terrifying for our country.
K) Now, it's no secret that I am a member of the resistance. Whenever I see a Twitter account with a red X or a Pepe, I tend to breeze past them. But one thing I'll acknowledge is before Hurricane Florence, I was always heartened by even these largely hateful accounts...
L) Putting aside their racism/xenophobia to help people in the path of Hurricanes. It was the one department where I wasn't cynical about Trump supporters. But when Trump started saying that the death toll in Puerto Rico was fake news that's when his machine kicked into high gear
N) Here's what I don't get....if a Trump supporter says the death toll in Puerto Rico is fake news, I don't accept it and think that's horrible, but i understand their rationale. But how does the severity of a storm hurt Trump? It's the recovery that is an issue for him.
O) Even the biggest Trump hater (myself included) wouldn't blame the actual weather on Trump. But unlike the calls of fake news about Mueller or other matters, the fake news push re the weather puts lives in immediate danger. I wish there were a way to analyze how many
P) People didn't evacuate who could afford to leave because they believed what they read on Twitter or Facebook.
Q) And that's the thing that I think is most interesting. The states hardest hit by hurricanes all supported Trump. What do Trump supporters in North and South Carolina think of all this fake news weather propaganda?
R) If you're a Trump supporter and you've lost your home, or your home is badly damaged by flooding, or you've lost a loved one..what do you think of all the people telling you that the weather reports are fake news when you're dealing with the reality of the weather?
S) And what do you think of the people who told you the weather reports were exaggerated or made up...and you listened to them?
T) Bottom line, I think we need to think about two important things.
1.
We always raise money to help people through recovery, shouldn't we also put our passion/focus in helping people evacuate?
2.
How dangerous is this weather is fake news phenomenon going to get?