So let's get this done.
Get your pop corn and a cup of coffee, let's have a quick look at the looming financial crisis in the State of Osun and why the decision of today is important to shaping their future.
#Thread
Yesterday, I saw a tweet by
@BudgITng
ranking Osun State 35th State in Nigeria based on the Fiscal sustainability index.
Unlike the saying that the person on the floor does not need to fear downfall, Osun State was 36th in 2017 and needs to be worried.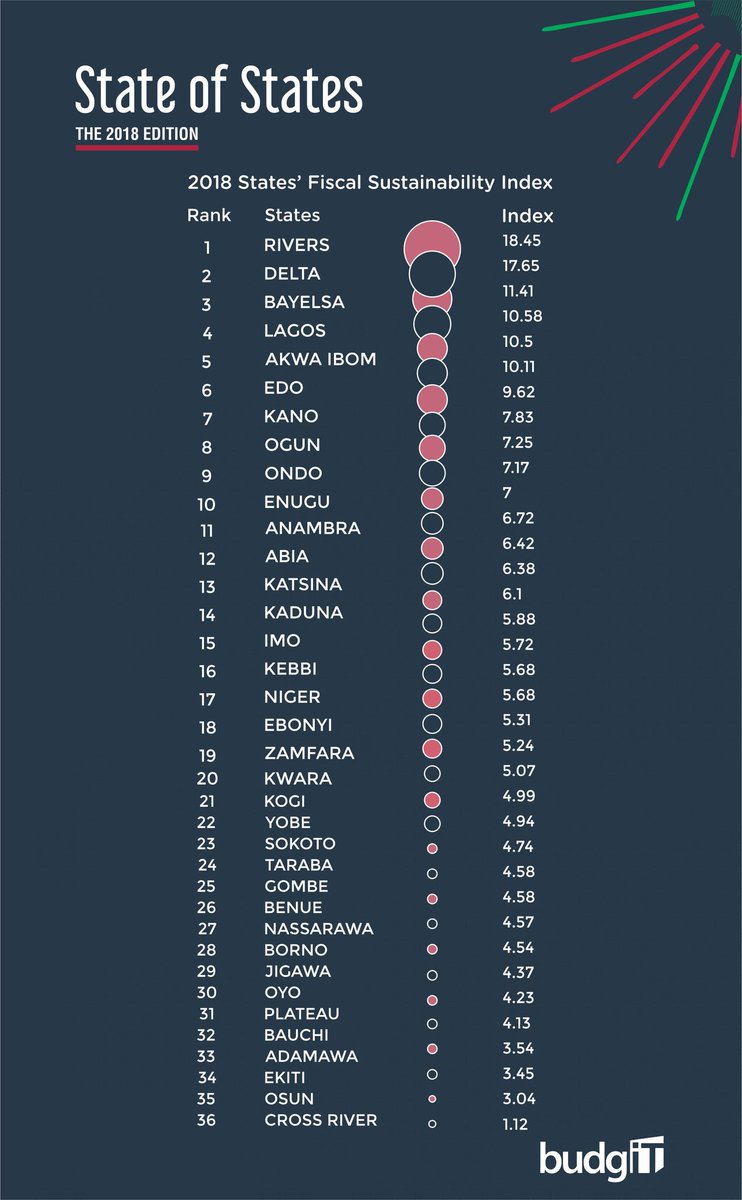 Fiscal sustainability is the ability of a government to sustain its current spending, tax and other policies in the long run without threatening government solvency or defaulting on some of its liabilities or promised expenditures. You can say it's a measure of going concern
In September 2016, Osun got a net FAAC of about N868.9million (lowest net FAAC by any State for same period) while no other State got less than N2billion.

The low Net FAAC received was due to huge debt portfolio of the State

The net FAAC is used to pay salaries and other OPEX
As at FY 2017, the debt outstanding of Osun State was more than 6X its revenue (IGR and FAAC) for the same period.

Meaning it's doing too many things at the same time with limited capital. We call it overtrading in the private sector.
Aregbesola was Commissioner for Works and Infrastructure in Lagos State under Jagaban.

He saw how infrastructure can drive economic growth. Hence he got money from everywhere possible just to drive infrastructure without thinking or devising a plan to pay back.
We have social and economic infrastructure. Social infrastructire are for the welfare of the citizens without plans to generate money like construction of roads. Immediately you toll the road it becomes economic infrastructure because it's generating income
Unlike many forward thinking people, the desire to siphon money drove Aregbesola to issue many contracts for the development of projects and got finance from everywhere possible including the issuance of the first Sukuk al-ijarah in Nigeria
Projects are midway complete but no finance to complete them, no money to pay salaries and Osun does not have the capacity to generate money for the near future.

Now, let's look at the real problem taking hints from 2017.
Osun State's budget for 2017 was N146.6 billion with recurrent expenditure of N76.3bn and Capital expenditure of N70.3 billion

Osun net FAAC for 2017 was N10.4bn and IGR was N11.7bn giving a total revenue of 22bn meaning the recurrent revenue was 3X larger than revenue for 2017
Based on the above, Osun State's total revenue can only finance less than 1/3rd of het recurrent expenditure for the same period.

Osun State is not credit worthy so to save the issue he had the guts to introduce modulated salaries 🤣🤣🤣🤣
So
@BudgITng
also released this schedule showing sustainability on monthly basis and as expected Osun State can not still finance it's monthly recurrent expenditure.
To cover up for the deficit they will take short term financing among others.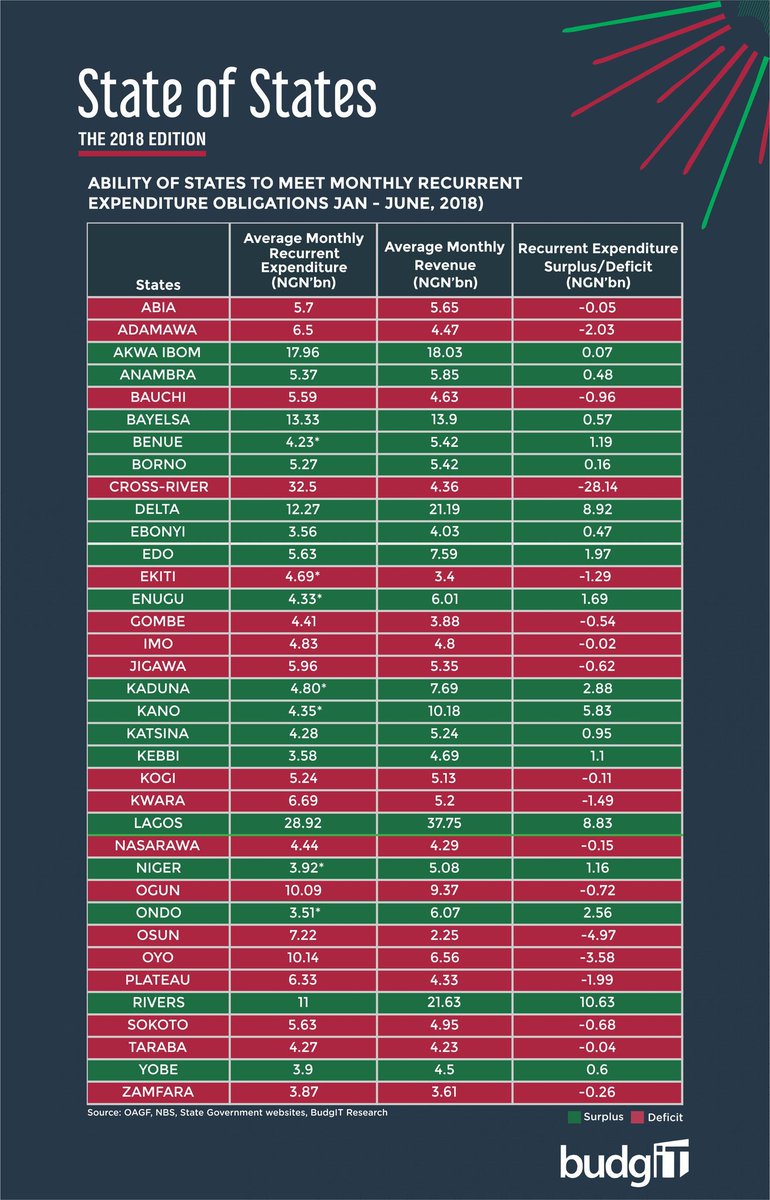 Osun State is in crisis and they have a decision to make today. The decision before them is either to continue in the shackles of debt or take a bold step into freedom.

Whoever wins today has alot of financial engineering to do to savage the crisis and restore the lost glory
End