Twenty-seven years ago this month, Adam Gopnik wrote these words in a 1991
@NewYorker
comment on the Clarence Thomas-Anita Hill hearings: "A man's career is assumed—by the man, and by other men—to be the equivalent of a woman's life." 1/
newyorker.com/magazine/1991/…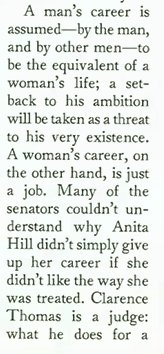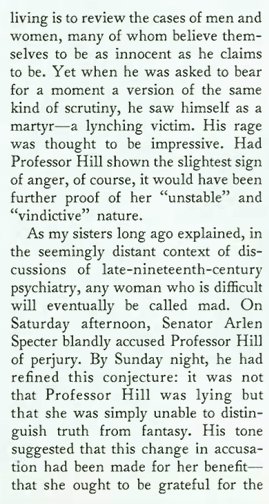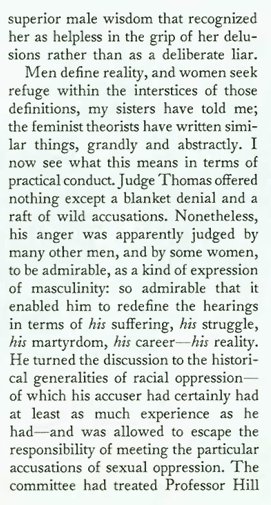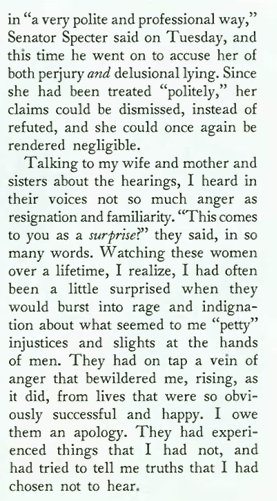 "A woman's career, on the other hand, is just a job. Many of the senators couldn't understand why Anita Hill didn't simply give up her career if she didn't like the way she was treated. Thomas is a judge: what he does for a living is to review the cases of men and women,"
2/
"...many of whom believe themselves to be as innocent as he claims to be. Yet when he was asked to bear for a moment a version of the same kind of scrutiny, he saw himself as a martyr... His rage was thought to be impressive."
3/
"Had Professor Hill shown the slightest sign of anger, of course, it would have been further proof of her "unstable" and "vindictive" nature. As my sisters long ago explained...any woman who is difficult will eventually be called mad."
4/
"On Saturday afternoon, Senator Arlen Specter blandly accused Hill of perjury. By Sunday, he had refined this conjecture: it was not that Hill was lying but that she was simply unable to distinguish truth from fantasy..."
5/
"Men define reality, and women seek refuge within the interstices of those definitions...I now see what this means in terms of practical conduct. Judge Thomas offered nothing except a blanket denial & a raft of wild accusations."
6/
"Nonetheless, [Thomas's] anger was apparently judged by many men, & some women, to be admirable, as a kind of expression of masculinity: so admirable that it enabled him to redefine the hearings in terms of his suffering, his struggle, his martyrdom, his career—his reality."
7/
"...The committee had treated Professor Hill in 'a very polite & professional way,' Senator Specter said on Tuesday...Since she had been treated 'politely,' her claims could be dismissed, instead of refuted, and she could once again be rendered negligible."
8/