#PutinInIndia
#S400Deal
#S400_डिफेंस_डील
S-400 - Highlights and the deal:
This's an air defence system being procured by Indian Air Force from Russia in a Govt to Govt deal, like Rafale.
Deal size $5.4 billion i.e ₹40,000 crores; the biggest ever defence deal by India.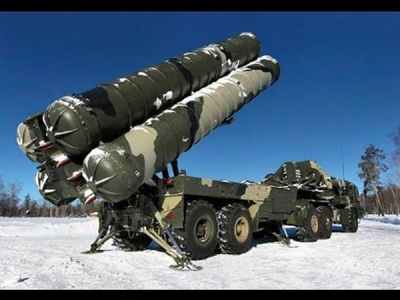 The S-400 Surface-to-Air missile can destroy targets (whether static or enemy's missile/fighter jets) even 400 Km away.
Its radars can track flying objects from a distance of 1000 Km; even if the size of a football; means entire Pakistan under its detection range.
That it must be good can be gauged from the fact that Turkey itself a NATO ally buying it. As is CHINA which acquired in 2014. It's power demonstrated by Russia recently in it's war in Syria. India buying 10 battalions of it. 8 Launchers & 32 Missiles in one battalion.
Deliveries to India will commence 24 mnths from now ie in 2020.
Now some interesting issues :
USA in a show of its 'dada-giri' has passed a Law CAATSA stipulating that any country buying 'significantly' from its rivals, Russia, North Korea & Iran will face 'Sanctions' from USA.
Last week it imposed Sanctions against China for buying these S-400s. So, technically India can face US Sanctions. But
@narendramodi
didn't scumb. In a change of policy, aligned with the diktat 'INDIA FIRST', it has gone ahead with purchasing defence equipments.
From France (Rafale), USA (Apache, Hercules, Chinook, Globmaster), Israel (Barak, Falcon, Spider),whatever best available from anywhere instead of only from friends, or under pressure of any. Though USA is unhappy because of our S-400 deal,
@narendramodi
didn't budge.
He definitely has a plan to not face Sanctions, if any. Media is misleading on issue of payments etc in news reports. You think Duffer & Co will dare utter a word against PM on this deal?
I bet they won't dare to.
#IndiaRussia