1/
Writing a thread in response to this Q b/c I have SO many thoughts. I'm going to offer my own responses to the question in the hope that people will be inspired to vote even if they are dissatisfied w/ their immediate choices. Please be respectful to the original tweeter.
2/
I'm going to talk a lot about being a progressive/left-leaner. This means something diff to diff people. When I use this language, I mean that I am socially far-left. I want aggressive action on racial inequality/injustice, LGBTQ rights, women's rights, etc.
3/
Economically, &, w/in the intersection of economic & social justice, I want aggressive taxation & regulation. I want a stronger social safety net. I am not a socialist (there are many ways to be "left" w/o being a socialist). I want radical action to rectify racial inequality
4/
So, to the question: I think many people are uninspired to vote b/c they do not see candidates that represent them. Or, they think their choices are only between two evils. . . . .
5/
I do not personally feel that way. I don't think the Dem party is "centrist." Or that that term has much meaning. But, if you *do* feel frustrated w/ your options in a given election, I would ask that you consider the following, from my own POV, again, as a left-leaning person
6/
There will never be a government that completely reflects each one of my values, esp. in the economic domain. There's never going to be a government that does everything that I want.
7/
Not only will such a government never exist, it would also be antithetical to my own commitment to democracy.
Leaving Republicans out of the mix for a moment, cause they've gone off the rails, there are a LOT of good, thoughtful people out there who I disagree w/.
8/
I have left-leaning ideals. I also believe in democracy. And that belief entails not only listening to people who are more moderate than me, but also showing them the respect they deserve (Again, I'm not talking about Republicans. That's a different convo).
9/
So the question I ask myself is:
What combo of elected officials will bring us closest to my goals w/in the democratic system we have?
10/
If you lean left, as I do, the best we can hope for is a gov't majority comprised of a coalition of left-leaners & center-leftists
This is a GOOD outcome for the left, given the composition of the country
&, if you get that coalition, you *must* respect other folks w/in it
11/
So that's the *coalition* I think we should fight for. If you're not in a state where a very left-leaning person can be elected, u vote for the person who will *most* empower left-leaners elsewhere
When u vote for a center-leftist—this *empowers* people who are further left
12/
It *also* shows respect for other participants in the democratic system, which, I hope, would be one of our shared ideals.
(Again, not talking about Republicans. They're monsters. I'm talking about people who vote D who are less left than you are).
13/
The next question is: who will listen the most to activists? Who will listen to the public? Who will be held accountable?
Whoever's name is the answer to those questions is the person you should vote for.
14/
For my own part, during 2016, when there was a fair amount of insinuation that the Democratic party was too "centrist," I thought a lot about when I had seen the most progressive change in my lifetime (as I defined it above).
15/
And the answer to that question was, w/out a doubt: during a Democratic presidency, specifically, Barack Obama's.
16/
Obama was elected, one might say, as a "centrist," b/c he had to be. The majority of the country is not "far left." And, Obama governed as a center-leftist b/c doing so honored both his coalition, as well as the rest of the country.
17/
(A president is not supposed to simply represent the people who voted for him/her. If you have felt outraged during the past year & a half, you should recognize this).
18/
Importantly, during Obama's presidency we saw a great deal of leftward movement. Most of this movement didn't achieve *my* ultimate goals, but it did move us *closer* to them, both theoretically & concretely laying the groundwork for future progress.
19/
Examples of this leftward movement include: the ACA, Marriage equality, DACA & DAPA (though the latter was not upheld), increased focus on LGBTQ rights (esp. transgender rights), standing up for survivors, increased focus on law enforcement reform, etc. etc. etc.
20/
(Note on the ACA: many call it a "conservative" reform. I don't believe this is entirely accurate, for a number of reasons. However, even if it were a "conservative" reform, it still constituted leftward, not rightward, movement).
21/
Crucially, this leftward movement didn't *just* arise from the willpower of politicians. It was achieved b/c we had politicians who were receptive to political activism.
22/
DACA & DAPA, for example, came about as a result of intense pressure from activists, and a great deal of this pressure involved activists not only investing their time, but also putting their safety on the line.
23/
& DACA wasn't perfect. But it was still a leftward movement. Importantly, it was leftward movement that would not be possible under a GOP coalition, but only through a Democratic coalition—a coalition that is *only* possible if "leftists" and "center-leftists" fight together.
24/
Similarly, the Obama admin's decision to *not* defend DOMA also came about due to public pressure. When the Obama admin began to publicly advocate for marriage equality, we saw one of the most progressive shifts I have observed in my lifetime.. . . .
25/
It's not just that DOMA was struck down, but public perception about marriage equality rapidly shifted.
*This* is what progressive change looks like.
pewforum.org/fact-sheet/cha…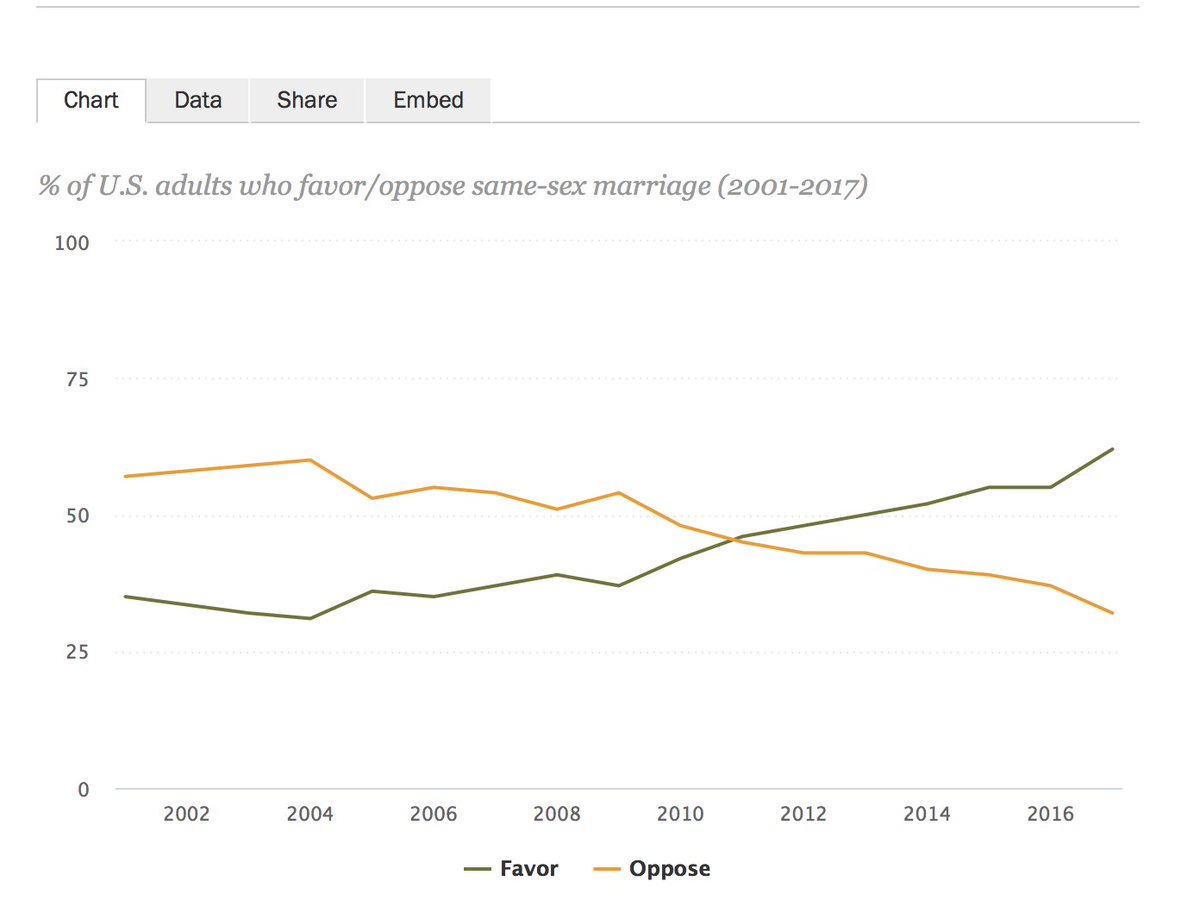 26/
And, again, this was only made possible by creating a political *atmosphere* in which people in power *listened* to activists. And many of those people operated, politically, from the center-left.
It's not just about individuals. It's about the environment you create.
27/
DAPL is another example. There was intense pressure on the Obama administration to halt the construction of the pipeline. And the Obama admin responded (this decision was later reversed by Trump):
politico.com/story/2016/12/…
28/
So the question should *never* be, "How do I get the government that absolutely reflects my values?," but, rather, "How do I get a government that *most closely* approximates what I believe in?" And, importantly, "How do I get a government that will listen to public demands?"
29/
It's about playing the long game in terms of *creating* an environment that facilitates progressive change. This is nowhere more evident than in the shaping of the courts. . . . .
30/
You can dislike a Bill Clinton, for example, while still recognizing that he appointed RBG to SCOTUS. And her legal presence has had an incalculable influence on civil rights in this country. (Breyer has also done a good job).
31/
Conversely, conservative justices have also exerted *restrictive* influence over the longterm advancement of progressive causes in this country. Citizens United & Shelby v. Holder had real consequences for the entire political environment.
32/
By both advancing the power of corporations & *lessening* the power of the public, these decisions have made it *more* difficult to advance the causes we care about.
Remember: voting is about the longterm *environment* you want to create.
33/
It's also not just about SCOTUS, but about the entire federal judiciary. We have all, over the past year and a half, cheered when a federal court restricted Trump's power.
The judges who made those decisions were largely appointed by Democrats.
34/
So, again, it's not just about voting for an individual. It's about voting to create a system where progressive change is possible. It's about voting for the kind of courts you want to see. It's about voting for the people who are most likely to listen to you.
25/
Overall, this message is intended for those who consider themselves "left."
You will probably be frustrated for the rest of your life. Progressive change is, empirically, more difficult to enact than either maintenance of the status quo OR regressive change.
26/
This is b/c the nature of progressive is, itself, painful in the short term, whereas more regressive change can entail short term gains, but long term harm.
27/
Importantly, the exact changes you want may never be realized, but they may partially realized. That is what you fight for.
You fight to create a political *environment* in the United States where such change is possible.
28/
It's not just about the one person you vote for and how much you like them. It's about whether that person will form a part of a system that *allows* change, or whether they will be a restrictive force that *prevents* or even reverses change.
29/
You don't just vote for a Rep, a Senator, or a President.
You vote for the political environment you want to create.
You vote for a political environment in which people will experience the possibility of being heard, rather than the certainty of being silenced or ignored
30/
And I think that, in and of itself, should be an inspiration.
P.S. I'm done know what I also want to quickly say: use caution when you say "centrist." It's not a term w/ a clear denotation. And it often erases ideological diversity w/in POC communities that vote Democratic.