As some of you may know, Kid spent her senior year of high school overseas, in France. As some of you have figured out, the program in question is
@SYAnews
. There was a boy this past year in the program who behaved increasingly inappropriately with several students.
He finally escalated to assaulting one student while she was sleeping. She reported him to the school. He admitted to another male student he knew she hadn't consented. The girls of the program banded together and wrote a letter to the headmaster and the board of directors.
It's 2018.

These girls were a master class in handling a complicated situation with clarity.
The program, however, treated this like it was 1978. They decided it was a "He said, she said" situation, despite the other male student being willing to testify. The best they could promise this girl was the administration would keep them separated.
The girls heard a rumor some of the teachers sympathized with the boy.
The day of one of their AP tests, he sat down next to her. There were other empty seats. The teacher overseeing the test - one of those rumored to believe the boy - did nothing.
Again, the girl students stepped up, one of them changing seats with her so she wasn't feeling her assailant literally breathing down her neck.
End of the year, all the students came back to the states. That boy has learned he can get away with assault. Mark my words, he's going to rape someone. My kid is in touch with some of the girls. The one who was assaulted is, not surprisingly, having a bad week.
"Another rich boy got away with it" is a perfectly reasonable moral. Some days, it's hard to think that we've learned anything, that anything has changed. SYA has a policy in place for sexual assault.

They just didn't do anything with it.
Maybe there is only one thing worth a damn to come out of these stories. Those girls, and that one boy who offered to testify, were the adults the actual adults around them failed to be.
The head of the SYA program left his previous job in a private school at least in part because he didn't take sexual improprieties seriously. I went to prep schools, I saw how money and power can be shaped into any tool you want them to be.
For a predator, the money becomes a hand across the mouth, silencing protest. These girls stood up, they spoke up. Without parents to help them fight this battle, these young women still did the right thing.
Their assailant showed who he was.

But so did they.
@SYAnews
was a disaster all year. Another group of kids was dealing drugs. The headmaster kept a kid who was severely depressed in her office for over an hour, refused to let her go, until the student corroborated some stories the headmaster had heard.
She then let the student take the blame as the "Snitch" when these popular kids were brought up for review. I can only speak to one country and one year, but we heard rumors the other three countries were compromised.
For the most part, the families were rich. The kids knew everyone these basically worked for them.
Oh, and Tom Hassan, the president of SYA who overlooked sexual issues at in his previous job at Exeter and seems to have continued this pattern of behavior through to SYA? His wife is
@SenatorHassan
.
@aricvisser
, I can do this for the rest of my life.
Re-upping this because I'm hearing this is the week
@SYANews
brochures go home with high school students. If this story appalls you, feel free to RT it. If there's a school you think should know, RT to them.
Oh, you have to love timing. I'm bringing the
#sya
abused to the fore because this is the month people start attending the open houses.
Let's talk bullying.
I think the word is overused to the point of meaningless in some circles. I save it.
This was bullying verging on torture. SYA knew it was happening and did nothing.
Here's the story. A student became depressed, then became very, very depressed. Thank God she had the courage to ask for help. The school contacted her parents, who arranged for her to leave in two days.

The day before she left, the headmaster took the girl in her office.
The student has innocently said something to her host family which led the adults to suspect some of the teens in the program were buying drugs. No one thought the girl was, but the headmaster wanted confirmation of gossip she had been hearing.
The girl didn't want to narc on her "friends," but this authority figure kept a fragile, depressed girl- a sobbing teenager far from home who had just admitted her emotions were unmanageable- locked in her office until the girl told her what she wanted to hear.
The girl went back to the States. Within hours of getting home, she was getting assaulted online with hateful messages about how she had "snitched" on the drug dealers. The headmaster had either handled this so ineptly that the kids decided this girl had done this on her own,
or the headmaster had palmed off the blame on the person far away. When the girl went back to France, newly fortified but terrified of what these jackals were going to do, the headmaster said "There's not much I can do about mean."
This kid suffered, both in school and in social media, for the rest of the year. She had friends, my daughter among them, but this kid was, understandably, traumatized by this ceaseless assault. In June, we who knew about what had happened breathed a sigh of relief.
It had sucked, but it was done.
Today, the girl put up a picture on social media and got this message from one of her bullies last year. She sent it to Kid, who sent it to me saying, "Reason 6,428,251 why
@syanews
sucks."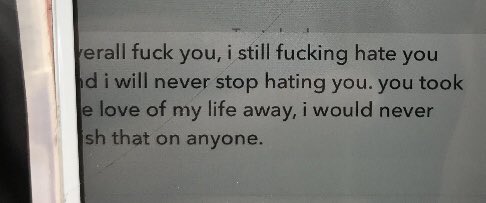 This was now nearly a year ago. This girl is still being tortured.
@aricvisser
, you ever think about how you could have handled things differently?
@SenatorHassan
, you ever wonder if, possibly, your husband shouldn't be in charge of children?