I'd like to explain to you why facts matter, especially in the context of political debate. To do this, I'd like to bring you a small extract from the book "ON BEING CERTAIN: Believing You Are Right Even When You're Not" by Robert. A. Burton.
rburton.com/_i_on_being_ce…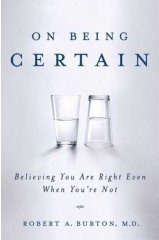 The central theme of this book is that the "feeling of knowing" is different from "knowing". The former is, indeed, just a feeling, like anger or envy. Understanding this difference is crucial to throwing off beliefs that no longer serve us. Let's bring this to life.
For most of us, the feeling is of confusion! It's a jumble of statements that seem to have little relationship to each other. This confusion is the "feeling of not knowing". Now I'm going to show you a picture and a single word. There's no going back once you've seen them. Ready?
What a contrast! Now you experience the "feeling of knowing", since each statement makes sense in the context of the object described. The contrast is really quite stark. Now you have a sense of what the "feeling of knowing" is, what's the "so what?" and "what next?".
The "so what?" is that the
#FakeNews
media has become very adept at giving people the "feeling of knowing"—even if the facts do not support what they say. All of our confirmation and conformity biases can be exploited to give us certainty in beliefs that are factually groundless.
This phenomenon was noticeably strong in the Kavanaugh confirmation hearings, when many people of goodwill were duped into feeling they knew *something* must have happened to Ford, on the basis "where there's smoke, there's fire". But the facts pointed in the opposite direction.
The "what next?" is to understand that the rule of law, and its disciplined focus on evidence over hypothesis and belief, has come to be that way for a reason. In any debate, sincere and strong belief should hold zero weight: the only thing that truly matters is hard evidence.
My hypothesis is that
#QAnon
has targeted "autists" as the people who are least attached to the "feeling of knowing", & the most insistent on facts that fit. The notorious insensitivity to the feelings of others shown on 4chan's /pol and similar boards is, for once, an advantage.
It is important to demand facts from those who have strong feelings. A liberal-minded friend told me how
@realDonaldTrump
was an appalling racist (among other undesirable qualities). I asked "how do you know?", & she ended the conversation. Hopefully that planted a seed of doubt!
As a closing aside, I actually won the "On being certain" book in a raffle at an event with a very liberal outlook. I was later ostracised by the group by pointing out that their certainty in
#NetNeutrality
being a good thing was not grounded in mathematics and computer science.