Decolonising Science Fiction And Fantasy Panel
#livetweet
thread, with Nick Wood, Naomi Foyle, Stewart Hotson and Allanah Hunt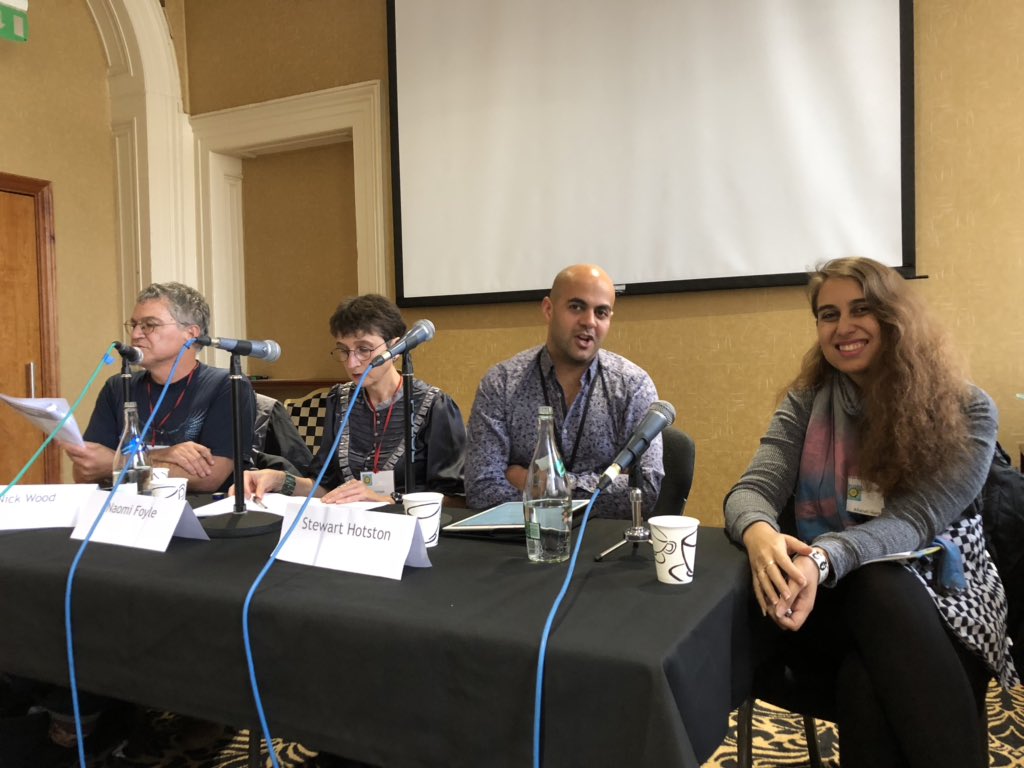 Nick Wood is moderating and asks everyone to introduce themselves.

Allanah Hunt likes exploring contemporary issues accessibly, allegorically, through fantastical themes

Stewart Hotson writes about people and how we live

Naomi Foyle write ecofantasy
Nick Wood from Zambia, lived in South Africa, wrote books with themes of racism.
Question of personal connection

AH talks about how as aboriginal woman grew up with stories from a colonial viewpoint and taking that apart in her work

SH talks about how he encounters everywhere ppl present certain ideas as natural & normal, but aren't
What is colonial sff and naming some titles?

SH says it's very much being still being written, military sff has a lot of it in its roots

AH white saviour trope, Avatar being an excellent example

NF names Dune as example
NW points out that colonial sff is still being written

SH says that many stories fail at the last hurdle, where there are good intentions in narratives. A classic example is how despite competent people of colour get sidelines last minute by a white saviour figure,
SH feels strongly that individualism is itself colonial, that something like Avatar is a better example than Vox Day because it is more prevalent, less extreme, more internalised. "This is how the world works, isn't it?"
NW works in clinical psychology and this ubiquity of the white saviour narrative that ppl are still enacting. Blogs written by ppl going on glorified safari.

AH talks about reparative rewriting in fan fiction, how for example there are more named horses in Tolkien than women
AH talks about Wind Done Gone, which picks apart Gone With The Wind.

NW alludes to the problems of getting fanfiction published, but says we will come back to that.

NF mentions Nnedi Okorafor's work as postcolonial sff
SH loves the work Lavi Tidar is writing at the moment, such as Central Station;

has also been reading Exit West by Mohsin Hamid, a story where borders stop mattering because doors start opening to anywhere and everywhere,

NW it decenters the west by making it porous
AH talks about an Australian novel about the colonisation of somewhere that seems to be Australia. That it's not simple, that it shows horrors

SH Sparrow and the Children of God, framing of first contact with aliens but allusions to colonisation
NW decolonial approaches?

NF talking about Octavia's Brood, crowdsourced and small press
SH finding voices which are authentically own

tade Thompson's Rosewater, coming from its own origin, doesn't need to frame itself from point of view of the colonial

AH fanfiction is seeking to dismantle the old works but also original work and new canon
NW mentions how Rosewater centers Nigeria, in one sentence America has its light turns off, pushes back against Empire by just destroying;

not just subverting whiteness but challenging whiteness at its source; needing to see a decononised curriculum, but establishment won
NW there's a new Luna Press history of African Sff

AH talks about how the stories and history growing up implicitly framing the settlers as the "we", thus excluding her

SH talks about the noble savage vs savage savage tropes
SH talks about the illnesses that wiped out by the gap btwn first contact in America & Mayflower, the idea that the disease apocalypse has happened already &the gaps in our history

NW points out how that narrative can excuse genocide

SH talks abt how this is still controversial
Question from audience about someone like tad Williams' work trying to write aboriginal characters etc

AH talks about how aboriginal people are the most written people who have never gotten to written abt themselves; and so much of the writing she has put down in rage
Question about if there are white authors engaging more in postcolonial fiction or if its just neo-colonial

SH says that the most interesting voices right now that he's engaged with are not white; and that's exciting;
SH very few people set out to write neo-colonial but usually it's baked into the assumptions of the world. Grimdark for example reflects a certain world view that is white and masculine, that presumes that is how the world works
We have a barrage of recommendations of books like Said's Orientalism, Why I'm Not Talking To White People About Race, White Fragility, etc,
Question about when colonial powers come into conflict

SH when colonial powers come into conflict it is just naked power, the narratives become irrelevant because China isn't interested in the American myth and vice versa, everything becomes different, the power is naked
NW talks about how he was at first very wary of writing characters who aren't white and it is difficult, etc, the world isn't in a good place at the moment, quoting Nnedi Okorafor, science fiction is a fiction of change,
AH mentions this conversation where a male writer said he didn't know how to make a female character talk; let's not make people too other

NW there is more genetic variation within a group than outside a group

Someone from audience recommending Not So Stories