Appearing to suggest that Trump is responsible for the Pittsburgh synagogue shooting is absurd.
Here are just a few things that the Trump admin has done in support of Israel and the Jewish community (THREAD):
1.
Recognized Jerusalem as Israel's capital:
whitehouse.gov/briefings-stat…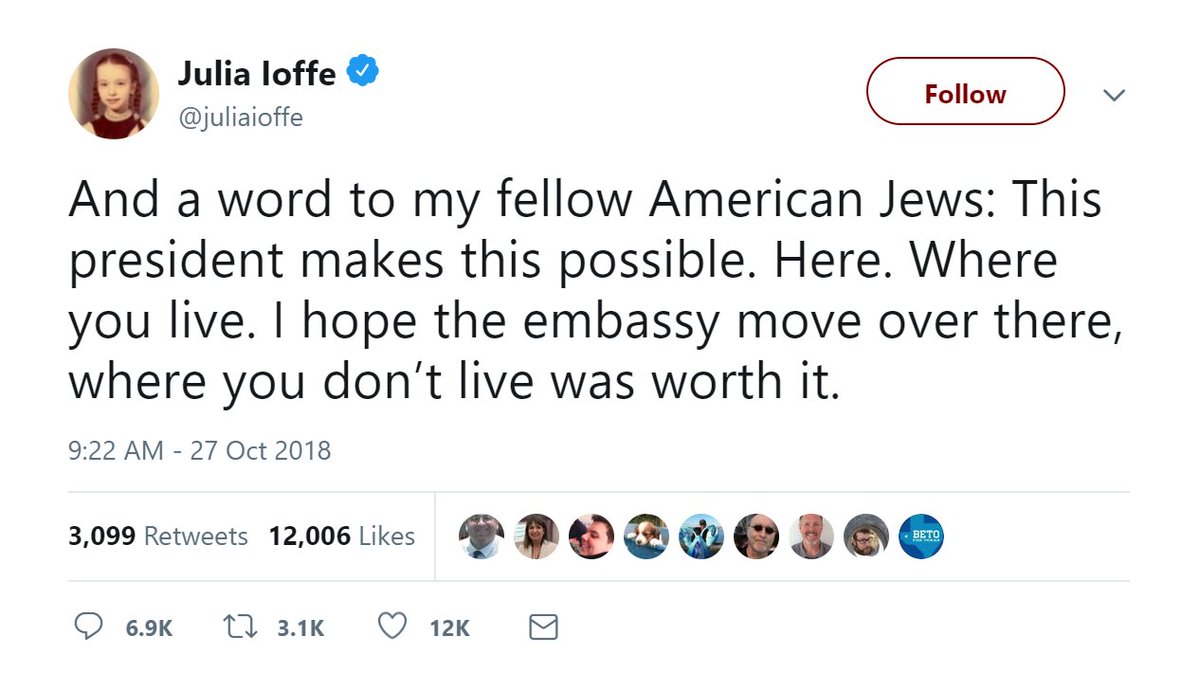 2.
Trump moves the U.S. Embassy to Jerusalem
3.
The Trump administration made it a top priority to arrest the last Nazi war criminal hiding out in the U.S. and deported him back to Germany
dailywire.com/news/34782/tru…
4.
Trump nominated Kenneth Marcus to head the Education Department's civil rights office
Marcus is the president & founder of the Louis D. Brandeis Center for Human Rights Under Law, a nonprofit dedicated to advancing civil rights of the Jewish people
freebeacon.com/issues/senate-…
5.
The Trump admin reopened a 7-year-old case brought by a Zionist group against Rutgers University, saying the Obama administration, in closing the case, ignored evidence that suggested the school allowed a hostile environment for Jewish students.
nytimes.com/2018/09/11/us/…
7.
Trump destroyed the Iran deal, saying it "was supposed to protect the U.S. & our allies from the lunacy of an Iranian nuclear bomb," but that the deal "allowed Iran to continue enriching uranium and – over time – reach the brink of a nuclear breakout."
dailywire.com/news/30392/wat…
8.
"The Trump administration is quietly pushing ahead with a bid to create a new security and political alliance with six Gulf Arab states, Egypt and Jordan, in part to counter Iran's" increasing threats against Israel.
reuters.com/article/us-usa…
10.
"Trump Administration confirmed earlier reports that it would withhold $65 million from the anti-Israel U.N. Relief and Works Agency (UNRWA)"
dailywire.com/news/25965/goo…
11.
Trump nominated Nikki Haley for U.S. Ambassador to the U.N.
"Haley didn't simply defend Israel...She led a game change: On her watch, and with the blessing of US President Donald Trump, support for Israel became a "with or against us" proposition."
jpost.com/American-Polit…
12.
"The Trump administration is ordering the Palestine Liberation Organization (PLO) to shutter its Washington, D.C., office in a bid to increase pressure on Palestinian leadership amid stalled peace talks."
dailycaller.com/2018/09/10/tru…