#BREAKING
#Iran
's Guardian Council has vetoed the FATF CFT (countering the financing of terrorism) bill.
The FATF CFT adoption was the main condition raised by the EU, Russia, China & India for maintaining financial relations with Tehran.
isna.ir/news/970813060…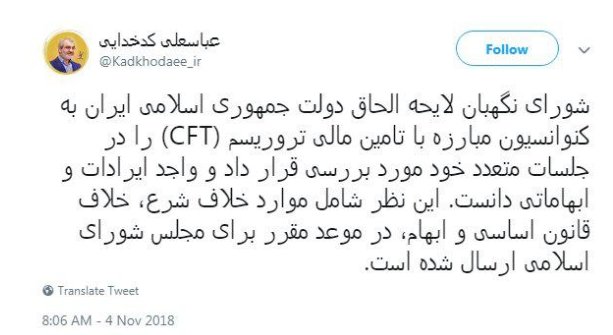 This latest decision by
#Iran
's Guardian Council, a 12-mullah body (6 appointed directly & 6 appointed indirectly by
@khamenei_ir
), comes after the parliament had partially approved the FATF's demands.
reuters.com/article/us-ira…
Following the parliament's FATF adoption, Zarif had promised
#Iran
's officials "Europe has vowed to bring into force the financial mechanism promised to facilitate trade with Iran on Nov. 4, saying Russia, India and China are also on board with this."
en.mehrnews.com/news/138962/Za…
"Zarif said the bills have to be approved by Iran in the four-month deadline, voicing concern for the fate of the agreements signed with other countries that could be undermined if FATF does not remove Iran from its blacklist."
"On Oct. 7, Iran's Parliament approved a bill on the country's accession to International Convention for the Suppression of the Financing of Terrorism set by the FATF."

The measure was part of efforts taken by Iran in a bid to prompt [FATF] to remove Tehran from its blacklist.
"During a session on Oct. 19, the FATF noted Iran's measures and political commitment, but called for further reforms in the country's financial system as the international group decided to extend suspension of counter-measures against Iran by February 2019."
"In a statement, Iran's Foreign Ministry described the FATF decision as a diplomatic achievement for Iran in the face of widespread US efforts to restore Iran's blacklist status."
If
#Iran
fails to approve FATF conventions, its banking transactions with Europe, Russia, China & India will face major difficulties. This gains significant proportions when US sanctions targeting Iran's oil/banking/shipping sectors officially return on Nov 5.

#Iran
's Guardian Council rejects bill to join UN counter-terror-financing (FATF CFT) convention.
The body says parts were against Islamic law & constitution, sending it back to parliament.
Politicians say it will hinder efforts to support proxy groups.
dailystar.com.lb/News/Middle-Ea…