2*
Jeff Sessions Resignation Letter to
@POTUS
@jeffsessions
Thank you Sir for your many years of service.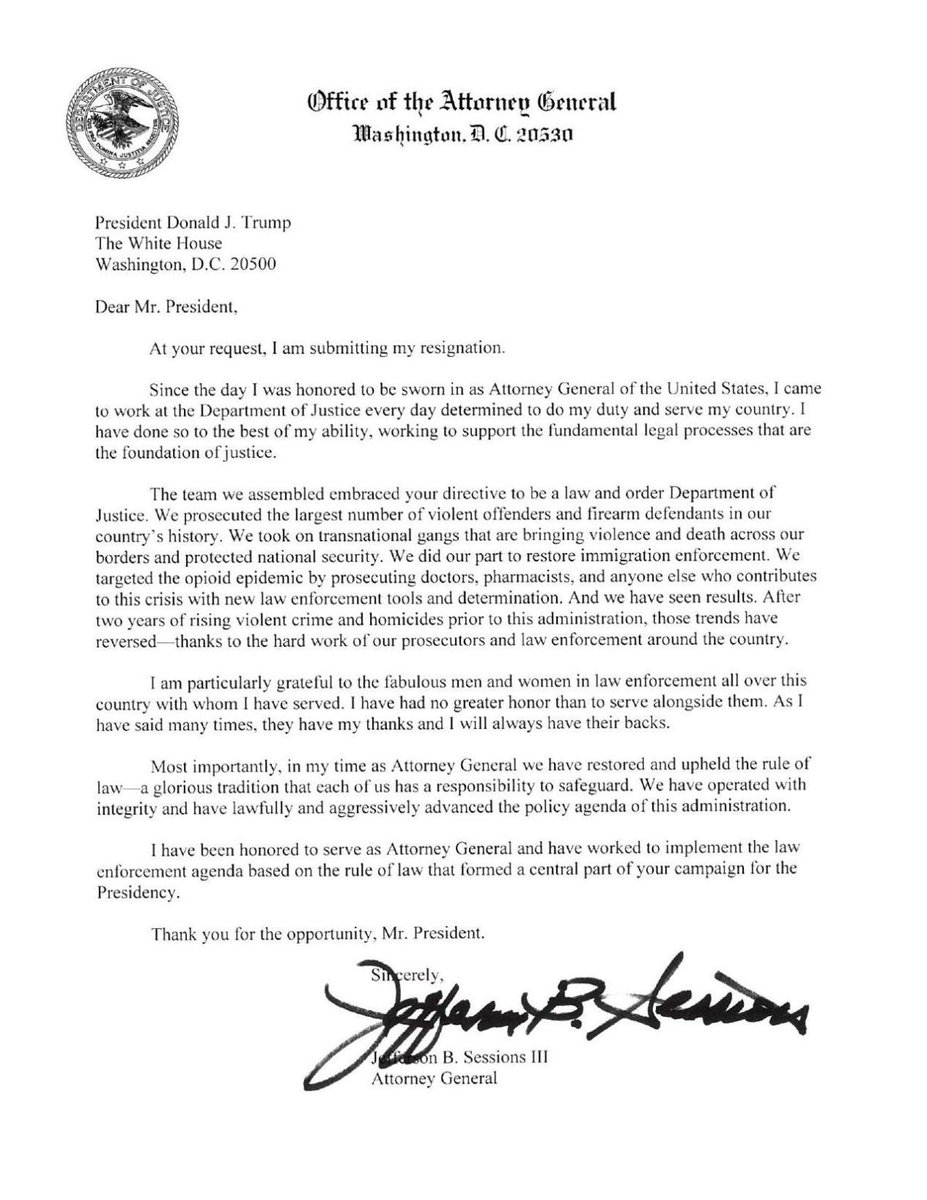 3*
We are going to show you a new world.
Those who are blind will soon see the light.
A beautiful brave new world lies ahead.
We take this journey together.
One step at a time.
WWG1WGA!
Q
#QAnon
#MAGA
#TrustThePlan
#trump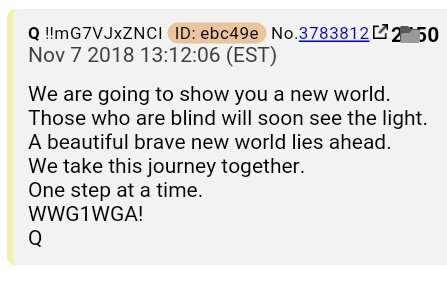 4*
#conspiracy
#QAnon
will nolonger be a valid response to who/what is Q?
The future proves past.
Every single remark is thought, though about and then re-thought about first before posting.
Understand what is taking place. Those who hide in the shadows...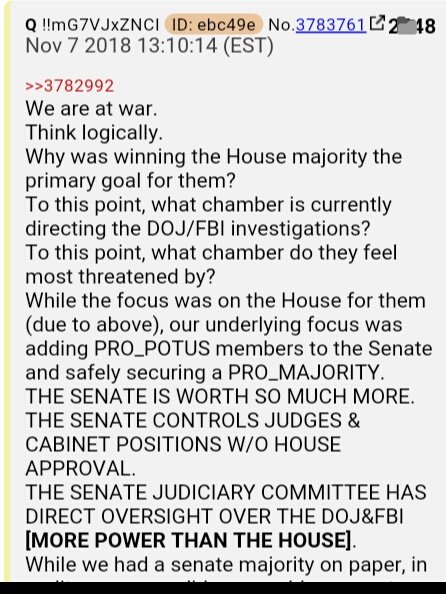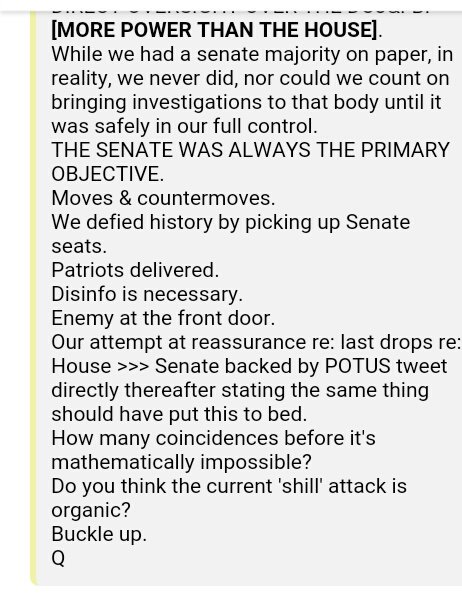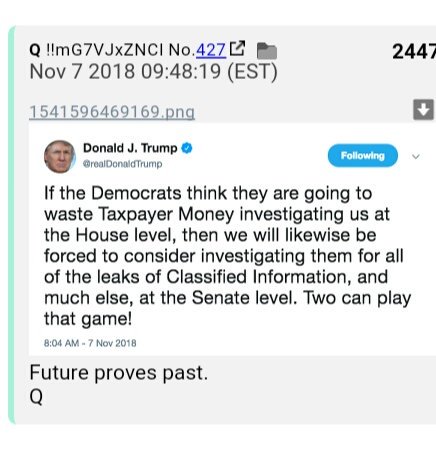 5*
Shadows with their dirty little tentacles in everything are running to the caves to hide.
The light that once only flickered has sparked and been fueled. Thelight is getting brighter and brighter.
#Jesus
#Bible
#WednesdayWisdom
#love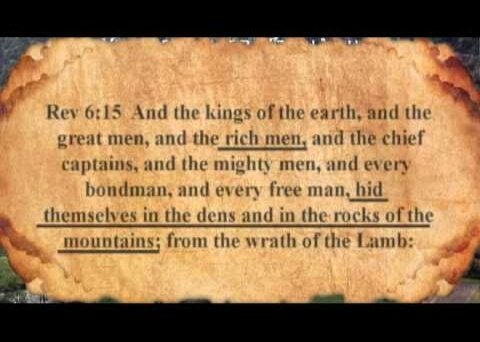 6*
Military tribunals are on the way.
#Sessions
is the stealth bomber.
This is going to happen very quickly
Mark this page
#RodRosenstein
will resign by the end of the week.
Will we hear about arrests tomorrow?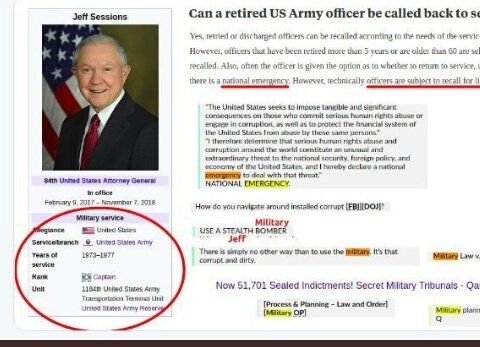 7.

Military Tribunals have already taken place.
Think logically.
John McCain did NOT pass on his own terms.
He was put to death.
#QAnon
#TrustThePlan
#Sessions
#StealthJeff
#Trump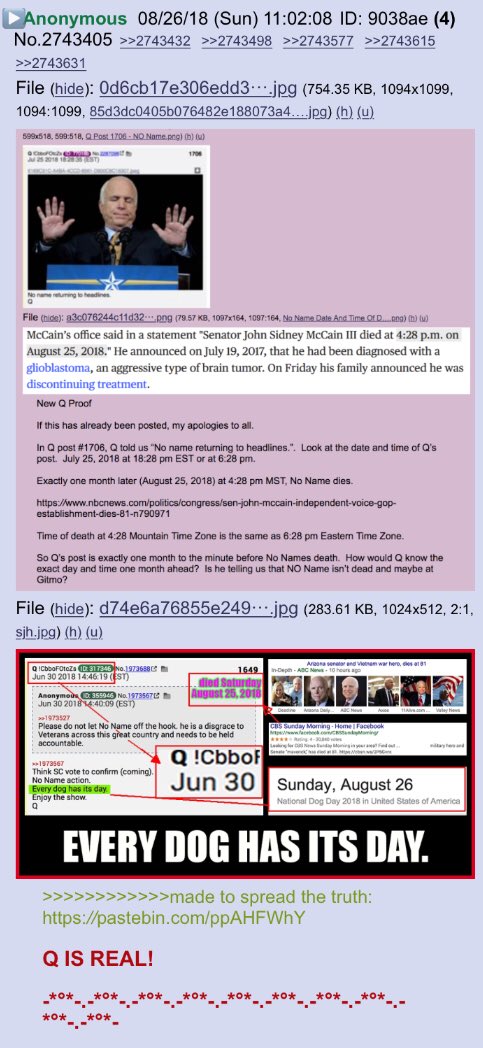 8.

*****IMPORTANT*****
Have we ALL been fooled?
Christians.
#QAnon
@realDonaldTrump
followers,
The Lord is speaking to me this morning and my heart is weeping for what is taking place.
1st.
Q posts Martial Law may be required in order to complete the mission.
#Prophecy
#Bible

9.

*****IMPOTANT*****
Martial Law,
EO : Dec.21 .2017
#Usa
is currently under a state of emergency. Legal grounds for Martial Law.
IS IT FOR US?
#Christians
#Qanon
#Trump
Followers.
#Bible
Tribulation.
Christians blindly follow.
Prisions will be used for Christian persicution
10.
KEN PETERS Vision from the 1980's of exactly what is happening NOW.

The Lord has brought great great sorrow apon me today and has been saying this video is your FINAL chance to fully understand what is ABOUT to take place.

GREAT TRIBULATION
VISION

11.

Anti.Christ video link at bottom
Caution *
Just imagine:
Martial Law is declared.
Christians rounded up.
Exactly what the rest of the world would love to see.
Those who hate
@realDonaldTrump
would the Love
#Trump
@7thDayAdventist
@dbongino
@