LONG THREAD: I am often asked about male privilege. It happened a lot yesterday, because of stuff that happened on the internets, which I will not be directly addressing here. But this seems like as good a time as any to share some thoughts about the topic more generally...
1)
I think that the concept of privilege (in general) functions best as a tool to help people in the dominant/majority group see otherwise invisible advantages that they may be experiencing as a result of *not* being a member of a marginalized/minority group...
...one of a million possible examples: do you ever worry about people not taking you seriously, or employers not hiring you, or doctors ignoring your medical needs, etc., because you are transgender? if the answer is no, then you experience cisgender privilege!
...the purpose of pointing out this privilege isn't (or shouldn't be) to shame the person in question (after all, they didn't *choose* to be cisgender), but rather to make them understand the very real material impacts that cissexism can have on the lives of trans people...
...unfortunately, those who hold unilateral (rather than intersectional) views may engage in reverse discourses, where calling someone out for having cis privilege is intended to invalidate them & portray them as oppressors – I discuss this in depth here:
juliaserano.blogspot.com/2014/11/cissex…
...while I completely understand why someone who's constantly marginalized for being trans might find it cathartic to hurl accusations of cis privilege at anyone who they find transphobic, problematic, or inconvenient for whatever reason, let's not confuse this with "activism"...
...after all, "do you ever worry about people not taking you seriously, or employers not hiring you, or doctors ignoring your medical needs" isn't trans-specific. it also applies (albeit in different ways) to women, other LGBTQ+ folks, POC, PWD, and others who are marginalized...
...so focusing solely on one form of privilege (without considering others), and purposefully wielding it to invalidate or smear other people (rather than teach them about invisible advantages they might not be aware of) is both anti-intersectional...
...and often outright hypocritical. because while that person may indeed experience some privileges that you lack, you most likely experience privileges that they (and others) lack! which brings us to...
2)
the issue of whether trans women experience male privilege or not. my answer to this comes in two flavors: a) calm & cool reasonable intersectional activist, and b) pissed-off long-time trans feminist. here are both takes. they may give you different feels...
2a) re: male privilege, the answer obviously varies. are we talking about a trans woman who socially transitioned in elementary or middle school, and who spent very little to none of her life as a boy/man? then yeah, pretty much zero...
...or is this someone who came across as male-typical & was successful in a male-dominated field for several decades before transitioning later in life? if so, then sure, I'd bet they experienced quite a bit of male privilege over the course of their lives...
...but being a calm & cool reasonable intersectional activist (as option
#2a
requires of me), I'd point out that, while they may have benefited from male privilege, they were also marginalized for being a trans person (& potentially for other aspects of their person)...
...if you feel the need to hide who you are because you're afraid (with good reason) that ppl will likely fire you, refuse to help you, or not take you seriously upon finding out that you are trans, that isn't basking in male privilege, it's trying to survive in a cissexist world
...the very fact that trans women transition indicates that, for us, the benefits of male privilege (while very real) pale in comparison to privileges cisgender people take for granted (e.g., not having to grapple w/gender dysphoria, having your gender taken seriously)...
...in other words, there are many forms of privilege, and numerous different types of gender-related privileges. so rather than playing oppression Olympics, let's all work together to end all forms of sexism and marginalization. FIN. now here is my
#2b
take...
2b) WHY THE FUCK ARE PEOPLE EVEN ASKING THE QUESTION "DO TRANS WOMEN EXPERIENCE MALE PRIVILEGE"?! they are clearly not using privilege as a teaching tool here, as few people have a better first-hand understanding of how differently women and men are treated, and the...
...the many relative disadvantages associated with being a woman. most trans women are happy to talk about these disparities – here's me discussing them in my book
#WhippingGirl
. however, anyone who insists on framing trans experiences *solely* in terms of male privilege...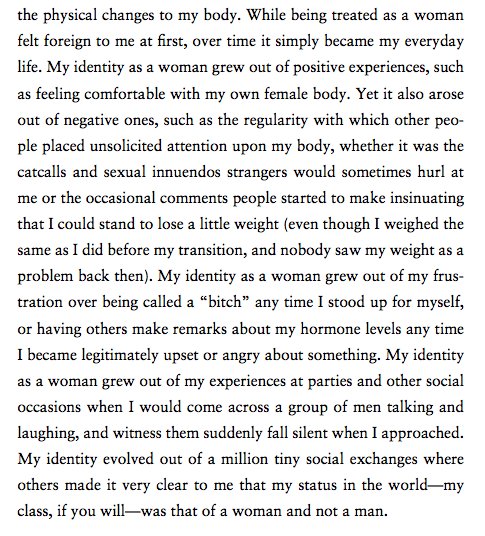 ...without any discussions of the complex ways in which male privilege is complicated, impacted & altered by masculine privilege, heterosexual privilege, cisgender privilege, other privileges (or lack thereof) is simply erasing our standpoint & unique social situations...
...like I said, privilege is best viewed as a tool to educate people about advantages they have (but are unaware of) due to other people's marginalization. TRANS WOMEN ARE ALREADY WELL AWARE OF MALE PRIVILEGE! plus we no longer have it (or never had it at all, in some cases)...
...so can we PLEASE stop aiming conversations about male privilege at trans women (regarding our real or imagined experiences with it), and instead engage the countless cisgender men who both currently experience it, and who in many cases very much need to be educated. FIN.
...btw, for those who are not aware, I discuss male privilege in the context of trans people at considerable length (& more eloquently than here) in my book
#WhippingGirl
(especially pp.307-313). so please check it out!
#trans
#transgender
#LGBTQ
#feminism
juliaserano.com/whippinggirl.h…

...and if you appreciated this thread, or my writings more generally, please consider supporting me on Patreon:
patreon.com/juliaserano/ov…