Thread on
@ncsbe
not certifying
@MarkHarrisNC9
@McCreadyForNC
#NCPOL
#NC9
election.
SUMMARY: There is evidence of absentee by mail (ABM) voting irregularities in Bladen AND Mecklenburg counties. Irregularities didn't alter election result but SHOULD be referred to US Attorney.
1/
This chart shows the percentage of votes cast by method in each county in
#NC9
. Note the only two counties where more than 2.8% of votes were cast ABM are Bladen 7.3% and Meck 5.8%. 2/

This chart shows the voting method statewide for the Voter ID Amendment. ABM makes up 2.6% of all
#ncpol
votes. /3


This chart shows the margin between the ABM votes cast for
@McCreadyForNC
and
@MarkHarrisNC9
by county in the
#NC09
#NC9
#ncpol
congressional race /5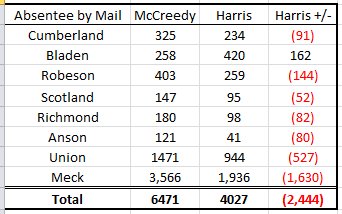 But something odd happened in Bladen County and the portion of Mecklenburg County in
#NC9
. 2 to 3 times the percentage of voters utilized ABM to vote. 7.3% of Bladen and 5.8% of Mecklenburg ballots being ABM is a statistically significant.
/7
This could be the result of an intensive and legal effort to increase ABM voting by campaigns, groups and organizations. Or legal or ethical lines could have been crossed. Regardless, North Carolinians deserve answers.
/8
Using the chart below, you can see throwing out every ABM vote for
@markHarris
in Bladen County wouldn't change the election. Nor would throwing out all ABM votes in the district or in Mecklenburg county change the result. /11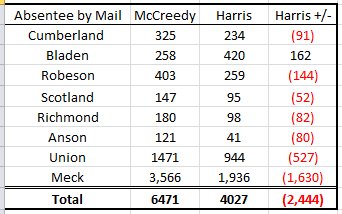 One more point. As my crazy liberal friend
@gercohen
has pointed out Bladen County ABM in the 2016 Primary were up disproportionately and hugely for Harris over
@RobertPittenger
. Again not enough to change outcome but eye opening. /13