This may be the most important election-security article of the past year. Study confirms that voters should mark their paper ballots by HAND, & that jurisdictions are making a dangerous mistake buying touchscreen barcode ballot marking devices instead! 1/
freedom-to-tinker.com/2018/12/03/why…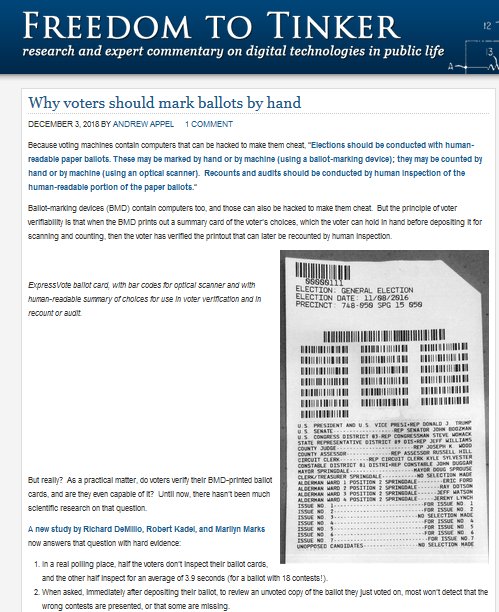 By way of background, the debate here is between hand marked paper ballots (counted by hand or on scanners) and computer marked so-called "paper ballots" (generated by touchscreen barcode ballot marking devices and counted on scanners).
2/
3/
IT expert Prof. Richard DeMillo of Georgia Tech has previously explained that the barcodes on these computer marked ballots constitute an additional, previously non-existent attack vector that can be used 2 instruct scanners 2 flip votes.
medium.com/@jennycohn1/st…
cc
@rad_atl
4/
I've spoken with Professor DeMillo personally who explained that the barcodes can be corrupted to do this by way of the county-based election management systems, which program each touchscreen barcode ballot marker before each election.
5/
Anyone with direct access to these systems could program them to do this. Moreover, as explained in my article in post 3, all election management systems can and often do connect to the internet, making them vulnerable to hacking.
6/
National election integrity groups who advise Congress & state lawmakers re: election-integrity legislation have IGNORED THESE CONCERNS on the assumption that it makes no difference if voting equipment is highly vulnerable, so long as the equipment generates...
7/
... a summary of voter selections (which many equate with a "paper ballot") that voters can "verify" and that can be used to conduct a type of robust manual election audit called a Risk Limiting Audit.
8/
This position has never made sense because, as a preliminary matter, there is no guarantee that Congress or state lawmakers will pass legislation requiring Risk Limiting Audits. Thus far, just one state, Colorado, has conducted such an audit statewide. And only 2 more...
.. have passed laws requiring RLA's in the future. Even
@DrJillStein
's recent settlement agreement with Pennsylvania, for example, does not require any sort of manual audit until 2022. Even then, it does not require the audit to be an RLA.
9/
Meanwhile,
@AmyKlobuchar
's recently defeated Secure Elections Act did not require RLA's, much less require them for state races, and yet would allow states to force voters to use these insecure touchscreen barcode ballot marking devices.
10/
But even if we assume for argument that all states will require RLA's by 2020 (which is far-fetched), national election integrity groups were also wrong to ASSUME that voters would actually "verify" the computer-generated barcoded "paper ballots" and notice any errors.
11/
As I and a handful of others have screamed for the past year and a half, no human factors studies were ever conducted to determine if this assumption by national election integrity groups is correct.
12/
Even without studies, the ASSUMPTION made by these national EI groups was dubious bc prior studies on Voter Verifiable Paper Audit Trails generated by touchscreen voting machines show that most people don't review them & won't start over even if they find an error, ...
13/
... which is itself unlikely. This means that the paper printout itself can be corrupted and that it is unlikely voters will notice the corruption. Even if they do, they'll probably assume it was their own mistake and let it go rather than start over.
medium.com/@jennycohn1/st…
14/
An RLA based on a corrupted paper printout is, of course, meaningless. Which brings us to the most recent study cited in the Freedom to Tinker article in post 1.
15/
According to that study, which was conducted by
@rad_atl
&
@marilynrmarks1
,
"1. In a real polling place, half the voters don't inspect their ballot cards, and the other half inspect for an average of 3.9 seconds (for a ballot with 18 contests!)" and ...

16/
"2. When asked, immediately after depositing their ballot, to review an unvoted copy of the ballot they just voted on, most won't detect that the wrong contests are presented, or that some are missing."

17/
18/
"This can be seen as a refutation of Ballot-Marking Devices as a concept. Since 'we cannot trust a BMD to accurately mark the ballot (bc it may be hacked), & we cannot trust the voter to accurately review the paper ballot (or even to review it at all), what we can...
...most trust is an optical-scan ballot marked by the voter, w/ a pen. Although optical-scan ballots aren't perfect either, that's the best option we have to ensure that the voter's choices are accurately recorded on the paper that will be used in a recount or random audit."
19/
"This strongly suggests that it is possible for a hacked BMD [ballot marking device] to cheat in just one contest (for Congress, perhaps, when there is a presidential race on the top of the ticket; or state legislator) and most voters won't notice."
20/
"Those who do notice can ask to try again on the touchscreen, and a cleverly hacked BMD will make sure not to cheat the same voter again."
21/
"In summary, 'Can voters effectively verify their machine-marked ballots?' No. 'Do voters try to verify their machine-marked ballots?' No."
22/
"As DeMillo et al. write, ... 'The [BMD-marked ballot] is not a reliable document for post-election audits.' [Para.] And therefore, voters should mark optical-scan bubbles on their paper ballot, with a pen."
freedom-to-tinker.com/2018/12/03/why…
23/
Thus far, at least some counties in the following states have already replaced old equipment w/ these dangerous new touchscreen barcode ballot marking devices: KY, West Virginia, Arkansas, Tennessee, Delaware, Kansas, Michigan, Wisconsin, and Texas.
nybooks.com/daily/2018/11/…
24/
26/
Pennsylvania seems to be looking for a uniform system for the entire state and is apparently considering these dangerous touchscreen barcode ballot markers too. Florida counties are in the process of choosing new equipment too.
27/
So is Ohio, where at least one large county has already decided on these dangerous touchscreen barcode ballot markers.
wcbe.org/post/franklin-…
28/
Will this new study by
@rad_atl
and
@marilynrmarks1
, along with the excellent article by esteemed IT expert Andrew Appel, be enough to stop more counties from making this terrible decision? I certainly hope so.
29/
An important bellwether will be whether
@VerifiedVoting
mentions this study and article on Twitter (they seem to have the most sway among the various national EI groups) & whether it is discussed w/ any depth, or at all, in the upcoming MIT conference on Risk Limiting Audits.