The Trump gov't put out a call, asking legal immigrants to sponsor some of the 1,000's of kids in cages. Desperate to help, 170 kind ppl stepped up, hoping to finally free the kid from captivity.
Turns out, it was a sting operation. Then came the arrests.
wonkette.com/totally-non-ev…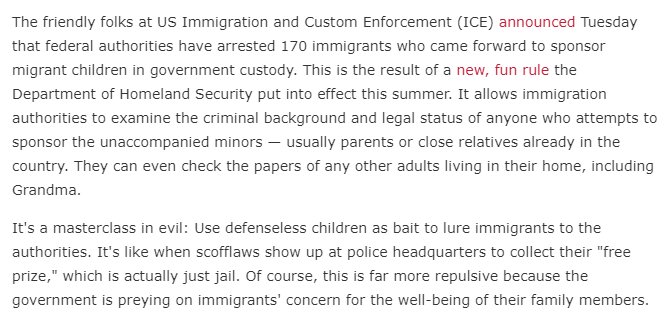 Everyone who's read this finds it sinister and depraved. The thing that struck me is that, in a very real sense, they're criminalizing empathy. There's a real danger of them robbing us of our humanity. And, as we've seen countless times before, this is a precursor to genocide.
This is what cruelty looks like jacked up on steroids and snorting meth.