Thread: What Does the Lunatic Left Think These Days?
1.
It requires great self-discipline to regularly subject oneself to the insane ramblings of "The Resistance" these days, but we ignore what they say at our collective peril.
2.
I – probably like many of you – spend most of my time in the "Conservative Twittersphere" interacting with like-minded ideological souls. Why subject oneself to the mindless clichés of the Left (except to practice one's debating skills – easily done!)?
3.
The fact is, there are literally millions of Democrat lemmings who believe every anti-Trump conspiracy theory concocted over the past two-plus years. They INSIST that
@POTUS
will be impeached (for whatever ridiculous reason), and that it's only a matter of time.
4.
I believe it's important to understand what the leftist activists in particular say because they are the ones who directly impact and put pressure on elected Democrats.
5.
I asked my wife to "fall on the grenade" and get on the
Moveon.org
email list in order for me to be able to analyze their periodic rantings (couldn't bring myself to do it; call me a chicken). Here is one of their recent emails on which I will parse and comment: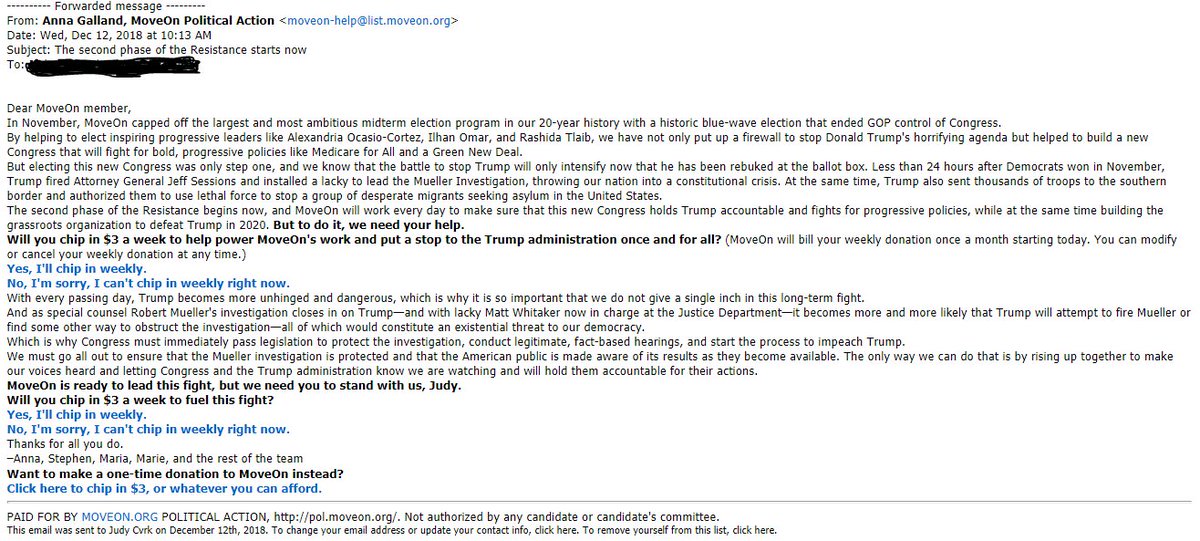 6.
First of all, what is
Moveon.org
?
<quote>
MoveOn is a Web-based, grassroots political network that organizes "electronic advocacy groups" of online activists around specific issues; raises money for Democrat candidates through rock concerts and….
7.
… other entertainment events; generates political ads; and wins young recruits through its appeal to the Net-savvy, MTV subculture.
8.
Launched on September 22, 1998, MoveOn took its name from a favorite buzz phrase of Clinton supporters at the time.
9.
During the continuing fallout of the affair with Monica Lewinsky, Jerry M. Brady and Marty Trillhaase of the Idaho Falls Post Register said, "The government of this nation — and its ability to serve the best interests of the people — has been damaged. It's time to move on."
10.
The phrase "It's time to move on" became the mantra of White House spokesmen, who repeated it on talk shows from coast to coast.
11.
Today, MoveOn boasts an e-mail list of more than 3.2 million members. Its ten full-time staffers work from home, staying in touch via e-mail, instant messaging and weekly conference calls.
12.
MoveOn uses its fundraising clout to push the Democratic Party to the left. More than a website,
MoveOn.org
is a movement tailored to persuade young people to support mainstream Democrats.
13.
MoveOn has received financial support from numerous leftist organizations, including the Compton Foundation, George Soros's Open Society Institute, the Shefa Fund, the Stern Family Fund, the Steven and Michelle Kirsch Foundation, and the Tides Foundation.
14.
Shortly after …the 2016 presidential election, MoveOn — along with the ANSWER Coalition and Socialist Alternative — played a major role in orchestrating massive, sometimes violent, anti-Trump protests in cities all across the United States.
<unquote>
15.
As an aside, the above information is courtesy of David Horowitz's
discoverthenetworks.org
website which is THE BEST online database there is to obtain information on the Left in general, including people, non-profit organizations, donors, etc. Highly recommended!
16.
If you want to keep a finger to the pulse on what the Left is doing and thinking,
Moveon.org
is worth tracking from time to time. Now on to their 12 December email….
17.
"In November, MoveOn capped off the largest and most ambitious midterm election program in our 20-year history with a historic blue-wave election that ended GOP control of Congress."
17a. The results were not "historic" but rather historical NORMAL for a mid-term election when the party controlling the WH almost always loses seats.
17b. Despite an incoherent RINO House "leadership" campaign message plus the rampant voter fraud, including "ballot harvesting" in California, the Republicans gained Senate seats, too. NOT an historic blue-wave election!
18.
"By helping to elect inspiring progressive leaders like Alexandria Ocasio-Cortez, Ilhan Omar, and Rashida Tlaib, …."
18a. AO-C: an ignorant lunatic who proves it virtually every time she opens her mouth.
18b. The other two won't be sworn in on the Bible. Very appealing to normal Americans (not!). A real clue as to where Moveon would like to take the country, is it not?
19.
"…we have not only put up a firewall to stop Donald Trump's horrifying agenda but helped to build a new Congress that will fight for bold, progressive policies like Medicare for All and a Green New Deal."
19a. Horrifying agenda? Riiiiight. Tax cuts, regulatory reform/cuts, removing the Obamacare mandate, resetting Obama's horrible foreign policy, booming economy, restoration of manufacturing jobs, renegotiation of NAFTA on terms more favorable to the US, etc., etc.
19b. Medicare for All. The Left's wedge as a step toward single-payer socialized medicine. No thanks!
19c. Green New Deal. How's that working out for GM which just cut 15K jobs in the Upper Midwest? Not to mention the BILLIONS wasted on green energy boondoggles like Solyndra during the Obama regime. No thanks!
20.
"But electing this new Congress was only step one, and we know that the battle to stop Trump will only intensify now that he has been rebuked at the ballot box."
20a. Rebuked at the ballot box? Republican GAINED senate seats as a result of his direct campaigning for the winners. Those Republican senate candidates who embraced
@POTUS
were rewarded. Those who didn't (e.g., Heller and McSally) were beaten.
21.
"Less than 24 hours after Democrats won in November, Trump fired Attorney General Jeff Sessions and installed a lacky to lead the Mueller Investigation, throwing our nation into a constitutional crisis."
21a. Installed a "lacky." When the Left has no legal argument (AAG Whitaker's appointment was completely legal), they resort to name-calling. It has always been thus.
22.
"At the same time, Trump also sent thousands of troops to the southern border and authorized them to use lethal force to stop a group of desperate migrants seeking asylum in the United States."
22a. The caravan/invasion is a national security issue well within the constitutional authority of the presidency. We've discussed this in previous threads, including this one on posse comitatus:

22b. And this one which frames the political discussion of sanctuary cities and crimes committed by illegal aliens (there is no such thing as asylum for economic reasons, by the way):

22c. Or this one on the use of CS gas against the invaders:

23.
After asking for donations, the Moveon email continues: "With every passing day, Trump becomes more unhinged and dangerous, which is why it is so important that we do not give a single inch in this long-term fight."
23a. Unhinged and dangerous?
@POTUS
is focused on doing the country's business in terms of foreign and domestic policy, as well as delivering on his campaign promises! He looks pretty relaxed to me. What's "dangerous" to the Left is building the Wall and restoring the military.
24.
"And as Mueller's investigation closes in on Trump—and with lacky Matt Whitaker now in charge at the Justice Department—it becomes more and more likely that Trump will attempt to fire Mueller or find some other way to obstruct the investigation…."
24a. Mueller closes in? Riiiight. Process crimes, none of which are directly connected to
@POTUS
. No evidence of collusion. The SCO withheld evidence exonerating LTG Flynn which could very well undermine the entire investigation.
24b. Fire Mueller. The Left wants the SCO to continue until they find SOMETHING that will warrant impeachment. The SCO is already operating outside its charter. If Mueller's team was found to have withheld exonerating evidence, then Mueller et al need to be shut down.
25.
"…—all of which would constitute an existential threat to our democracy."
25a. Sorry, leftists, we live in a constitutional Republican, not a "democracy" as you incessantly insist. Democracies result in mob rule, and the Founders were wiser than you in establishing the Republic. The claim of an "existential threat" is an hysterical canard.
26.
"Which is why Congress must immediately pass legislation to protect the investigation, conduct legitimate, fact-based hearings, and start the process to impeach Trump."
26a. Now they get down to it: "impeach Trump." What a load of crap! What has the SCO found regarding "muh Russia" over the past two years? Zip, zero, nada on
@POTUS
while at the same time ignoring the false Russian "dossier" funded by Hillary and the DNC!
26b. The REAL Russian collusion in on the Democrat side, especially with the Clintons who took ~$145 million in bribe money via the Clinton Foundation.
26c. And then there's
#SpyGate
and the concerted effort by the Obama DoJ/FBI/CIA to illegal spy on Republican presidential campaigns. Let's investigate all of those crimes, Moveon!
27.
The email ends with more of the same: protecting Mueller, investigating Trump, etc., before they solicit more money from their gullible subscribers who co-habit their leftist cocoon. And there you have it: a stream of lies intended to motivate the Dem base and raise money.
28.
This Moveon email gives us a window into the thinking of leftist activists and what they will be pushing the Democrat-run House to do in 2019. We need to remain aware of what these people are doing and what they wish to achieve – to the detriment of the country.
29.
We must remain steadfast, support
@POTUS
, and help ensure that Trumpenfreude is visited on the Democrats next year! That means keeping the pressure on our congress-critters to investigate and prosecute the seditious cabal and expose congressional leakers. ///The end.