IF the
#German
-
#Jewish
#scholar
and
#politician
Ludwig Philippson (1811-1889) is right with the following assessment, THEN the German people is doomed: »Dies ist es, was der
#Prophetismus
den Völkern zu sagen hatte, was diese allerdings nie begriffen, und was sie noch heute..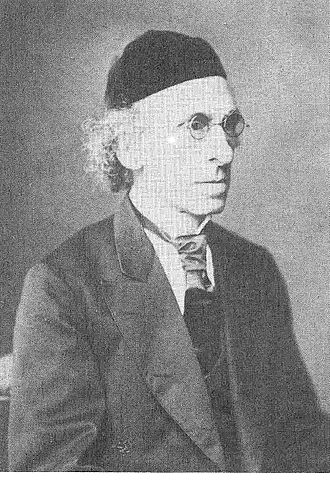 .. nicht begriffen haben. DENN NOCH HAT KEIN VOLK EXISTIRT, WELCHES, TROTZ DEN OFFENBARSTEN ZEICHEN SEINES VERFALLS, DIESEN ERKANNT UND DURCH BESSERUNG, HEBUNG DER SITTEN UND NEUEN AUFSCHWUNG SEINES GEISTIGEN LEBENS AUFGEHALTEN HÄTTE. [Hervorhebung von LG,I]. Und wenn auch..
.. einzelne Stimmen diesen Verfall klar genug charakterisiren, so VERLIEREN SICH DIESE DIESE STETS IN DEM STROM LOBHUNDELNDER PHRASEN ÜBER DEN FORTSCHRITT DER CULTUR, ÜBER DEN WACHSENDEN GLANZ UND WOHLSTAND [Hervorhebung dieser auch heute relevanten Worte von LG,I]; eben so wie..
.. die Mahnreden der Propheten selbst von dem Kreischen der falschen Propheten und dem Pomp der Priester verdeckt wurden. Wir sagten oben "die sittliche und religiöse Entartung". Denn auch bei den Propheten klingt keine absolute Verwerfung der religiösen Anschauungen der Völker..
.. außerhalb Israels durch. "Mein Name ist groß bei allen Völkern der Erde und hochgepriesen", sagen sie öfters, und verstehen darunter, daß der Begriff
und die Anbetung der Gottheit bei allen Nationen vorhanden und ein wesentliches Element ihres Lebens sei, [...]" My tr.: 'It..
.. is this what
#prophetism
has to tell/teach the peoples [of the earth], something which these, however, have never understood, and which even today they haven't understood. For never has there been a people which, despite the most obvious portents of its decay, would have..
.. recognized this decay succeeded in putting a halt to it by improving and elevating its mores and and by a revival of his intellectual life. AND EVEN IF ISOLATED VOICES CHARACTERIZE THIS DECAY IN SUFFICIENTLY CLEAR LANGUAGE, THESE ISOLATED VOICES ARE ALWAYS DROWNED OUT BY A..
.. TORRENT OF ADULATING RHETORIC ABOUT THE PROGRESS OF CULTURE, ABOUT INCREASING LUSTER AND PROSPERITY; just as the admonishing speeches of the
#prophets
themselves were drowned out by the screeching of the false prophets and the pomp of the priests. Above, we wrote of' the ..
.. moral and religious degeneracy'. For even in the utterances of the prophets, no hint of an absolute condemnation of the religious views of the peoples can be heard. 'My name is great with all the peoples of the earth and highly praised', the prophets often say, and with this..
By the way, the "Hoffnung ist deiner Zukunft" on the tombstone is not a grammatical error, even though 'Zukunft' has feminine grammatical gender: I think that this is a 'genitivus possessoris', meant to express 'your future has hope'. Cf.
mediensprache.net/de/basix/lexik…
. Remarkably, ..
.. as of 2018-12-22, 10:30, the query "Hoffnung ist deiner Zukunft" does not return ANY result in the largest internet search engine.

@threadreaderapp : please UNROLL