1.
THREAD: This piece came out by Paul Sperry from RealClearInvestigations. I appreciate and respect the author very much. He has done fantastic work, and what I am about to outline for you in no way changes my opinions in that regard.
realclearinvestigations.com/articles/2018/…
2.
However, I would be remiss if I didn't point out some of the inconsistencies and issues with this grim outlook on where we are in terms of the slow trek of justice against the criminals who have been
operating unchecked for decades.
3.
"RCI has learned from potential witnesses, their lawyers, and others close to the investigations, that Huber has not impaneled a GJ to subpoena witnesses or hear evidence" (cont)
4.
(cont) This statement speaks ONLY to people that assume they would be witnesses, and we do not know who "others close to the investigations" are.
6.
Toensig makes a point to call out Attorney Huber here, however what is being completely overlooked in this statement is an active and ONGOING investigation into U1. I want to show you why this is the truth- that the DOJ IS INVESTIGATING U1 AS WE SPEAK.
7.
On January 12, 2018 the DOJ released the following "Former President of Maryland Based Transportation Company Indicted on 11 Counts Related to Foreign Bribery, Fraud, and Money Laundering Scheme"
justice.gov/opa/pr/former-…


10.
There is activity on this case as late as November 23rd. If we take a look at the case history, we find we are able to view a transcript. This is a transcript of a status conference on the case.
11.
There are a number of very important pieces of information here. The transcript was from a hearing on 9/4/18. At issue here is the following: The DOJ is arguing with the defendant.
12.
The defendant is stating that he has been unable to review exculpatory evidence which is housed in a massive DOJ database. The DOJ is arguing that they have invited the defense in to use their software to review the documents.
13.
The DOJ is stating that this massive DOE/DOJ database of evidence can be searched using keywords, and that the defense has not taken them up on their offer to view it. The defense is stating documents are corrupt.
16.
You read that right! He states here that the US government executed SW on TENEX AND TENAM-- and I think that normally the government doesn't execute search warrants and grab hundreds of thousands of pieces of evidence in a "broad" case when they are not DOING ANYTHING.
17.
AGAIN- THE DOJ has executed search warrants, and obtained, HUNDREDS OF THOUSANDS of pieces of evidence from TENEX and TENAM. I will let you just sit on this for a moment.
18.
So, if NOTHING was happening with U1, and there wasn't an ongoing and open investigation into U1, AND THE CF I would join the pity party of "nothing is happening, we are finished." However, that clearly isn't the case.
19.
The DOJ has been working this case for nearly a year, and if this was announced there are certainly others. One more detail- The date of this indictment was 1/10/18. The date that the media began reporting the investigation into the Clinton Foundation? Also early January.
21.
In reading this, one would think that these whistle blowers were at the end of their rope, completely frustrated with the lack of attention they were getting from the DOJ in regards to their evidence. However, that isn't the case AT ALL.
22.
Please listen to this exchange between Mr. Hice and Mr. Moynihan. Notice how they make clear that THEY were approached for this hearing, and not the other way around. This doesn't jive particularly well with the statement made by Sperry.
24.
Now, I want to go through a few of the things that WERE spoken about in this hearing- things that are completely overlooked and not mentioned in this article, just as we saw with the U1 case.
25.
Ms. Norton in the hearing is attempting to downplay the interactions these whistleblowers have had with the IRS. Remember, these whistleblowers have approached the IRS and NUMEROUS DOJ officials with their 6k pages of evidence. Ms. Nortons job here as an agent in defense(con)
26.
(con)of the Clintons is to downplay their info, by highlighting that the IRS denied their initial claim. However, there's a problem with that- they are appealing this decision, and in their appeal, they highlight a VERY TELLING bit of information. Please watch this clip.
27.
Why is this important? Because at the time this "raid" for lack of a better word happened, several intrepid internet investigators were tracking flights from DOJ to AR, and they saw this flight. It was heavily speculated at the time that this was, in fact, a raid on the CF.
29.
No MSM outlet picked up this story, save for a small local radio station.
americanthinker.com/blog/2018/08/m…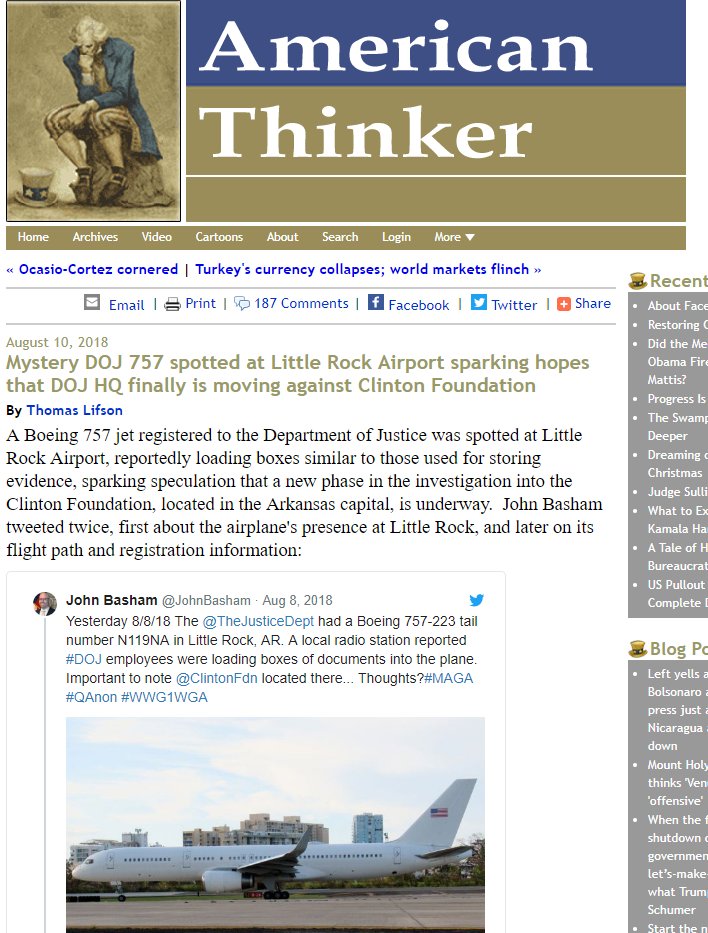 30.
Both the lack of, and the existence of reporting on this is telling. What is more telling? Nowhere did we see the photos that these whistleblowers spoke about in the clip we just saw. What does this mean?
31.
They were there, someone close to them was there, or they are working intimately alongside the FBI. Think about that for a moment- no one but THESE TWO have a photo of uniformed FBI etc removing a plane load of evidence from the CF in Arkansas.
32.
Think about that for a moment- no one but THESE TWO have a photo of uniformed FBI etc removing a plane load of evidence from the CF in Arkansas.
33.
"There is an open and ongoing investigation". This was said in August. There is a LOT more here, but for brevity sake, lets just stop. So where are we now? It's time for my thoughts here. Here is what we know: (cont)
34.
The Justice Department has executed search warrants and subpoenas on both TENEX and TENAM. We learned this from the US Attorneys in the Lambert case, which is open and ongoing. For those with PACER, reference Case 8:18-cr-00012-TDC-1
35.
We know that there is a VERY active and ongoing investigation into the Clinton Foundation, and that these whistleblowers that testified have a unique look inside. We know that they have photos of an active raid on the CF in Arkansas, because they sent them to the IRS.
36.
We know that they have been told there is an active criminal investigation here because they testified to it under oath. As far as Huber goes? We don't KNOW anything. A few points here-
37.
Notice how the RCI piece doesn't focus on any of the ongoing investigations and instead centers on what supposedly IS NOT happening? Is it possible that Huber has left the CF as a secondary BECAUSE the FBI is persuing it?
38.
Is it possible the same is the case for U1? While Toensig would know whether or not her client has been interviewed by Huber, and she says he has not, but does she neglect to state who he WAS interviewed by on purpose? The question isn't asked, so we just don't know.
39.
Sperry also makes a point to state that Carter Page hasn't been spoken to by any US Official in regards to his FISA warrant. Why would he be? The OIG wouldn't need to speak with him about FISA abuse.
40.
He wasn't involved in the abuse- he was the target of it, and he certainly doesnt have any official information. Huber wouldn't speak to him, necessarily either, for the same reasons. So I am willing to walk over that part.
41.
This article was very Huber-centric, focusing on what he has and has not done. It has completely ignored literally everything else happening- I am not sure why people keep doing that- making you focus on what appears to be negative (cont)
42.
(cont) without further diving back in to what is positive. As I have demonstrated here, the Justice department is VERY busy, we have proof of executed U1 search warrants on TENEX and TENAM and a huge FBI investigation ongoing, seemingly into U1 and the CF
43.
In closing, while there is the *possibility* (and I am not willing to concede this) that Huber has been a deep state psyop set to make everyone THINK something is happening while nothing is, there is ACTION happening in LOTS of different places.
44.
Overlooking it out of exasperation does no good service for anyone. Take a breath. Use facts we have. Please watch and share my video about this topic! It helps me greatly. STAY STRONG patriots- things are getting fun, just before Christmas.