Something to learn from smaller nations; even Islamic:
Sheikh Hasina has won for 3rd consecutive time since 2009, becoming PM 4th time. Won 288 seats out of 298.(with alliance) 82% vote share. No NOTA, of course. 😂 She's an admirer of
@narendramodi
, has likened her win to 2014.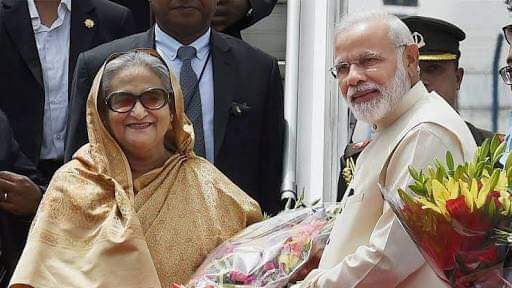 Want to know secret of her success!
She adopted Zero-Tolerance policy against terrorism (along with development) while her opponents, their 'maha-gathbandhan' was sympathetic towards Pak-sponsored terrorists, like our opposition. The main Opposition, BNP got just 7 seats😉.
We need to learn from Bangladesh. She didn't hesitate to put Pak-backed ex-PM Khaleda Zia behind bars on charges of corruption. Not for scams like 2G, Coalgate, NH, Agusta but for mere 30-40 million Takas. She was jailed along with her political secretary (her version of AP😁)
An iron fisted approach but with good governance has paid off. Precisely what we have been urging 'ad-nausium'.
Same thing done by 🇲🇾Malaysia who have arrested and jailed the corrupt former Prime Minister Najib Razak couple of months back.
Even his wife Rosmah Mansor too for her lavish life styles.
Brazil also imprisoned their former President for 12 years. People celebrated, seeing it as a victory in the nation's battle against corruption and impunity.
And I am not even talking of what China, Russia do.
The obvious difference between India and Bangladesh is the demography. The second largest majority has been afforded the position of "Minority" with undue power in their hands to decide elections, aided by corrupt media, intellectuals and political parties.
When
@narendramodi
came to power with a thumping majority in 2014, people had expected CON bigwigs to be behind bars within 1-3 years on corruption charges. Maybe he underestimated the extent to which the investigative agencies and Judiciary had been compromised by them.
Only thing that brings progress and stability is one party rule and not chaotic sham democracy. Hasina effectively eliminated extermist party and is now getting GDP growth rate at 7 to 8 percent. India needs to eliminate the fountainhead of corruption, the CON party.
Pakistan🇵🇰 is mourning Hasina's win. We should too make them mourn again in May 19. And for that, the people have to vote sensibly. Govt also has to do something "EXTRA". Like arrest the scumbags in the infamous Family on some charge and get a confession the Sandinista style! 😉
The rest is easy. They rot in jail.
But India is dithering; there are many who believe "SHE" will get sympathy vote like IG due to such an action.
Damn it, then pay for it if she's back....😡😡
So It's in your hands now people.
#DoNotRepeatTheMistake
#NamoAgain
👈