The very first time I confronted thousands of subliterate political trolls and what must have been bots—VERY similar in tone to the Kremlin / Bernie ones of our time—was in 2007. They were agitating for RON Paul. Story available on request.
So IIRC
@Green_Footballs
had a post or two in 2007 about Ron Paul getting money & affection fr/Stormfront, the white nationalist joint. I had a new blog on
@nytimes
called The Medium. I picked up on Charles's piece, and did my own blog entry on Ron Paul's weird Stormfront ties.
And here's what I wrote, very much following Charles (whom I described then as "hawkish" — sign of the times).
web.archive.org/web/2007122615…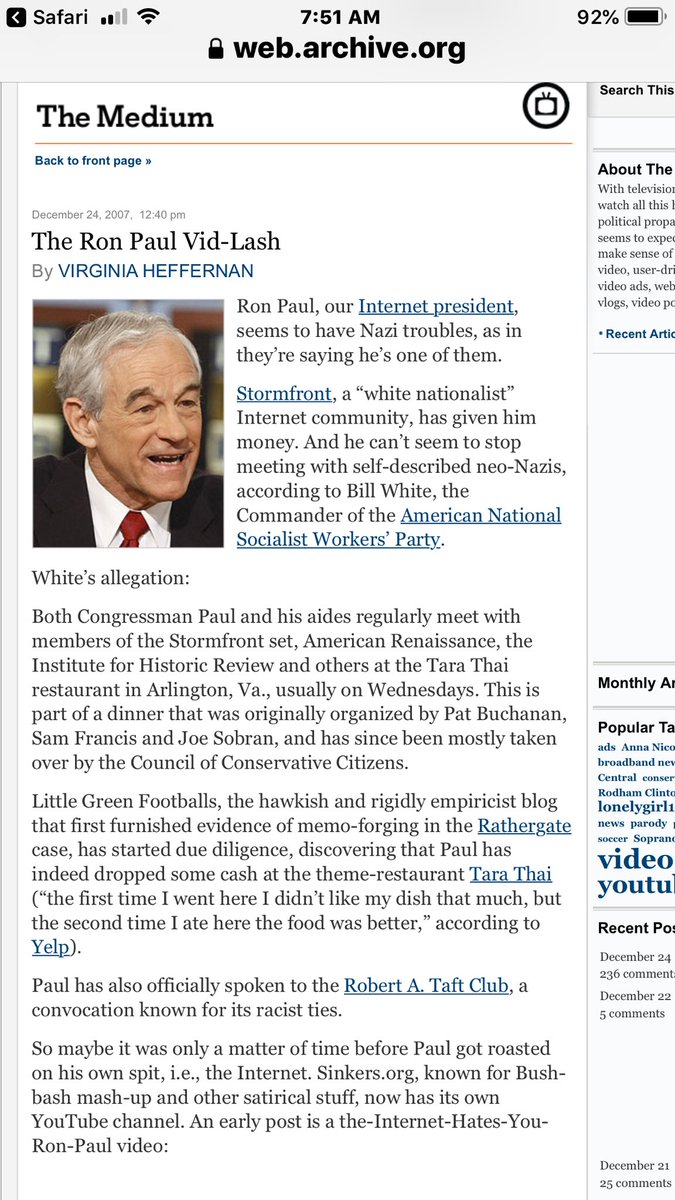 The comments section on the blog went crazy. Hundreds then thousands of identical-sounding comments. Calling for my head, calling me an idiot, canceling subscriptions, crowing about the Ron Paul Movement, etc etc.
It seems it wasn't Stormfront but Don Black, the *founder* of Stormfront, who'd written Ron Paul a check. & I'd included allegations abt Paul dining w/neo-Nazis by neo-Nazi Bill White. I was clear they were allegations. The trolls ranted abt what they pretended were grave errors
The comments kept flooding in. Stormfront & other neo-Nazi boards were stoking fury and dispatching trolls (bots?) to my Times email & other NYT email addresses. I told editor this was blowfishing & we should publish the one merited orrection and be done with it but he panicked.
Sound familiar? Traditional media falling for online info ops.
Eventually the NYT didn't just correct my post. It RETRACTED the post. The bots & trolls terrified a venerable NYT editor & he wiped it fr/the web.
This is all that's left, the retraction:
themedium.blogs.nytimes.com/2007/12/26/edi…
Leaving Ron Paul's ties aside for a minute, why DID the NYT take the weird step of fully *retracting* that post?

Because a big info-ops campaign that looked an awful lot like the ones for Trump/ Sanders in 2016 scared the hell out of them & made them doubt their judgment.
Of course disinfo campaigns get in the heads of everyman voters. But what's more sinister (& less clear): They shake the confidence of traditional media. Botnets & trollfarms win when they make places like the NYT do insane, unprecedented things. Recent victories: 2007 & 2016.