It concerns me that the US State Dept under Trump/Bannon awarded a $500k contract to Cambridge Analytica's parent company, SCL. And that Steve Bannon didn't disclose his relationship to CA until after that contract was awarded. cc:
@CREWcrew
publicintegrity.org/federal-politi…
1/
2/
This article references the defense contract as well and explains the substantial overlap & fuzzy line between SCL and Cambridge Analytica.
bloomberg.com/news/articles/…
3/
In Feb. 2017, SCL had "just finalized" a $500k contract w/ the State Dept. & had "pitched officials in key national security agencies on how its technology could be used to deter terrorism & ...help assess attitudes about IMMIGRANTS." What the H?!
washingtonpost.com/politics/after…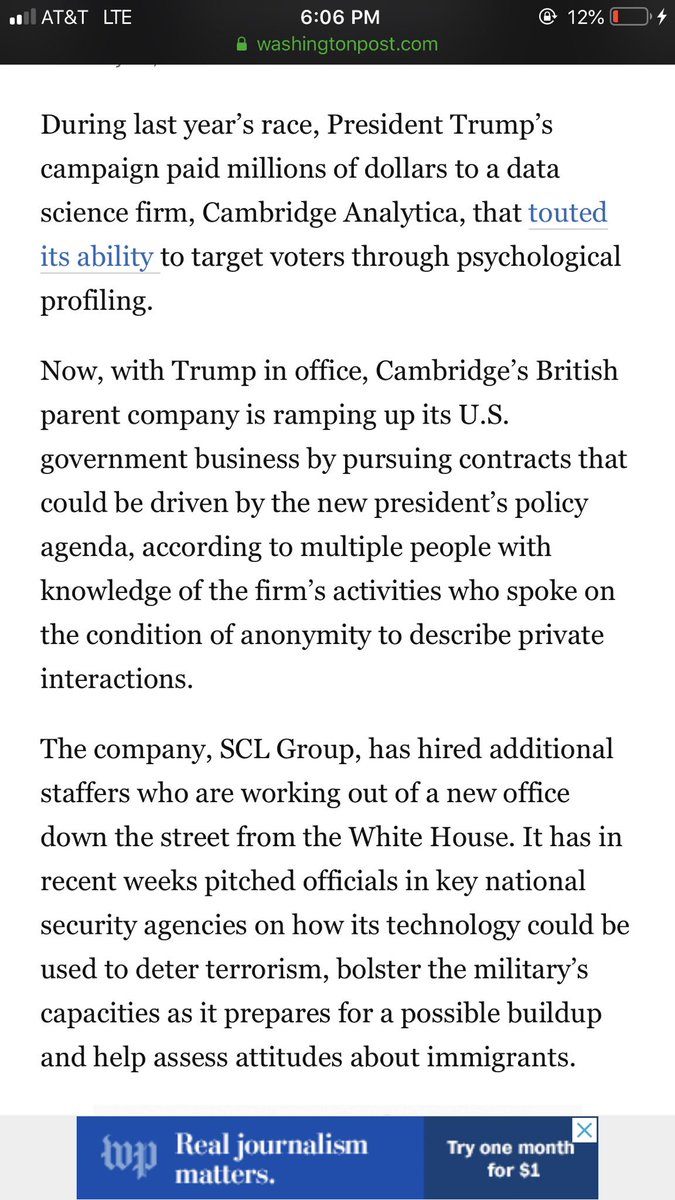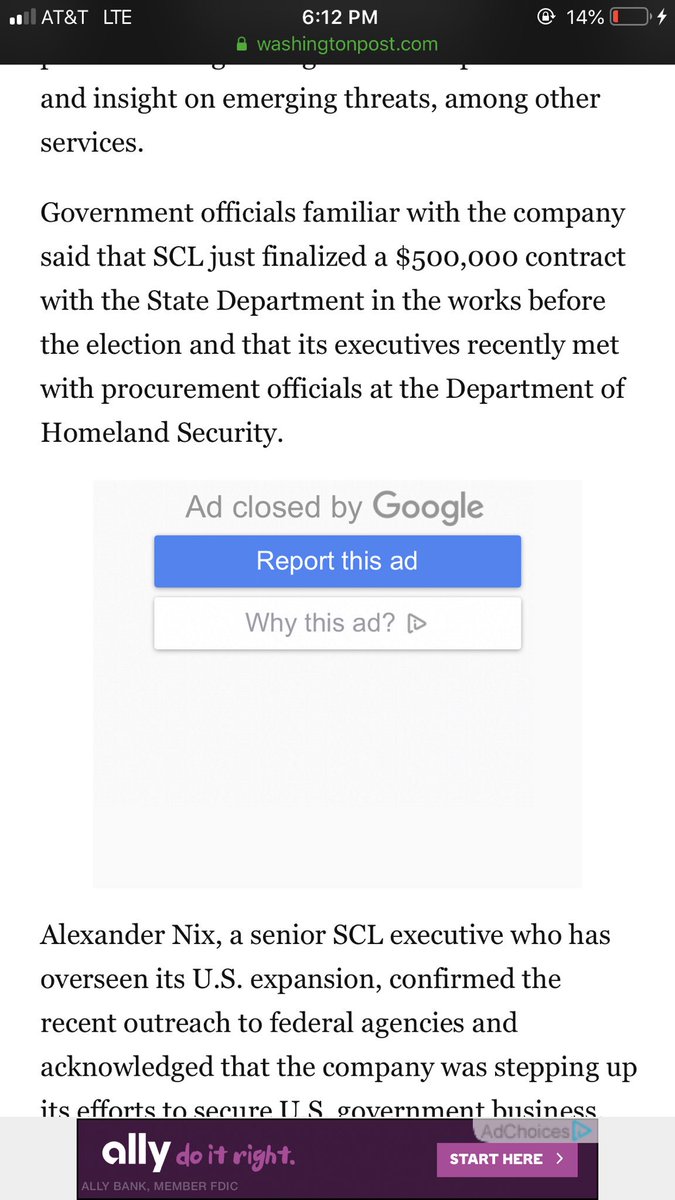 4/
So has the White House been using Cambridge Analytica/SCL to spread its anti-immigrant messaging via taxpayer funded government contracts?!
5/
Here is Bannon's White House disclosure filed in March 2017 (after he left the WH) disclosing his close ties to Cambridge Analytica.
drive.google.com/drive/mobile/f…
6/
"The SCL has come under fire for collecting the personal information of 50 million Facebook users and giving it to Cambridge Analytica, its spinoff branch."
google.com/amp/s/amp.dail…
7/
"The company harvested the data with the help of Cambridge professor Aleksandr Kogan and his company Global Science Research, which used a personality test app called thisisyourdigitallife to learn more about Facebook users."
8/
"After receiving the data without permission, Cambridge Analytica created a powerful software that was designed to influence Facebook users' votes."
9/
"We exploited Facebook to harvest millions of people's profiles. And built models to exploit what we knew about them & target their inner demons," Cambridge Analytica whistleblower Christopher Wylie told The Observer. "That was the basis that the entire company was built on."
10/
"Wylie, who went public with the allegations last week, briefly addressed the contract in an interview with the Guardian."
11/
"It's insane," he said. "The company has created psychological profiles of 230 million Americans. And now they want to work with the Pentagon? It's like Nixon on steroids."
12/
I would like to know if Trump's White House awarded government contracts to SCL not to deter actual terrorism, but rather to fuel its anti-immigrant messaging and other propaganda. This is potentially a lot worse than standard "corruption."
15/
"In explaining that the [NSA] had declined to even...search for records about...SCL Group, Chapman wrote, '...due to changing security concerns, this is now our standard response to all requests where...records are being sought on a contract or contract-related activity."