@devduttmyth
that's the problem when you claim to be expert of myth. This tweet gives but only bad taste & sets narrative against Brahmins. Below is my rebuttal. Care to respond. Cc
@sankrant
@Sanjay_Dixit
3/n
If you look at the Sanskrit alphabets,particularly called "वर्ण", you'll find a singular symbolic representation of almost every sound a human is capable of making unlike in other languages including eng. For instance,in Eng to produce a sound for "फ", you combine "P" and "H"
4/n
Similarly for "ख" it is "K" and "H" and the list goes on...
The reason for this is every sound has its own frequency & wavelength which doesn't match with any other sound. So ,our great Rishis already gave a unique representation to them in the form of a "वर्ण".
5/n
I'm sure that you must be aware that there are no silent "वर्ण" in any "शब्द" we speak in Sanskrit unlike any other languages.
Now, before I try to explain further please watch these two videos in 6/n & 7/n which shall help in understanding the concept of mantras.
6/n
1) Video 1: Resonance Experiment
7/n
Video 2: Water Experiment
8/n
In the "Resonance Experiment" (6/n),we can understand that every frequency is associated with a form that can take any geometric shape. Complexity increases with increase the frequency.
9/n
The "Water Experiment" (7/n) shows that the changing frequency effects the organisation of atoms and molecules in the fluids.
A mantra is a collection of well framed and well versed "शब्द" holding a meaning and consisting of large number of frequencies.
10/n
These mantras when chanted are surely going to affect your physical & mental state.The reason is physical body is 70% water (or fluid) and your mind is a collection of thoughts or more precisely if I say its "Energy". When you chant a mantra, these two energies interact.
11/n
Hence, try to relate it with above two videos.
The mantras or shlokas are in Sanskrit and are complex enough to be pronounced clearly. So, if you pronounce them wrongly, the mantra loses its essence as the frequencies will go all wrong.
12/n
It's only for this reason that more importance is given to chanting the mantras rather than understanding their meaning. Its always wonderful to understand the meaning so that you get more interested while chanting,bcoz you know what you are trying to communicate to Brahma.
13/n
To let the mantra and shloka fulfill its purpose, correct pronunciation and chanting in original form is more important than its meaning.
@devduttmyth
even if I assume that you know meaning of all scriptures, it doesn't gives u any right to pass misinformations.
14/n
@devduttmyth
, agree that in various instances of past Brahmins opposed entry of 'lower caste' in temples. On this can you make your stand clear than being rhetoric? For me, yes it was a mistake but I'll refrain from declaring Brahmins as evil with a generic rhetoric.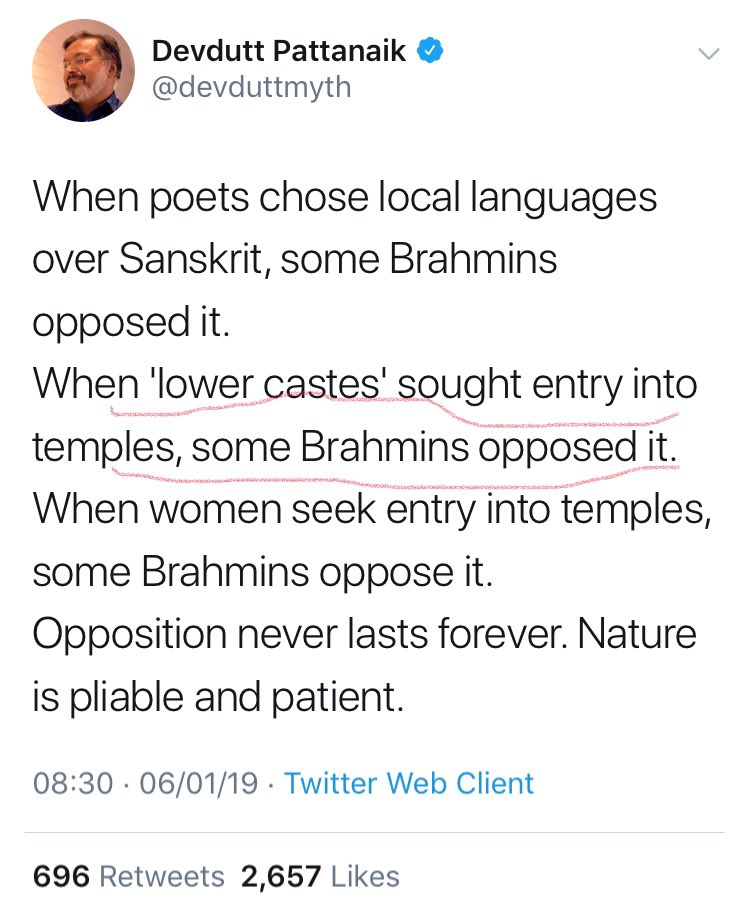 15/n
@devduttmyth
Precedents should always be taken from scripture because 'to err is human.' No Shashtras ever talk of caste based discrimination. As per definition 'Only realised Soul can be Brahmins.' So stop looking at 'Born to' angle of classification.
16/n
I'm sure
@devduttmyth
that you know very well that Narakasura was killed by Krishna (Vishnu Purana). If
Scripture says, Narakasura is Asura, who is not a Sura (Angel). The same Scripture says that Narakasura was born to God Maha Vishnu and Goddess Bhudevi (Earth).
17/n
Both the parents belong to the caste of Sura and not to the caste of Asura. Hence, you cannot claim Narakasura as Asura. Though Narakasura was a Sura by birth, he was called as Asura based on his qualities and actions.
@devduttmyth
then why wrong precedent today?
18/n
It's but an act of creating outrage against Brahmins when you tweet something like this. Though I often feel that you
@devduttmyth
just write things carving enough ambiguity, and often misinformation's. Pl clarify.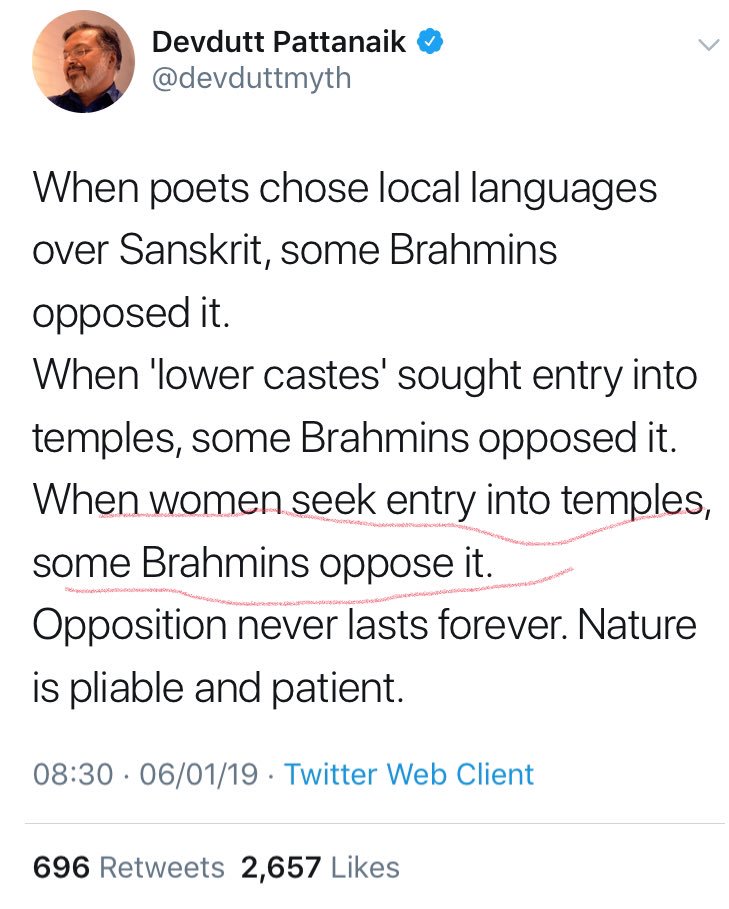 19/n
@devduttmyth
this one is indeed most hilarious. I'm sure that you talk of it in context to Sabrimala. Then can u pl let people also know that what's the root cause that particular age-group (not all women) are prohibited? And trust me it's not actually Menstruation.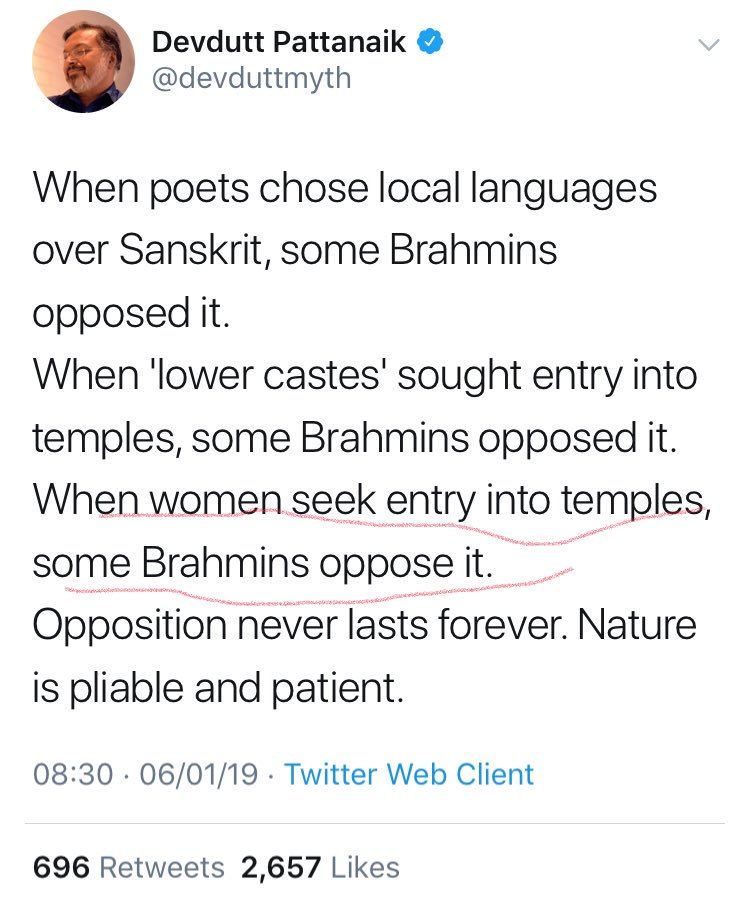 20/n
The Sabrimala tradition has a reason, beautiful & emotional. Breach of tradition does but only collapses ideas based on which deity exists? What devotion is about destruction of Deity? Will you recommend 'Bali' at Vishnu Temple or 'Vedic Hymns' at any Mosque?
21/n
@devduttmyth
in case you aren't talking specially abt Sabrimala then can you pl give list of temples where female are prohibited and also produce the list where men aren't allowed? You call urself expert of scriptures, but I feel pity that you aren't even aware of root.