Hello from Day 30 of El Chapo's trial.
Alex Cifuentes is back on the witness stand for more cross-examination. My story on his claim yesterday that Chapo paid a $100 million bribe to
@EPN
, among other stunning allegations…
news.vice.com/en_us/article/…
Lost amid the craziness yesterday was some fascinating testimony by Alex Cifuentes about El Chapo's business in Canada.

We heard how the cartel planned to buy homes on Lake Champlain to smuggle drugs by boat, but it seems most of the business was done in Vancouver BC.
Cifuentes said he began sending Chapo's cocaine to Canada starting in 2008: "Not constantly, but here and there shipments would go through."

He said the cartel also supplied meth and heroin. The drugs would pass through LA and Phoenix en route to the northern border.
Cifuentes said he connected Chapo with a Colombian-Canadian man to run the business in Vancouver. He gave the name Steven Tello, and said this guy attended cartel meetings in Cancun, Los Cabos, Puerto Vallarta, and Culiacán.
Cifuentes said Chapo also worked with an Italian mafia figure in Canada named Tony Suzuki. Together with Damaso Lopez aka El Licenciado, they coordinated shipments worth "dozens of millions." Drugs moved into Vancouver in tractor trailers and, somehow, helicopters.
Cifuentes said there were "many complaints" about Tello, and Chapo believed he was stealing the cartel's money in Canada. They tried to lure him to Culiacán so that he could be killed but he refused to come. That led to a murder plot involving the Hell's Angels.
Cifuentes said he asked his wife "for the favor" of finding somebody who could murder Tello in Canada. Eventually, they decided to use the Hell's Angels. "It was likely I'd do it through them," Cifuentes said. But the killing never happened. We didn't get to hear why.
We spoke to the DEA agent who captured Chapo in 2014. This didn't make it into the podcast, but he was eavesdropping on cartel comms and said there were mismanagement problems with the business in Canada. It sounds like Steven Tello is lucky to be alive.
open.spotify.com/episode/738NnU…
Heading up to the courtroom now, stay tuned for updates from today's testimony…
Cifuentes was evasive when asked about the bribe to a purported DEA agent: "My brother did that. I don't know if it was a bribe or a gift," he said.

The brother he's referencing is Francisco "Pacho" Cifuentes, who led of the family's drug empire until he was murdered in 2007.
Chapo's lawyer Jeff Lichtman reference past statements that Alex Cifuentes had given to U.S. law enforcement about the alleged DEA bribe.

Lichtman asked whether Cifuentes really told the DEA that the corrupt agent said the agency was "not concerned" w/ the family's trafficking.
Cifuentes didn't get a chance to answer the question. The government objected, there was a sidebar conversation with the judge, and Lichtman moved on to another topic.
Prosecutors asked the judge to block Lichtman from asking Cifuentes about alleged DEA corruption. Lichtman's response on Jan. 8 offers more details on what supposedly happened.
documentcloud.org/documents/5680…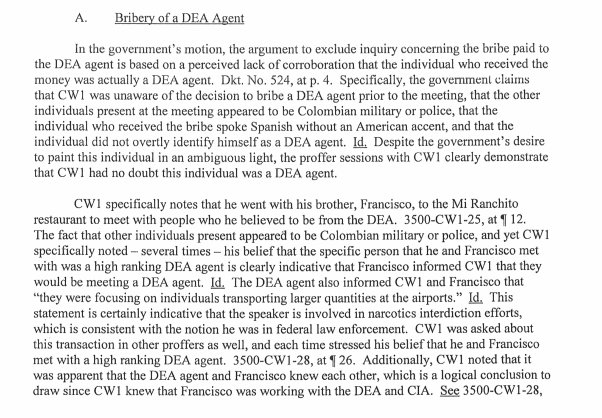 Lichtman's letter also references a claim from Alex Cifuentes that his brother Pacho purchased planes from the CIA.
documentcloud.org/documents/5680…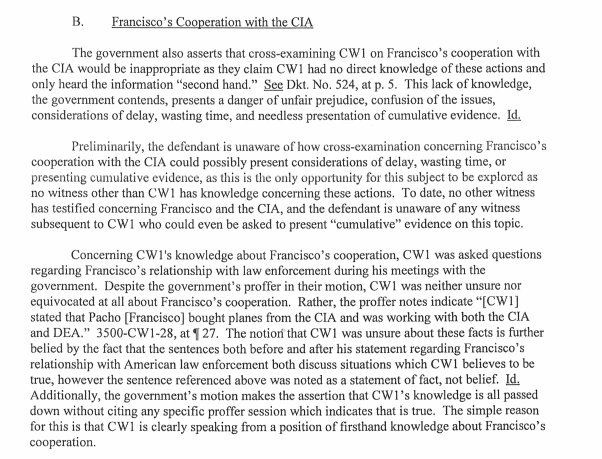 Spokespersons for both the DEA and CIA declined to comment when I asked earlier this week about the allegations made by Alex Cifuentes.
There was some discussion this morning about the sealed motion from prosecutors to block questions to another witness. As noted earlier in this thread, that likely has to do with the alleged bribes paid by Chapo to former presidents of Mexico. That was confirmed today.
After some back and forth, Lichtman said of prosecutors: "Maybe they're desperate to protect the Mexican government."

Judge wasn't happy, but he declined to grant the request to block further questions about presidential bribery. "It's already out, as of yesterday," he said.
Judge noted that the allegation that Chapo bribed a president doesn't exactly help the defense. He said to Lichtman: "You told the jury in opening the evidence would show Zambada was paying bribes to the president of Mexico. Nobody has shown me anything so far to back that up."
Another perspective on the exchange in court this morning regarding testimony about Chapo allegedly paying bribes to Mexican president…
Other cross-examination this morning covered claims that the Cifuentes family paid monthly bribes to a Colombian general named Naranja to give the family protection. The family also allegedly bribed the Colombian air force for info on the locations of military ships.
Prosecutors also tried —unsuccessfully — to block questions about Colombian corruption: "They are designed to embarrass and provoke — there's no real purpose."

Lichtman: "The idea it's designed to embarrass — embarrass who?"

Judge: "Yeah, I don't care about embarrassment."
Lichtman's cross has been painful to watch. He seems to be the only one in the courtroom enjoying it. He's hammering on Cifuentes on stuff that seems trivial, trying to paint him as a liar. It's often argumentative. Judge admonished him at one point: "Don't yell at the witness."
More from Lichtman's cross-examination of Alex Cifuentes coming after the mid-morning break. Stay tuned for updates…
Some truly wild testimony just now from Alex Cifuentes. We heard that Chapo gave to a film producer in 2012 in which he claimed that the Mexican military "tied a rope to his feet, which was attached to a helicopter and flew him upside down."
Cifuentes claimed he was present when this interview occurred at Chapo's home in Culiacán, the one with the tunnel hidden under the bathtub. It was for the movie that Chapo wanted to produce about his life.
Cifuentes said Chapo claimed the encounter with the Mexican military happened in Nayarit. He didn't give a year. "They arrested him," he said. "They banged up on his hands."
Lichtman interrupted and read what Cifuentes told US authorities during one of his debriefings. Apparently, Chapo told the film producer that after he was arrested "the army smashed his hands with the butts of their rifles."

Cifuentes: "He told that to the producer, yes sir."
Lichtman quoted Cifuentes as saying the military tried to get Chapo to give up the location of a drug stash by dangling him upside down from a helicopter.

Lichtman: "According to you Mr. Guzman claimed he never gave up the drugs?"

Cifuentes: "That's what he said."
Cifuentes apparently told US authorities that Chapo showed his hands to the producer and told him to look at the scars left by the military's beating.

Lichtman asked: "Did you see the scars?"

Cifuentes said no. Lichtman's point was that Chapo had no scars. The story was BS.
Chapo's helicopter story was the last thing Lichtman asked about. It really gets to the heart of one of the big problems with this trial: Just because a witness makes a claim, it doesn't necessarily mean it's true. Lots of testimony being treated as fact with no corroboration.
Another fun claim from Cifuentes, as relayed by Lichtman: "Damaso Lopez made hats and t-shirts with the words 'Cartel de Sinaloa' on them."
Update on the story I shared this morning about Chapo's plot to have someone murdered in Canada: Cifuentes testified that the day he was arrested in Mexico in Nov. 2013, he was supposed to meet with the Canadian leader of the Hell's Angels to discuss the plan for the killing.
We got more details about Chapo's life in the mountains.

According to Lichtman, Cifuentes said it was "pretty primitive conditions.…all the chairs in his house were the plastic folding variety…he slept on a simple wood frame bed… his night table was just planks of wood."
Lichtman quoted Cifuentes as telling US authorities that Chapo's house in the mountains "was filled with old tube televisions… you told the government he didn't he know what a plasma television was." That contradicts a previous statement about Chapo having plasma TVs.
Was Chapo actually poor? On one hand, Cifuentes told US authorities Chapo claimed to own a fleet of planes and have stash houses across Mexico that each contained $5-10 million in cash. On the other hand, Cifuentes also said Chapo "would often lie about his wealth and influence."
According to Lichtman, Cifuentes also told U.S. authorities that Chapo was $20 million in debt because of his war with the Beltrán-Leyva organization. "There was a deficit in 2008 of more or less $20M," Cifuentes confirmed.
We also got some wild testimony about Cifuentes family drama. Long story short, Alex Cifuentes hired one nephew to kill another because one of the nephews ordered the kidnapping of his own grandmother, which was also Alex's mother. Confused? So was I.
Lichtman's cross-examination of Cifuentes ended right before the lunch break. About to get re-direct. Expecting two law enforcement witnesses to be called next, followed by another cooperating witness. Stay tuned for updates.
Alex Cifuentes is done testifying. We had brief testimony from a Dominican military official who wiretapped one of Chapo's partners, followed by a cryptography expert from the FBI who examined Chapo's drug ledgers.
Interesting bits from the FBI cryptography expert.

She found that Chapo's drug ledgers for just over a month (Oct 3, 2011 - Nov. 18, 2011) referenced 9,124 lbs of drugs, 21, 266 kilos, and 12,606 units w/ no weight. Transactions worth over $2.128,054, plus 4.1 million pesos.
Chapo also listed his expenses, which included fun items like: "Omar Funeral" "Gas for Guys" "Hugo's Pesos" and "Chinese Food." We didn't hear whether that meant actual Chinese food or code for something else.
Chapo's code wasn't exactly tough to crack. He used common Mexican slang like perico for cocaine, chiva for heroin, and mata (or mota) for marijuana. There are also clear references to "methalymine hydrochloride," a chemical used to make meth. Highly incriminating stuff.
These were the ledgers seized by the DEA during a raid on Chapo's home in Cabo San Lucas in 2012. The notes were also used to pass messages between Chapo and the employees closest to him. Reminded me of the famous line from The Wire…
More testimony happening now. We could get a very interesting cooperating witness later this afternoon. Stay tuned for updates.
Day ends with testimony from Victor Vazquez, a DEA agent who was involved in the capture of Chapo in 2014.
We spoke to another ex-DEA agent who participated in this capture operation for our podcast. Listen:
open.spotify.com/episode/738NnU…
Vazquez was targeting three Sinaloa cartel leaders: Chapo, Mayo, and Rafael Caro Quintero. He only wanted the DEA to work with the Mexican marines — not the federal police: "We had done it with them before and simply the corruption level, using them again was not going to work."
The capture op began Jan. 19, 2014. Vazquez embedded w/ Mexican marines at a base in La Paz. Why there? "In Culiacán you're going into the lion's den, the area of control of the most powerful cartel in the world. You can't be there sittin' gathering information. Not possible."
The marines are the most trusted branch of Mexico's military. Even so, Vazquez said he and his men didn't tell the base commanders in La Paz about their capture mission. Why? "The fear of corruption. We wanted to keep it just amongst us and the marines from Mexico City."
Vazquez launched an operation to capture El Mayo on Feb. 13, 2014. He set out from La Paz w/ 40-45 Mexican marines on four Black Hawk helicopters, heading to a ranch just east of Culiacán. By the time they arrived, the sun was setting. Mayo was gone.
Vazquez described how Mayo was likely able to slip away: It took two hours to to reach Sinaloa from La Paz. "They control the whole state — the lookouts are letting their supervisors, their bosses know four helicopters just crossed the Sea of Cortez and are entering their state."
Vazquez said the marines arrested two of El Mayo's associates, then spent two days searching for him unsuccessfully around Culiacán. Then they had to relocate. He explained why they couldn't stay in Sinaloa: "You can't trust any military, any law enforcement in that state."
That's where we left off this afternoon. Vazquez will be back on the witness stand tomorrow. Expect him to talk about the raid on Chapo's house in Culiacán, his escape through a tunnel beneath his bathtub, and his subsequent capture at a beachfront hotel in Mazatlan.
About to join
@arishapiro
on
@npratc
to discuss the latest in the Chapo trial, including the allegations about massive bribes paid to former Mexican president Enrique Peña Nieto. Tune-in on your local
@NPR
station.
#BREAKING
@vicenews
: Newly unsealed filing says El Mayo's brother allegedly bribed an individual who worked with Mexico's current president (
@lopezobrador_
) on his failed 2008 presidential campaign
documentcloud.org/documents/5686…