I often agree with
@EuroBriefing
as I think he & colleagues offer some of the best insights on European politics. But the below is just unthinkable. Were the UK to unilaterally revoke Art.50, I'd bet a case would be put before the ECJ to stop this from happening.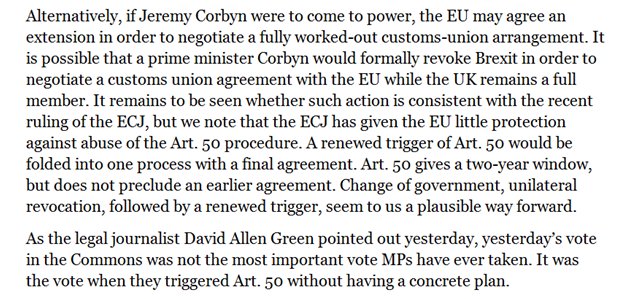 Say UK stays in the
#EU
under Corbyn with the clear plan of triggering
#Article50
a little down the line. What would a good EU lawyer do? She (because, let's face it, it would be a she 😉) would advice the EU institutions to bring the
#UK
before the
#ECJ
.
Why? Because, as a member-state, the UK would have breached Article 4 of the Treaty on European Union (TEU) which lays down something very boring called the "principle of sincere co-operation" between the EU member-states and the EU itself.
This article (paragraph 3 to be precise) also says that "The member-states shall facilitate the achievement of the Union's tasks and refrain from any measure which could jeopardise the attainment of the Union's objectives". Fair basis for Case C-45678, Council v. United Kingdom
In its ruling, the ECJ could very well clarify the scope of Article 50. As we are all making it up as we go along, it can very well say you may only trigger it once, or once every twenty years, or once everytime a Brit wins Eurovision or whatever.
And that is of course, just thinking of the cold, heartless law. Think the
#EU
is being tough now? try negotiating a customs union with the EU27 once you have decided to stay just to get a little bit more time to do what you always wanted to do in the first place...