let me get this straight: Singal is threatening a writer for saying she's spoken w/trans women who've had bad experiences with him?!? well, here's my story. other trans women's accounts are shared in comments section:
juliaserano.blogspot.com/2017/12/my-jes…
...Singal continued to deny the slut-shaming bit (suggesting that I & anyone who believed me were "hysterical and opportunistic idiots"), so I had to carry out the following Twitter poll:
juliaserano.blogspot.com/2018/07/on-jes…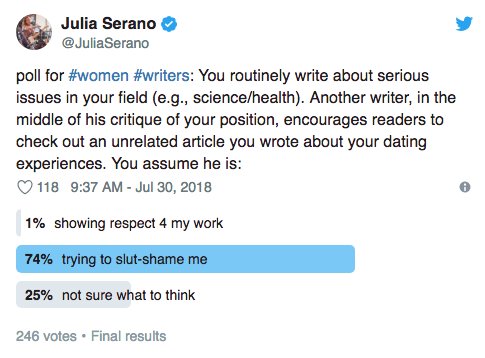 ...this is my critique of his Atlantic piece, along with links to my & other people's critiques of Singal's large body of writing on
#transgender
issues, which are horribly slanted:
patreon.com/posts/19542136
...anyway, this always gets framed in terms of *his* career. but I am a writer too - what about my career? he's the one who began smearing my name first, & he's done so on multiple occasions, including in his secret-elite-journalist email group:
...I know how tempting the "trans activists are after him" trope is, especially for those of you who don't personally know any trans women. I disagree w/a lot of people, but have never accused them of treating trans women shittily. I did so here b/c it's true. for several of us.
btw, this is why I'm responding today:
I've seen a few claims (not sure what they're based on) that it's somehow a "lie" that Singal threatened cis writers. can't speak for Nicole (whose account is closed) but Sady clearly interpreted him as threatening to sue her:

(sorry, deleted and reposted the last tweet so as not to tag anyone into this thread without their consent...)
here is a side-thread that I thought was worth tacking onto the main thread: