I matched up
@carterwpage
timeline with that of NSA Dir Admiral Rogers. Between November 2015 - April 2016 FBI and DOJ's National Security Division (NSD) uses private contractors to access raw FISA information using "To" and "From" FISA-702(16) & "About" FISA-702(17) queries


In March 2016 - NSA Director Rogers becomes aware of improper access to raw FISA data.
Also in March 2016
@carterwpage
is mentioned by Trump as part of his Foreign Policy team


Apr - Sep 2016 - While Adm. Rogers continues his investigation.
@carterwpage
travels to Russia in July


@carterwpage
then writes a letter to FBI Dir. Comey in Sept asking to end the investigation of his trip. "Having interacted with members of the U.S. intelligence community including the FBI and CIA for many decades, I appreciate the limitations on your staff's time and assets"
In October 2016 Adm. Rogers shuts down all the "About" queries, notifies the DoJ and prepares to go before the FISA court. The FISA on
@carterwpage
is approved.
@carterwpage
writes a letter to Organization for Security and Co-operation in Europe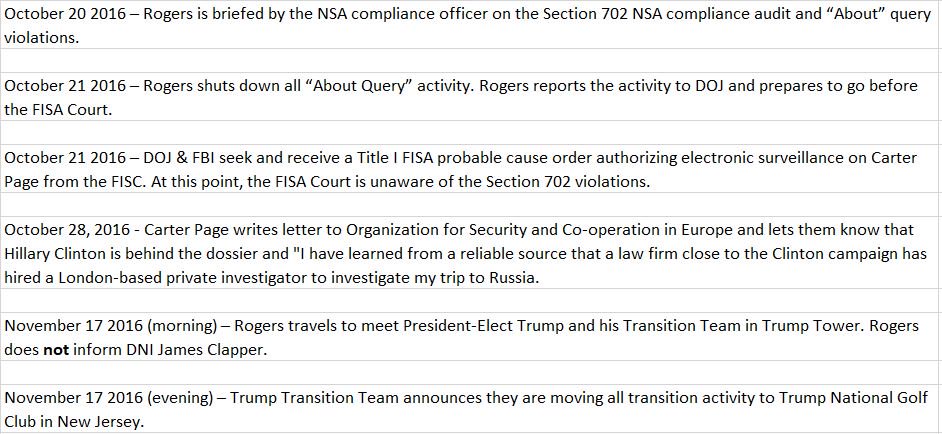 @carterwpage
letter states the Hillary Clinton campaign funded the Dossier and "I have learned from a reliable source that a law firm close to the Clinton campaign has hired a London-based private investigator to investigate my trip to Russia."
scribd.com/document/37138…
Maybe just coincidence, but the timelines match up pretty well.