..
𝘎𝘳𝘰ß𝘦𝘴 𝘣𝘪𝘰𝘨𝘳𝘢𝘱𝘩𝘪𝘴𝘤𝘩𝘦𝘴 𝘓𝘦𝘹𝘪𝘬𝘰𝘯 𝘥𝘦𝘳 𝘋𝘦𝘶𝘵𝘴𝘤𝘩𝘦𝘯 𝘉𝘶̈𝘩𝘯𝘦 𝘪𝘮 19. 𝘑𝘢𝘩𝘳𝘩𝘶𝘯𝘥𝘦𝘳𝘵,
#Leipzig
, Verlagsbuchhandlung Paul List. 190,
one finds the following entry on Marie Baumeister: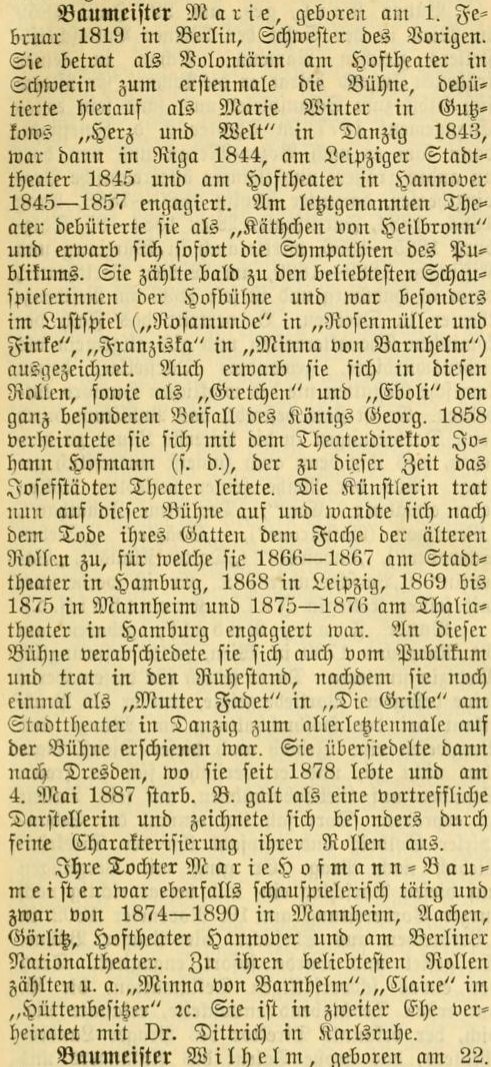 .. the sympathies of the audience. She soon counted among the most popular actresses of the court theater, and particularly distinguished was her performance in comedies ([e.g. as] 'Rosamunde' in 'Rosenmüller und Finke', [or as] 'Franziska' in 'Minna von Barnhelm'). In these
..
.. she married the theater director Johann Hofmann (𝘲𝘶𝘰𝘥 𝘷𝘪𝘥𝘦) [in the 19th century, 39 was very late for a woman to marry LG,I] who at the time directed the theater at Josefstadt. The artist [i.e. Baumeister] now performed at that theater, too, and after the death of
..
.. after having had her last stage-appearance as 'Mother Fadet' in 'Die Grille' [Here, Eisenberg most probably means the 1857 play 'Die Grille' (which means both 'The Cricket' and also 'The Whim/ The Silly Idea') by
#German
writer
Charlotte Birch-Pfeiffer (1800-1868)] at the
..
.. 'Hüttenbesitzer' [unfortunately, I cannot translate the abbreviation which now follows, reproduced as a picture below; perhaps this is an old-fashioned way of writinging 'etc.' LG,I]. She is married (in her second marriage) to Dr. Dittrich in
#Karlsruhe
.'