John Bercow calling Peter Bone a delicate flower is a thing of joy, and Joanna Cherry ensuring Donald Tusk's words are registered in Hansard tops it all off beautifully
Solid British humour ftw, even in the face of the Unbearable Shiteness of Brexit
#MakeItStop
#JustMakeItStop
Very pleased that Donald Tusk's heartfelt reaction to the Unbearable Shiteness of Brexit is now recorded in Hansard for posterity 🤣
Well done to all of those continuing to speak plain truths
#StandUp2Brexit
#MakeItStop
hansard.parliament.uk/commons/2019-0…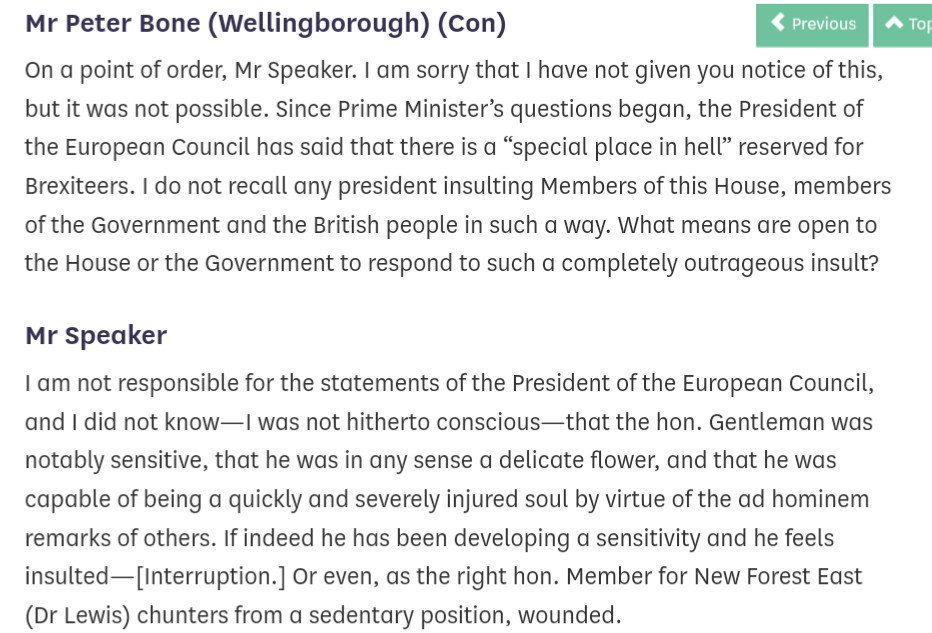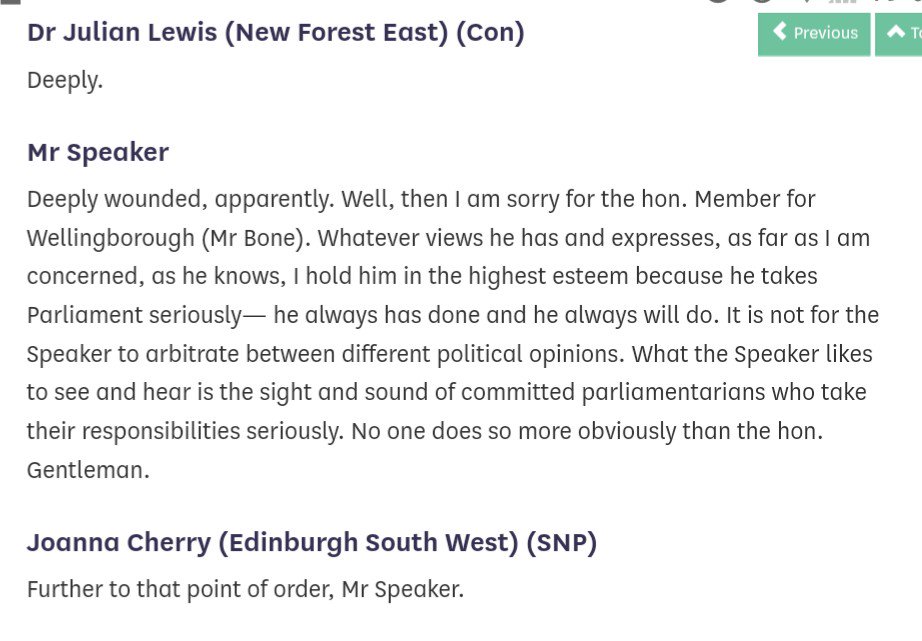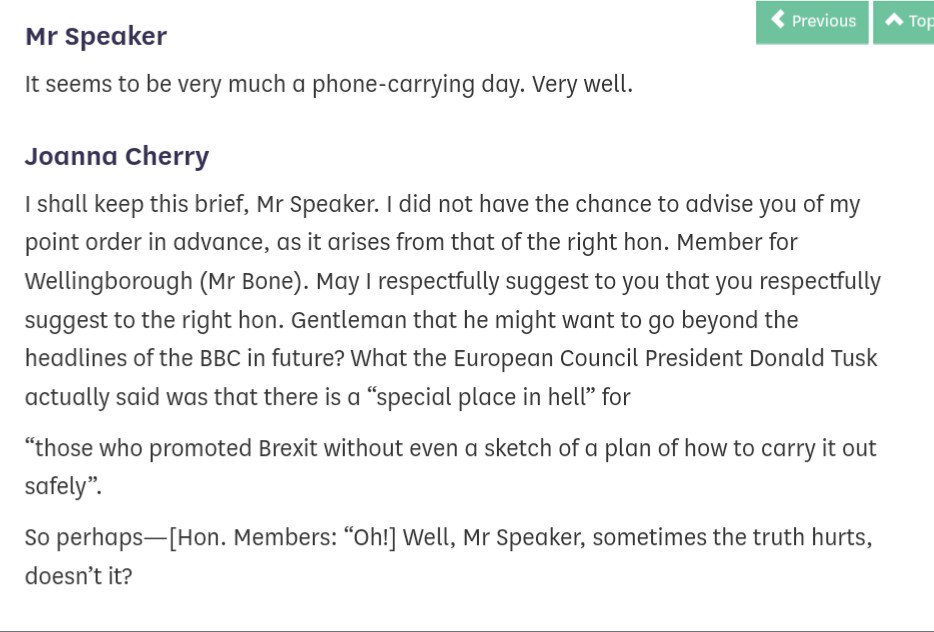 @eucopresident
Tusk speaks truth from the heart as well as the head:
"I know that still a very great number of people in the UK, and on the continent, as well as in Ireland, wish for a reversal of this decision.
I have always been with you, with all my heart.
But the facts are unmistakable"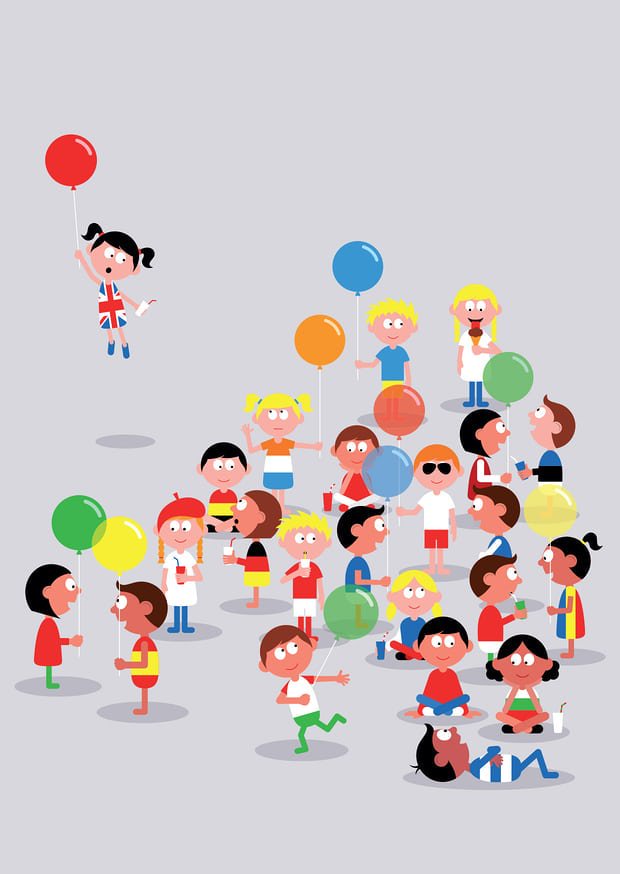 @eucopresident
"At the moment, the pro-Brexit stance of the UK Prime Minister & the Leader of the Opposition, rules out this question
Today, there is no political force & no effective leadership for remain.
I say this without satisfaction, but you can't argue with the facts."
#StandUp2Brexit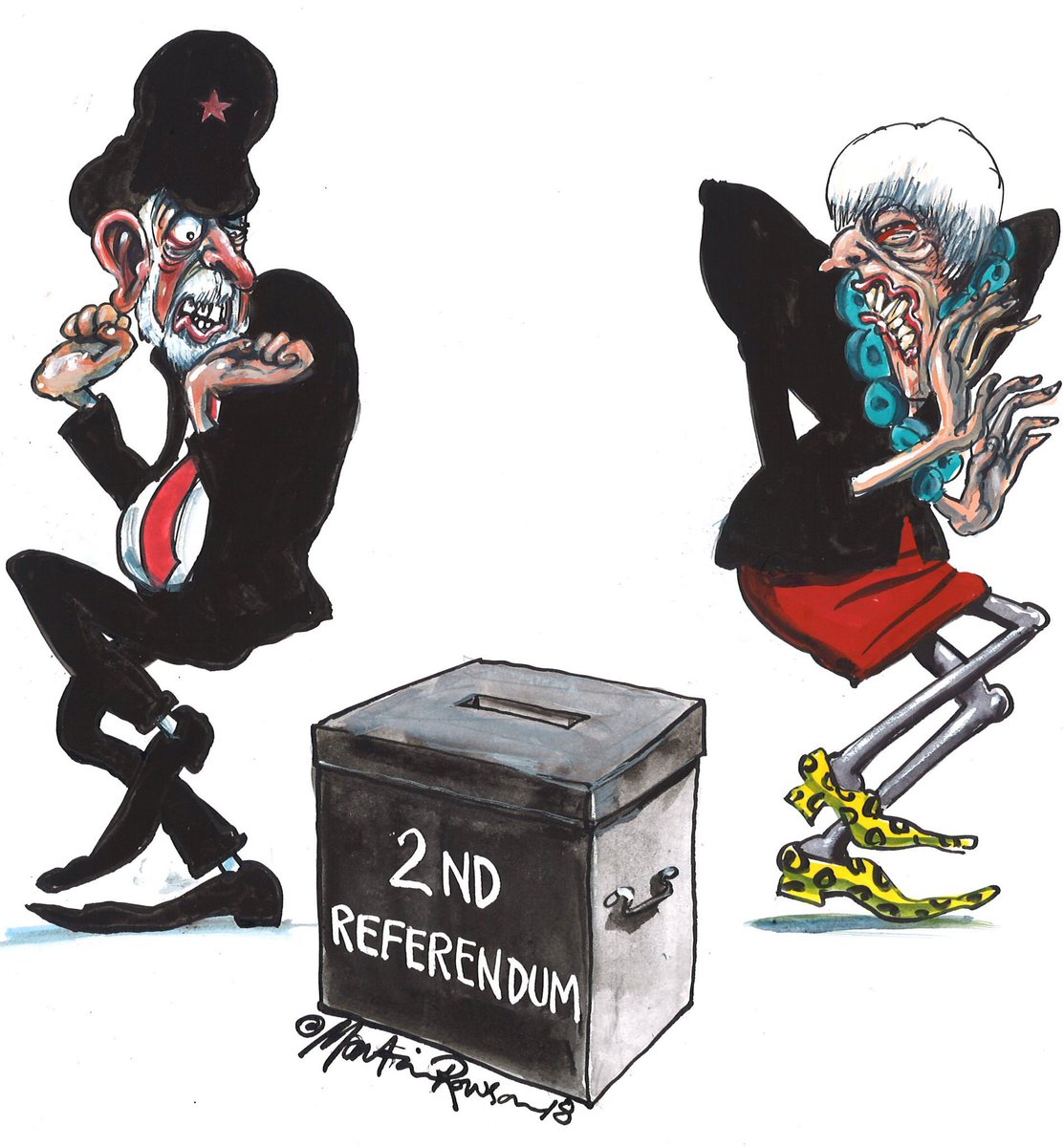 BBC is only reporting ForBrexit as is so often the case these days, sadly.
Donald Tusk: The people who made Brexit happen are incompetent & bringing £Billions of damage to the lives of millions of People!
Brexiteer Elite: EU Boss is being insulting to everyone who voted Leave!
Not for the first time (like, every time I vote in a PR system instead of FPTP)
I feel that the EU is looking after this country better than our own government.
Leaving is a bad decision for most of us.
Everyone needs to look at the causes & consequences of Brexit
#Lookb4WeLeave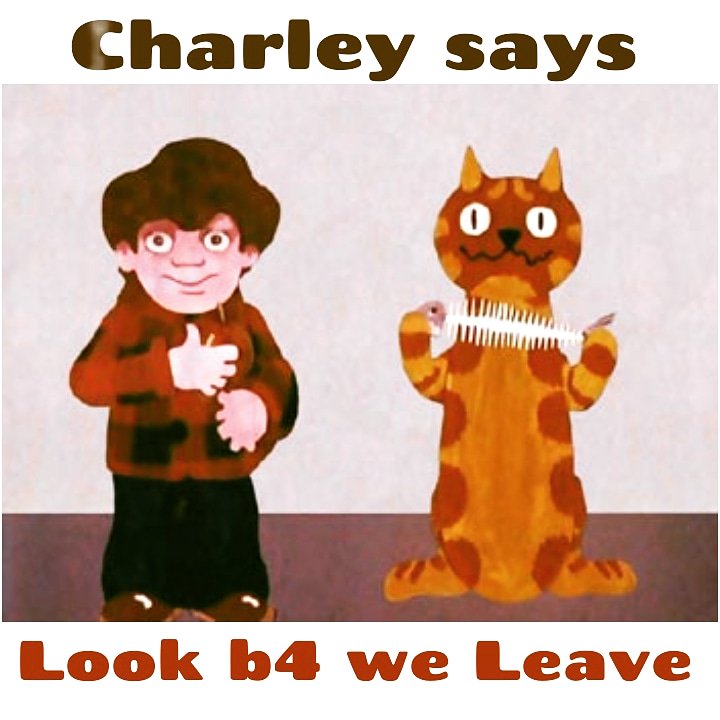 EU membership has been enriching our countries & counties of our nation in a way our government is not likely to be able to if we do commit Brexit.
Cost of Brexit is more than net EU Fees, so that money is gone even if they wanted to spend it, which they don't
#ToriesDontCare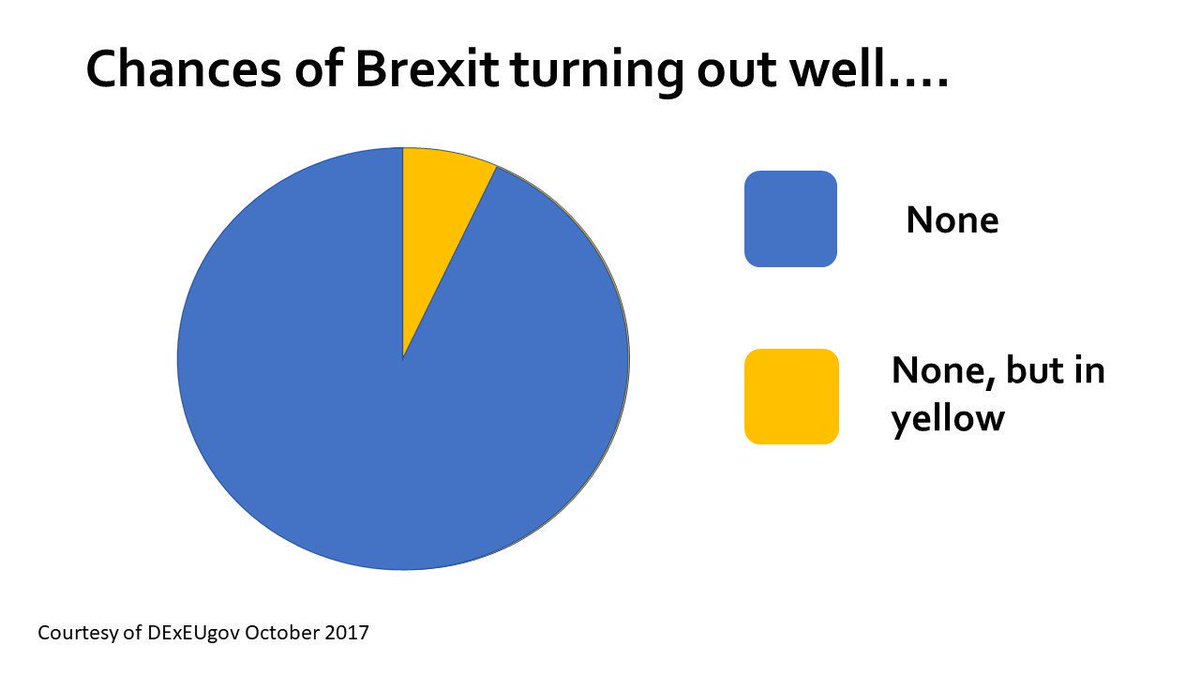 I think it's really important for everyone to face what Brexit means.
There's lots of bravado tossed about by Brexiteers about how it will cost the EU so much money they'll cave at the last minute.

Step back. Aside from it costing us more, are you ok with hurting our neighbours?
I'm trying to imagine how UK residents would react to another country in Europe making a decision that costs us £billions, especially one that is so obviously dodgy. Livid doesn't cover it.

Mind you, that'd just be England mostly, the rest of the UK is used to being shat on.
Not just the money either. It's the trust, the hope & the peace.
"The top priority for us, remains the issue of the border on the island of Ireland, & the guarantee to maintain the peace process in accordance with the Good Friday Agreement. There is no room for speculation here.
"The EU itself is first and foremost a peace project. We will not gamble with peace; or put a sell-by date on reconciliation. And this is why we insist on the backstop. Give us a believable guarantee for peace in Northern Ireland, and the UK will leave the EU as a trusted friend"
"I hope that the UK government will present ideas that will both respect this point of view and, at the same time, command a stable and clear majority in the House of Commons. I strongly believe that a common solution is possible, and I will do everything in my power to find it."
"A sense of responsibility also tells us to prepare for a possible fiasco. The Taoiseach and I have spoken about the necessary actions in case of no deal; I know that you will also be discussing this shortly with the European Commission."
#Brexitshambles
#CheckBrexit
#StopBrexit
But yes, there was a kick at the end to try to wake people up
"By the way, I've been wondering what that special place in hell looks like, for those who promoted Brexit, without even a sketch of a plan how to carry it out safely. Thank you.
Help
#MakeitStop
Sign up for
#FinalSay
Very depressing watching the failure of our government to govern
Rest of the world wondering WTF? ¯\_(ツ)_/¯

What do you think of 2nd ref? EUref2?
"a humiliation in the eyes of the world from which we wouldn't recover for decades"
"the most phenomenal demonstration of democracy"
If you are wondering where those definitions of a PeoplesVote came from, they're both suggestions from the Tory party.
Daniel Hannan & Heidi Allen.
Here's some more detail.
(I'm with her)
FinalSay is a chance to try to make good on the dodgy clouded 1st referendum
#LetUsDecide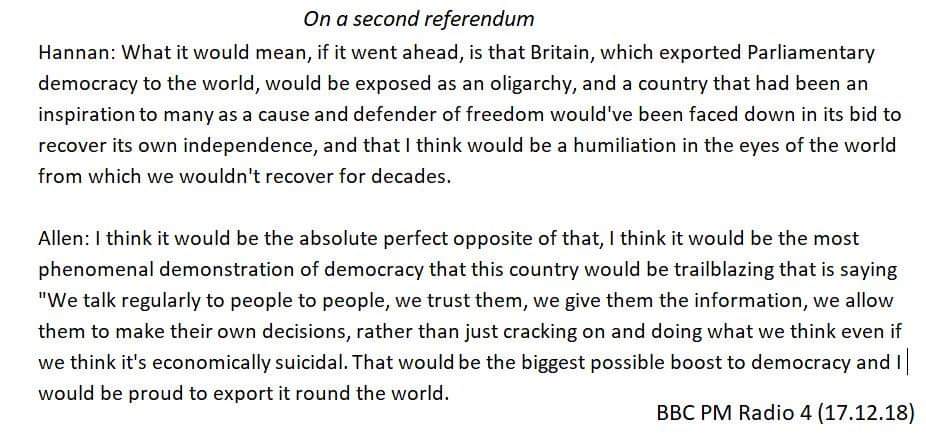 And if you would like to know a bit more about Donald Tusk, son of a carpenter & a nurse, then read on: