Over the last two days I've been investigating antisemitism in Corbyn supporting Facebook groups.
Here I show an image, highlighting just a few of the many antisemitic comments I have come across.
Remember this comes from self-styled Corbyn supporters.
/1
#LabourAntisemitism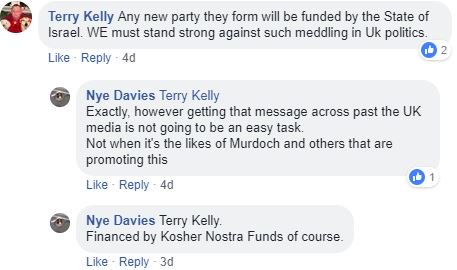 Now I look at the antisemitic nature of Nye Davies response to Terry Kelly.
First of Nye totally agrees with Terry's antisemitic trope.
Then Nye shows how demonisation of Israel can cross over in to antisemitism, through the idea of media owners spreading their propaganda.
/3
Now its time to unpack this remark in all its antisemitism.
- Take the first two words financed by - its the idea that Jews have endless amounts of money to buy the media, politicians, bankers etc - it goes back to the idea of Jewish elites controlling the world.
/5
Time to look at the use of the term Kosher Nostra Funds by looking at each word in turn.
- The use of the word kosher has sadly often been misused by antisemites to talk about a so-called kosher conspiracy against the world on behalf of world Jewry.
/6
What I have revealed is just a snippet of the antisemitism running like an open sewer in a variety of Corbyn supporting Facebook groups.
In the last week the antisemitic rhetoric in said groups has become even worse focused on attacking Luciana Berger.
/10
Over the next week I will be highlighting much more of people in these groups present, engaged and involved in antisemitism.
It will stand as a reminder that anyone saying that
#LabourAntisemitism
is made up, a smear and non-existent is wrong.
/11
Regardless of you political background, race, religion, colour, creed and gender we need to stand up to all forms of hate, including antisemitism.
So please retweet, like and share my latest thread widely.
/12
After all as
@RachelRileyRR
says
#BeLouder
.
#LabourAntisemitism