You want to know how you get the mainstream media to stop this bullshit of trying to destroy people with fake news narratives?

You inflict a massive amount of FINANCIAL PAIN on them, for starters.


Reminder: CNN got up off it's ass and FIRED three reporters after they published a Fake News story about
@Scaramucci
because they were facing a $100 million libel suit.
@Heminator
makes a good point here. You might see SEVERAL media outlets suddenly firing people soon....


And .
@Heminator
makes another excellent point here. If I had a dollar for every time in the past 4 years people tweeted angrily at me "WHEN ARE YOU GOING TO TALK ABOUT [fake media scandal of the week]???!!! WHY ARE YOU IGNORING [fake media scandal of the week]??!!"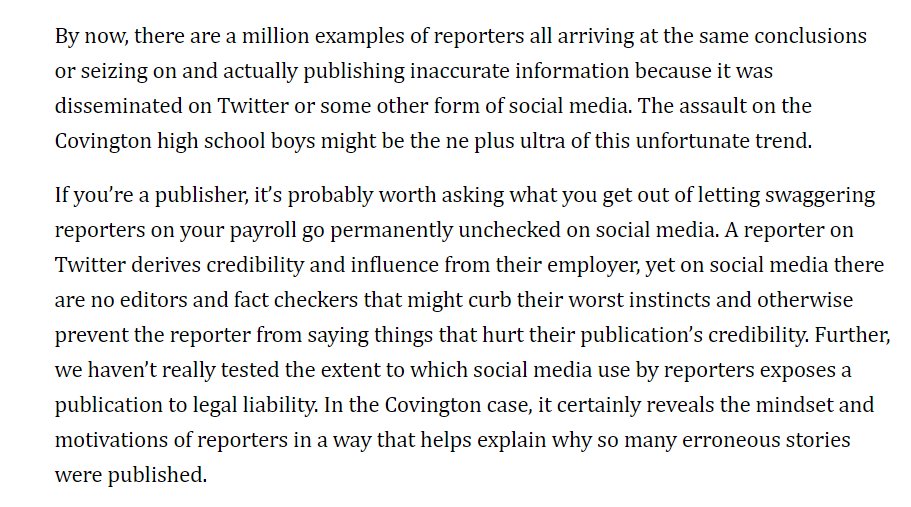 People on BOTH sides, Left & Right, Conservative & Liberal, now drive fake scandals/outrages on here every damn week.

I learned *a long time ago* to use the 48 hour rule before we even coined the phrase "Fudge Rule" or "48 Hour Rule".
I've had people angrily tweeting at me why I'm not covering that Jacob Wohl presser where he's revealing VITAL INFORMATION about how Bob Mueller raped a couple of women.

Or why I'm not talking about the "Huma drinking baby blood" satanic sacrifice video or whatever.
How about...because I've been SUCKERED into passing on fake outrage scandals in the past and unlike a lot of people on here, I actually learned from my mistakes and I don't have this overwhelming urge to pass on some cool super hot new outrage 'news' because it fits my biases?
Holy shit. I mention Wohl and then this gets RT'd into my feed not 10 minutes later.

Roy Cooper does not appear in this picture.

This is exactly the kind of bullshit that gets people in trouble. Notice who spreads it, stay away.