When Q says that "we are the news", there's an upside and a trap. The upside is obvious: real events are now being told and analysed via social media, not
#FakeNews
. The trap's clue is in the name "news": we need to see beyond the sensational "NEWs", adding contextual "OLDs" too.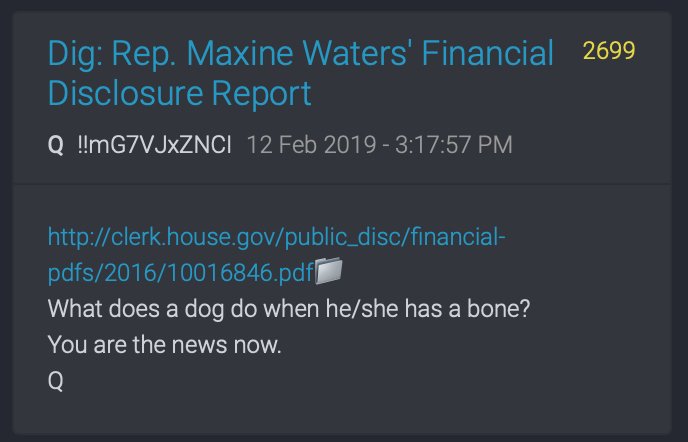 In the mass media, you have to cover your cost of production and distribution. For newspapers and magazines (and to a lesser extent TV and movies), the latter is significant. Social media is very cheap to produce and distribute. The Reddit/Chan model surfaces good stuff quickly.
In the competition for market share and readers/viewers, there has always been a "race to the bottom" effect that rewards sensational headlines, breaking stories, and fear mongering. That which is "new" makes the "news" what it is. We ought to be wary of this for citizen media.
The populace has been kept bamboozled for decades by "breaking news" that has all too often been a mix of distraction and disinformation. This format is ideal for natural disasters, sporting dramas or shock events. Merely becoming the "new news" may not be the top prize on offer.
I spend many hours online piecing together the "bigger picture" narratives, which cross many subject areas and disciplines. It is only when you grasp the context and complexity can you really make sense of what is new. Even then, of the "news", what is interesting is not newness!
The thing we are really interested in is anomalous information. What new data may make us go back in time and rethink or reinterpret what we wrote before? What is "expected variation" versus "special variation"? A lot of "news" is really just the noise of the world's randomness.
The booby prize is to become that which you have defeated. If we are not mindful of how the news industry became blanket propaganda, then we may be disappointed by where "digital pamphleteering" takes us. The same competition for attention rewards premature reaction.
Imagine that your browser kept track of every article you read online, and also had access to an index of articles that have been withdrawn or modified. Would you like to know that the author has repudiated some of what they said in the past? How could this behaviour be rewarded?
This may or may not be a desirable feature, but it illustrates the possibility of doing things differently. We can attach all of our sources to our articles, add audit trails & "notary" services to non-repudiate any part of those. The concept of what "news" means is up for grabs.
The next few years promise monumental change. The corrosion and collapse of old models that supported the
#DeepState
economic system creates vast new spaces to rebuild and reimagine industries. "You are the news" has a double meaning: we are indeed making as well as reporting it!