NOT four year schools. ALL have strings attached. Few have the grants for books and other expenses Hillary's plan had. NONE have the help Hillary's plan offered to students who are parents. Why use this misleading headline instead of FIGHTING these programs as insufficient?
In fact, the Tennessee Promise program that article highlights was signed into law in April 2014, a full year before you announced your candidacy in 2015. President Obama praised the program and urged other states to follow suit. Many did. Why are YOU implicitly taking credit?
Oh no, it wasn't good enough for you. Surely the millions of people currently struggling on poverty wages of $7.25 an hour fully support your principled stand, happy to wait *years* until your own bill passes and they'll get an almost immediate raise … to $8.55 an hour.
You voted *against* the 2007 comprehensive immigration bill. Worse, you've been lying about the number of guest workers for years. I, for one, don't want to replace the man in the Oval who lies about immigration
#s
with another one who does the same.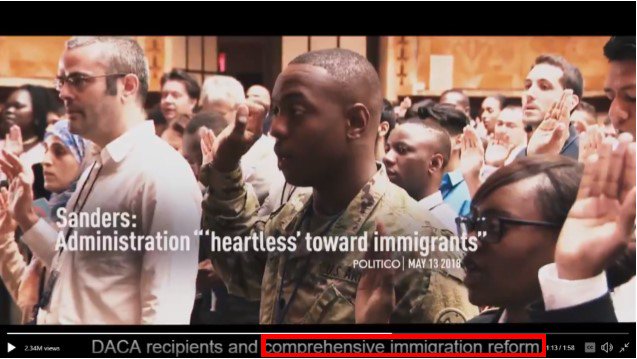 It's true Hillary said your *2016* M4A plan "would never happen." But YOU agreed w her. When you had to sit down & write an actual bill, you made several significant changes. btw, when you intro'd your incomplete bill in Sept 2017, you said you'd intro part 2 later. Where is it?
Many of those who DO understand it's a national SP system *oppose* M4A bc they believe M4A's coverage is the same as current Medicare, with its limited benefits, deductibles, co-pays, and need for private supplemental ins and premiums.
So maybe take a pause before boasting about moving M4A from "unthinkable" to "thinkable" (and certainly not "accomplished") bc the jury's still out on whether you've helped or *hurt* Democrats' long-time goal of achieving truly universal, guaranteed healthcare for all.
Granted you *did* host a climate change town hall a couple of months ago. Great! Then you admitted you had no plan but, not to worry, you'd unveil a bill soon. You still haven't. You wouldn't even step up and take a leadership role on the Senate's energy committee ffs.
You protested in college in the early 60s. Credit for that. Then you went to hear a speech by MLK Jr. That must have been inspiring. What did it inspire you to DO? It didn't inspire you to vote. Didn't inspire you to participate in any more protests.
Maybe it inspired you to take less direct action. Like appreciating the value of diversity, listening to people with diff backgrounds other than your own WWC (or not-working class) experience. So how many decades passed before you listened to those voices? Before you hired a POC?
Side note to BS apologists: Stop f**king excusing his ignorance +/or his inability to talk to black people by saying he lives in white, rural VT. There ARE black people in VT he could talk to if he wanted. And he's been living part-time in DC for 28 f**king years now.
Stopping here. Not bc there aren't other misleading slides in your video or areas where you're taking credit for work done by others, but bc the thread's already too long & I'm tired. Tired of your grandstanding. Tired of your constant bullsh*t. Tired, so very, very tired of YOU.