Is the Mueller report going to be published on March 26??!!
Here's WaPo, advertising its edition. Published with Simon & Schuster. No publishing date given. 1/8
tinyurl.com/y2s7g3bu
Even more remarkably, Amazon is advertising what seems to be a different edition, and with an introduction by Alan Dershowitz! Amazon publishes a book cover attributing the report to the Dept of Justice! 2/8
tinyurl.com/yxou8l3b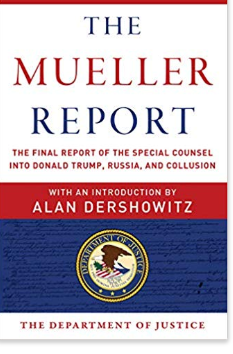 The publishing date is actually given on the Amazon site: March 26!
3/8
I'm not quite sure what to make of this at this point, except it does seem reasonably certain that Barr has made the decision to let the Mueller report be published, which is very good news.
4/8
But the best news, assuming that it can be taken at face value? The Amazon site says the book is 960 pages.
Yes, read that again. 960 pages. If most of that turns out to be the Mueller report itself, and not just Appendices and Dershowitz's BS, it is huge.
5/8
A 960 page report by Mueller is not going to be a "nothing to see here, let's move on"; you've seen all the indictments I'm going to make, so I'm closing up shop report.
Trump and everyone around him needs to be very, very, very worried.
6/8
If this is the real deal, pundits who were saying that the Mueller report will be a brush off, because Mueller is only concerned with criminal indictments, and there will be none, WERE WRONG.
7/8
This will be a counterintel report about the greatest political crime in American history.
Buckle up, folks. Whoa!
8/8