DOES ANYONE KNOW WHAT IS GOING ON?
Both of these books are on sale now at Amazon for release on March 26th, 2019.
By The Washington Post (Author)
🔖
amzn.to/2IPE9em
By U.S. Department of Justice (Author), Alan Dershowitz (Introduction)
🔖
amzn.to/2IKN2pr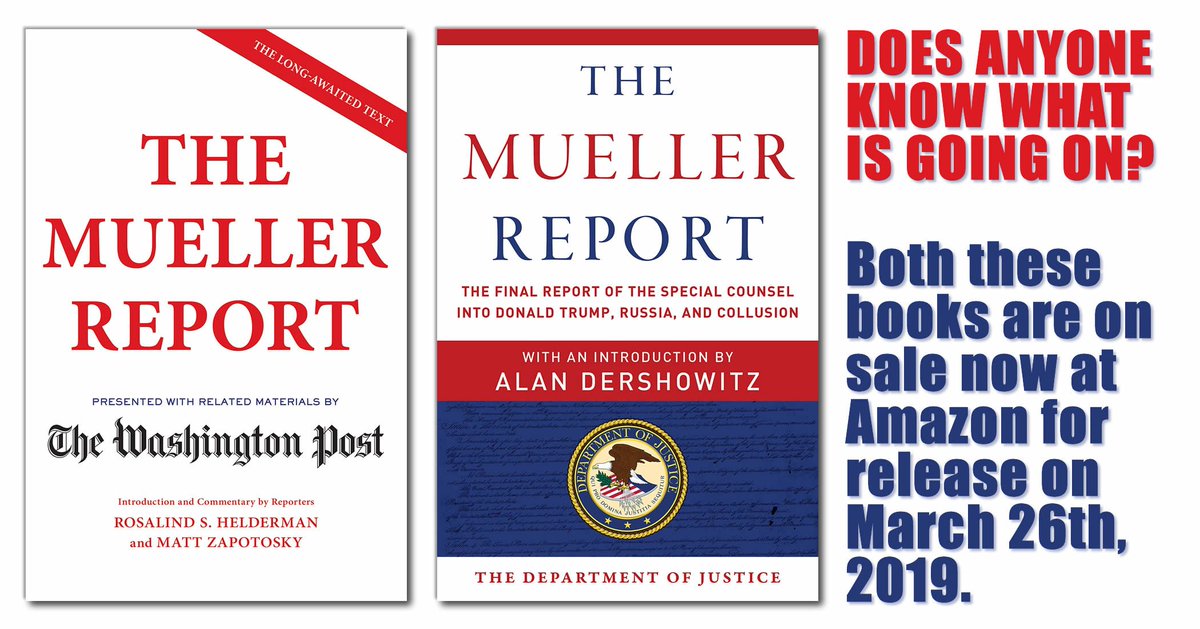 "The Washington Post is teaming up with Simon & Schuster imprint Scribner on "The Mueller Report," which will be available in e-book and paperback form within days of the release of the highly anticipated document."
washingtonpost.com/arts-entertain…
"In addition to publishing the findings of Special Counsel Robert S. Mueller (when and if they become public), The Mueller Report will draw on The Post's extensive reporting."
washingtonpost.com/pr/2019/02/28/…
"According to the American Booksellers Association, customers can now place pre-orders for two "upcoming titles" featuring Mueller's closely watched report, which is believed to be nearing completion, on the
IndieBound.org
website."
newsweek.com/mueller-report…
"Read the findings of the Special Counsel's investigation into Russian interference in the 2016 election, complete with accompanying analysis by the Post reporters who've covered the story from the beginning."
indiebound.org/book/978198212…
"Mueller, a lifelong Republican, has concluded his investigation and submitted its findings to Attorney General William Barr."
indiebound.org/book/978151075…
"Skyhorse v-p and executive director of sales and marketing, said the company is prepared to do a book as big as 960 pages, but is also capable of doing a much smaller version if the government releases a modified version of the full report."
publishersweekly.com/pw/by-topic/in…