Oh, it's my inner legal geek coming out, but I love reading IPO prospectuses!
Tech IPO prospectuses are like the 3 ring venn diagram between tech, finance and legal. Catnip.
I'm going to live tweet this!
@asemota
and
@pesa_africa
- weigh in!
sec.gov/Archives/edgar…
Bog standard B2C platform company so farm just Africa with German parent co, which is not so bog standard.
"We have historically conducted our business through Africa Internet Holding GmbH"
Raises transfer pricing as well a taxation issues :)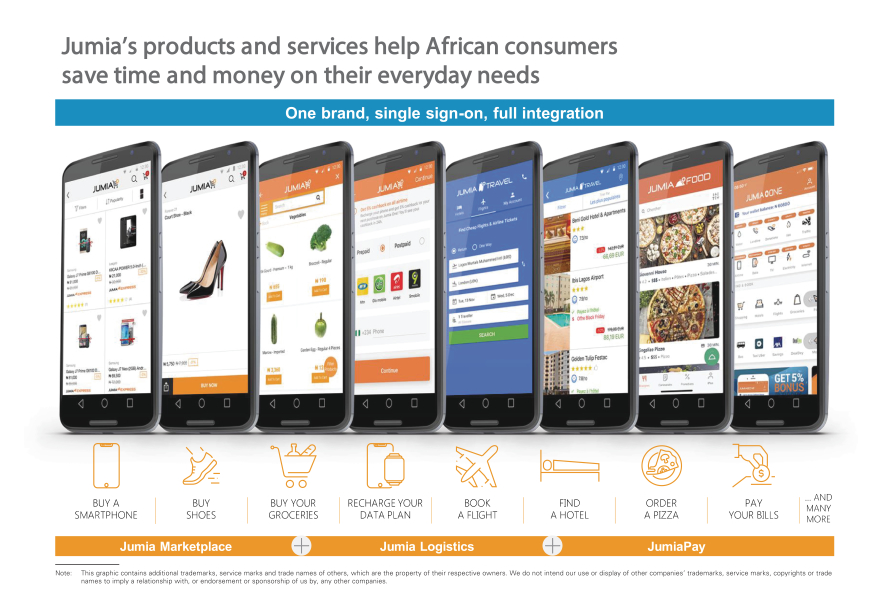 #Jumia
users, this true?
Mission: to improve the quality of everyday life in Africa by leveraging technology to deliver innovative, convenient and affordable online services to consumers, while helping businesses grow as they use our platform to reach and serve consumers.
Financial Definitions:

Gross Merchandise Value ("GMV") = total value of orders incl. shipping fees, value-added tax, b4 deductions: discounts, vouchers, cancellations/return

Platform Contribution corresponds to the gross profit less non-platform revenue less direct fulfillment
Financial Definitions:

Adjusted EBITDA corresponds to loss for the year, adjusted for income tax expense, finance income, finance costs, depreciation and amortization and further adjusted by share-based payment expense. Adjusted EBITDA provides a basis for comparison of biz defn
I find that financial definitions interesting.... there is a disclaimer in the last part

Adjusted EBITDA .... by excluding items that we do not believe are indicative of our core operating performance.

Trial lawyer brain: What interesting expenses are they excluding?
Full disclosure - I have a International - African blockchain B2B platform at
@KommerceTF
- I'm reading this for my own edification as well to find out what the business expenses and structures in West Africa will be like.
Interesting - data sources include Euro Monitor:
@kaizenkoh
let's see if there are additional sources we haven't grepped yet.


OK, dinner break in Singapore.
Reports of dinner have been greatly exaggerated. Back to tweeting.
If you know India or emerging markets, you know markets are super lumpy in terms of price and quality of goods - and geography.

Market size is overstated due to logistics hurdles. You mainly have urban consuming markets - India VCs/entrepreuners want to weigh in?
Another optimistic macro statement:

... we believe that e-commerce in Africa is well positioned to grow. In 2018, less than 1% of retail sales for countries measured in our footprint in Africa were conducted online, compared to nearly 24% in China, according to Euromonitor.
This is something I've been following - unless you have whatsapp or facebook stores - or some other zero rated data channel, you also have issues with reach. The feature phone to smart phone divide is also 50-50 or just over it.

Next billion users requires creative approaches.
@KommerceTF
has used this as a place to start thinking about how we architect our mobile and desktop apps - if you're working in emerging markets, you should too.
developers.google.com/web/billions/
you also need to think about how telco deals for zero rating change user behaviour.
ok, back to topic, Jumia:

... a large and diverse group of sellers offer goods in a wide range of categories, ... ... with easy access to ... services, such as restaurant food delivery, hotel and flight booking, classified advertising, airtime recharge and "instant delivery."
On our platform, we had 81 thousand Active Sellers as of December 31, 2018 and a total of 4.0 million Active Consumers as of December 31, 2018.

*Note that this is on a 12 month basis. Better metrics would be Most Active Users definition.
Shilling the platform story + network effects:

We believe...number and quality of sellers on our marketplace...breadth of their respective offerings, attract more consumers...increasing traffic and orders...attracts even more sellers..creating powerful network effects.
Well, it's not about platform effect unless you fix the transaction cost economics for the consumer - and transaction costs are never about JUST the price, it's about search time and energy.

Yahoo had all that - but because the search transaction costs were terrible , google WON
Interesting: Jumia participate as principals on platform:

In 2018, approximately 90% of the items sold on our marketplace were offered by third-party sellers, while we sold the remaining 10% of items directly in order to enhance consumer experience in key categories and regions.
What I want to know is what Jumia sold as principal in which markets, at what price/market segment.

I remember the kerflafle that Amazon basic created amongst sellers who saw their income drop off.
Gross Merchandise Value sold up 60% to EUR 828m (2018) from EUR507m (2017) - this is the trade they facilitated in 14 Markets, with 5K people including logistics.

Revenue didn't quite scale as much EUR 130m (2018), up from EUR 94m (2017)

Net operating losses levelled off.
Consolidated operating loss increased from €154.7m (2017) to €169.7m (2018)
Consolidated loss increased from €165.4m (2017) to €170.4m
(2018)
"On a platform contribution basis, we generated €8.7 million and €14.3 million for 2017 and 2018, respectively."
What dis mean?!
Platform contribution reflects our platform's operating performance after expense items that are variable in nature, primarily direct fulfillment expense (freight and shipping).

Still don't understand what platform contribution means? What's merchant the fee structure?
Some better news: In addition, in Nigeria, our largest and most mature geographic market, our platform contribution after other fulfillment expense was positive 0.9% of GMV in the second half of 2018, up from negative 2.0% during the same period in 2017.
I sorta regret offering to live tweet - this my first time livetweeting a whole prospectus. I read the whole thing over dinner, cover to cover.

I now have nothing but the utmost respect for people that generate twitter and internet content - I honestly don't think I can do it.
taking a different approach - reading and clipping, will repost later.
Somethings that standout, halfway through clipping - their revenue numbers for fulfillment are 17.2 million - but their costs are multiples of that, which means that they are losing money on the logistics that they handle.
Ooh, I thought of another thing - will get a friend in the e-commerce space to add comments + insights.