Here's your weekly reminder that after the FBI got a FISA warrant granted targeting
@carterwpage
& claiming he was a traitor working for the Russians, it's over 2 years later & he hasn't been charged with a single thing:
foxnews.com/politics/fbi-c…


Reminder: Page is a Ph.D and graduated in top 10% of his class from the US Naval Academy.
He is FAR more intelligent and accomplished than many of the TV/print media hacks who he has been forced to deal with since the SpyGate scandal surfaced.
en.wikipedia.org/wiki/Carter_Pa…
…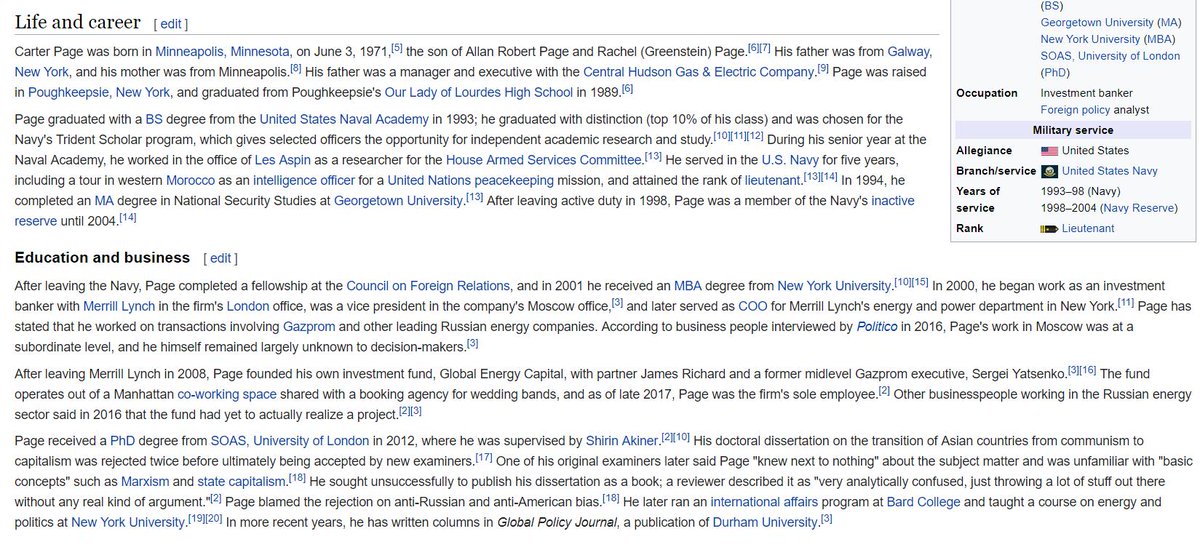 Most social media postings about Page are done by people who haven't spent all of 5 minutes researching him.

They just go with the popular consensus, that this guy should have gotten himself a brilliant lawyer and clammed up long ago, kinda like Tony Podesta. 🤷‍♂️
Weren't we REPEATEDLY ASSURED the FBI/DOJ had good, solid, VERIFIED EVIDENCE that
@carterwpage
was a Russian agent?
Isn't THAT why the FISA warrant was granted by the FISC?
Where'd all that VERIFIED EVIDENCE go, hmmmmmm? 🤔
While Mueller was investigating for the past 2 years, neither:
1)
Jeff Sessions
2)
Matthew Whitaker
3)
William Barr
or
4)
Rod Rosenstein declined or obstructed any request from Mueller to investigate/prosecute someone.
We all know at this point that the Steele Dossier was the basis for the Carter Page FISA warrant. That dossier describes CRIMINAL actions supposedly carried out by numerous people such as Trump, Page, Cohen, Manafort.

Mueller's ending without 1 indictment for ANY dossier claim
We know in early 2018 the DNC Media Complex, desperate to help out their co-SpyGate plotters, frantically tried to change the SpyGate narrative from the Steele dossier being the basis for the Page warrant to G PapaD having a chat with Australian ambassador Downer in a UK bar.
Switch it around all you like, you DNC Media losers. NOTHING CAME FROM IT ALL.

It doesn't matter which narrative you went with, Steele dossier or GP/Downer chat being the trigger for the Page warrant. Not ONE indictment from either narrative.

Isn't that just awesome?
The Fake News media on BOTH SIDES just got pantsed in front of the entire country.

Remember which peoplej on our side spent MONTHS telling you their cool 'inside sources' told them Mueller would never end, the end was not near, more indictments were just around the corner!
"I know people, maaaaaaan. I have someone on the insiiiiiiiiide, maaaaan. Don Jr. better clear his calendar because boy, lemme tell you folks, Mueller's about to INDICT Don Jr. and more! Keep watching my blog/Twitter/podcast as I dig further...maaaaan!"

[takes hit on Bong]
You know who doesn't have anybody on the inside? You know who has absolutely no inside sources?

ME.

I don't.

What's their excuse now for getting this all wrong?
All those people who spent the last two weeks running to my Twitter asking me about some prominent Righty blogger/media guy claiming they're 'hearing' Don Jr. is about to be indicted, it's coming any day now, I hope you learned something.
Either the inside sources these people had were conning them or they were lying their asses off.

But they got what they wanted from you, which was your attention and clicks while they peddled you bullshit.
A lot of disinformation and canary traps are out there, to be sure. But a lot of the people on the Right-leaning media are ratings/click driven same as the Left.

What was gonna get them ratings/clicks the last month, "Mueller's coming up empty" or "MY GOD LOOK OUT DON JR!"
Manafort and Cohen got busted for their own personal financial crimes. Nothing they were charged with was campaing or election-related.

Stone made himself a target by lying about a backchannel into WikiLeaks that didn't actually exist, got caught in a perjury trap.
Van Der Zwann [sp?] and Papadoupolos got caught in penny ante minor process perjury 'crimes'.
Same as
@GenFlynn
.
Corsi spent MONTHS BS'ing everybody he was a major play, Mueller about to indict him.
And now it's all over but the cryin'.

Schiff already screaming he's gonna subpoena Mueller, put him under oath.

Remember what I told you. THEY ARE ALL GOING TO TURN ON MUELLER.

Because he was honest or he was KEPT honest by people looking over his shoulder.
Mueller, honest or not, had a team of very partisan Democrats. You *know* they looked as hard as they possibly could. They were *HIGHLY MOTIVATED* to find something.

you just KNOW they were.

And they came up empty on collusion/Trump-related crimes.
They'll try this talking point: "Well due to the *limited scope* that the Mueller Special Counsel operated under..."

Ha ha bullshit.

Rosenstein made sure it was public they had a SUPER DUPER HUMONGOUS WORLD-WIDE SCOPE so big it dwarfed MT. EVEREST.
Mueller's team was allowed to look WHEREVER IT WANTED TO.
It was allowed to investigate & go after EVERYBODY it wanted to target.

Barr says in his letter today not once was the SC team told "No", they couldn't look here or there or go after a person they wanted to.
DNC Media aren't the only ones who get everything wrong/screw up intepreting the facts.

Plenty of people on our own side do that too.

Even at THIS late date they can't see what Rosenstein's real role in all this was.
Rosenstein is the guy who:
1)
was recruited by Trump to be AIR DROPPED RIGHT INTO THE MIDDLE OF THE SPYGATE PLOT in late April, 2017
2)
Immediately fired Comey, took the FBI's Trump/Russia investigation from McCabe, isolated McCabe
3)
Appointed Mueller & watched him like a hawk
4)
Got McCabe, Strzok fired, engineered the isolation/testimony of Lisa Page, Bruce Ohr, James Baker, allowing them to resign in exchange for cooperation
5)
ran the leak investigations & set up the new crack FBI leak hunting unit back in 2017.
But for the past year and a half people misreading all this have been selling you a narrative how Trump just can't spot the traitor right at his elbow, smirking and plotting against him.

That's why as a joke I started calling him The Nefarious Rod Rosenstein.
LITERALLY EVERYBODY IN AMERICA can see The Nefarious Rod Rosenstein evilly plotting against Trump....EXCEPT FOR TRUMP HIMSELF.

What a stupid narrative that was.

I'm really glad we're almost past the point some people can keep spinning it.
"Will no one save our great and clueless blind President, Donald J. Trump, from the evil clutches of The Nefarious Rod Rosenstein!

TUNE IN TOMORROW FOR THE NEXT EXCITING EPISODE!"
Congress is full of ass grabbing, drunken, grandstanding LEAKERS. On both sides.

Your negative view of Rosenstein is due to the VERY LOUD CONSTANT RELENTLESS WHINING of people like Jim Jordan, Mark Meadows & others that Rosenstein won't hand them the key SpyGate evidence.
Congressional committees are made up of - can you handle the brutal truth? - rabid political partisans who will LEAK whatever they are given.

The R's on those committees wouldn't get the the key SpyGate evidence in isolation.

Elijah Cummings, Adam Schiff & Nadler ALSO get it
ONE GUY had the THANKLESS JOB for the last 2 yrs of making sure stealth investigations/grand juries/sealed indictments were NOT COMPROMISED by these drunken ass grabbing grandstanding leakers relentlessly demanding he hand over the key stuff so they could campaign on it/leak it