1/11 - FWIW, & unsurprising given her expertise,
@carolmliao
nails it. I share many of her concerns. Despite looking into it since this conversation restarted, I can't uncover any good reason for "benefit corporations" under BC law. THREAD INCOMING
#socent
#CSR
#ESG
#companies
2/
#Corporations
in BC are already "benefit corporations", as best I can tell, less just the branding and/or (paid) certification. I've been a lawyer for 15 years, roughly the life since the BCE/People's cases, & have always advised directors to look after broader stakeholders.
3/I worry benefit corp or "B. Co" (I'm sure JUST COINCIDENCE it's so similar to
@BCorporation
brand) will imply that other corporations don't have same duties. Also, in trying to legislate "public benefit" may limit breadth of court (
@SCC_eng
) interpretation & oppression remedy.
4/From what I've read, "stakeholders" (to be clear, in Canada, including not just shareholders but also creditors, employees, public, govt, environment, etc) are better served by traditional BC/Cdn common law and statutory remedies than under "benefit corporation". Optics only?
5/Despite populist misgivings, overwhelming majority of companies & people running them, if asked, would legitimately say they try to do "good" for "public benefit". Balancing is hard, BECAUSE of breadth of "stakeholder", & looking after one often feels like injustice to another.
6/This is no special class or type of company. This is the reality of Canadian corporate law/obligation. Picture below is an excerpt of
@mcmillanllp
's "Bullet-Proof Board" publication (2015), authored by Markus Koehnen (now Ont. Sup. Ct. Judge).
mondaq.com/canada/x/43750…
.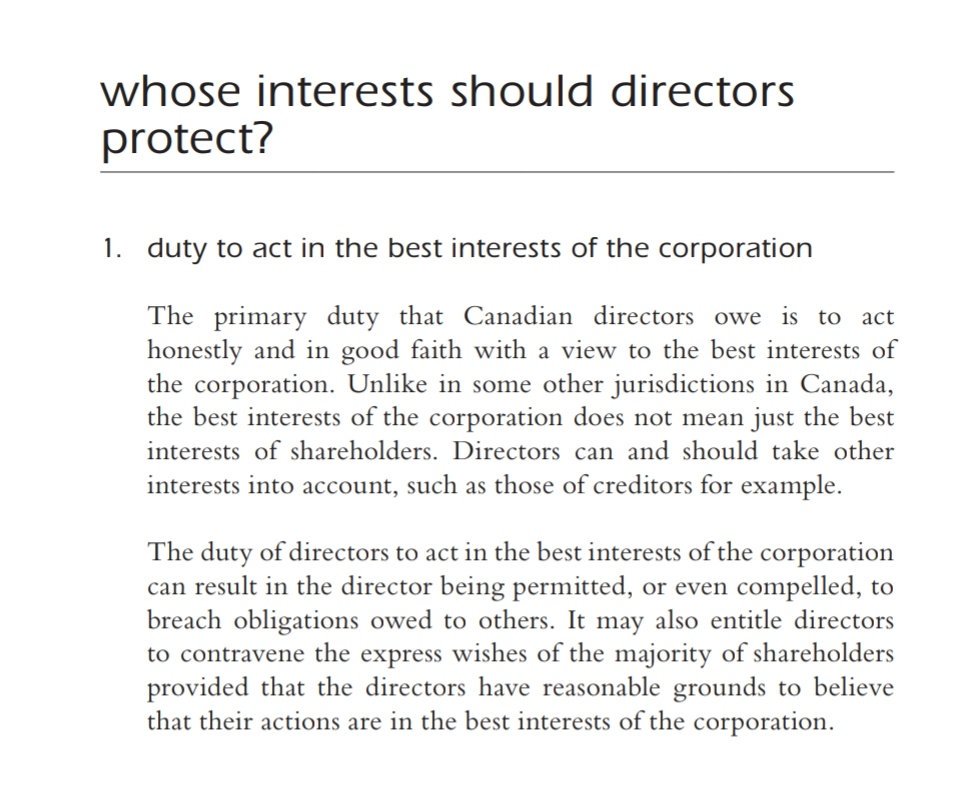 7/And from an article written by my mentor Karl Gustafson (with our then-student Renata Germann),
mcmillan.ca/mobile/showpub…
, clearly noting the rejection of US doctrine on shareholder interest and a much broader concept. This has been, and still is, the law in Canada.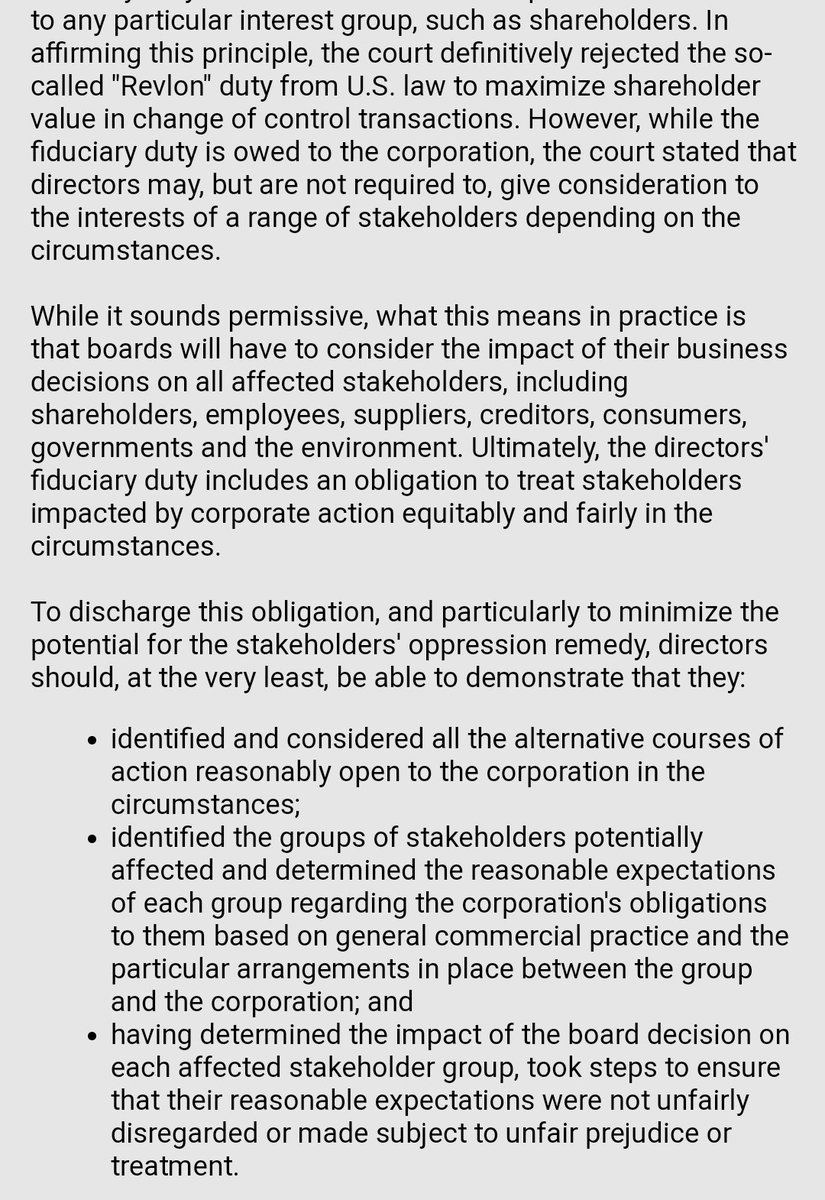 8/Just imagine how silly if we passed law creating a special type of voluntary employer that can't terminate employees "at will" without notice & can only summarily fire people for statutorily defined "just cause". In defining that, employees would be worse off than Cdn law now!
9/(In case the analogy is not clear, there is literally NO such thing under Canadian law as "at will" employment, which is a very uniquely American thing.) We would create a path to optic-only protection and unnecessary confusion about existing Canadian law!
10/Atending a webinar soon hosted by
@BCorpCanada
where I may learn more, but so far, it just feels benefit corporations are problematic at worst and unnecessary at best, particularly when key "hook" is legislative change that gives legitimacy to assessment and certification.
Bonus/To be clear, I applaud the
#CSR
and
#ESG
movement, and do not besmirch any attempt to reinforce the importance of
#corporate
#responsibility
and good citizenship. But we shouldn't create more problems than we solve.