Mitch McConnell may not just be covering for Trump here -- he may be covering for himself, and for the Republican Party.
We already know that Russia used the NRA to reach Republican politicians. If the NRA was compromised by Russia, the entire Republican Party has a problem.

Mueller reportedly investigated this as part of his inquiry. Maybe McConnell doesn't want that information to be disclosed.
From 2015 to 2017, Mitch McConnell's super PAC received $3.5 million from Len Blavatnik, a Russian-American oligarch w/ close ties to Putin & the Kremlin.

As part of the inquiry, Mueller looked into the "the timing of contributions coming from US citizens with ties to Russia."
In addition to McConnell, Blavatnik also gave millions in donations to Lindsey Graham and Marco Rubio's PACs, according to a Dallas News investigation.


The NRA is the most powerful single-issue lobby w/ Republicans. As of Feb 2018, 307 of the 535 members of Congress had benefited from direct or indirect NRA contributions.
All top recipients were Republicans. If the NRA is in bed w/ Russia, so is the GOP.
cnn.com/2018/02/23/pol…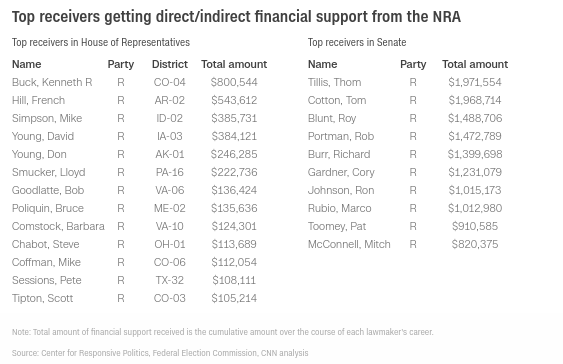 If Russia has access to 10 years of GOP emails, that means they have access to 10 years of GOP scandals. Since the emails weren't released, Russia has leverage over the GOP.

Again, McConnell may have his own reasons for suppressing the Mueller report.