Attending
@VanEconomic
talk about Benefit Corp legislation in British Columbia. Good to see a diverse crowd.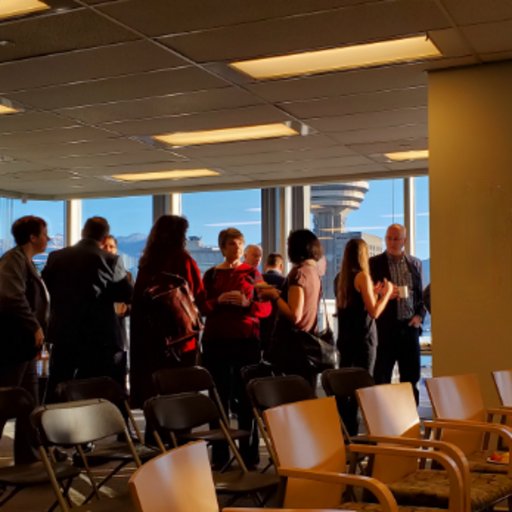 In opening remarks, CEO of
@VanEconomic
mentions there are nearly 70 "B Corps" (I assume certified by
@BCorporation
). Pretty good organic growth!
Now
@AJWVictoriaBC
presenting on the initiative. Benefit companies build on our brand in BC, the quality of our social democracy. Legislation is necessary to protect our strategic asset: our social infrastructure.
Legislation does some key things: build sustainability into DNA, increase accountability and transparency, require companies to promote one or more specific public benefits.
Legislation will expand duty to promote best interests of corporation to also include the best interests of those affected by corporation, wider stakeholders. Public accountability and transparency.
Engaging with stakeholders for more than a year, left legislation on order papers to further consult. Consulted broadly with academics, lawyers who work with "business companies", and other stakeholders, will be pushing forward soon.
Now
@Rick__Alexander
speaks to global movement. If B Lab was going to certify companies all over the world, it would just be a snapshot unless something in the DNA of the corporation. 250 Certified B Corps in Canada, already, without legislation.
In some states, necessary apparently to change legislation, but in other places it was not necessary but there was a lot of excitement. States B Labs recognizes that every jurisdiction is different; the organization of capital tends to lead to ignoring externalities.
Says that every opportunity the government has to enshrine the sustainability movement, it's a good thing. Short talk, not too many details. Leaving room for questions :)
Now on to 2 B Corp entrepreneurs. Starts from telling story of Patagonia being surprised by social impact of a one day Black Friday sale with social purpose (didn't catch, but point was that the groundswell was surprising). Led them to change purpose of business.
Asks whether it would be possible under current Canadian legislation for a widely held corporation to change business purpose not to focus on profits (as an open ended questions). I think the answer is yes? Evidenced by multiple existing b corps in Canada?
Getting a real anti-academic anti-"non courtroom" vibe from this speaker. Wants protection to pursue social impact, without proving it in a court of law (ie, if case law changes). Moving to BCE case (discussed by a non lawyer) and he believes it is a red herring.
Quotes BCE "cases may arise where interests do not align ... directors owe duty to corporation not to stakeholders" as evidence that the legislation is necessary and that BCE has no bearing on this legislation.
Next speaker focuses on benefit corporation legislation in that of you can't go down the B Corp pathway, you can still go down a different path. Funny moment, speaker apologizes to
@AJWVictoriaBC
for saying companies will lead positive change in the world, he agrees! Good panel.
Questions.. legal question to a non lawyer. Questionable answer.
Per
@AJWVictoriaBC
Legislation no longer needs a name change. Regulation will dictate process. B Corp and benefit company are separate. Legislative vision is that when you create an environment for benefit corporations, there will be competition for
@BCorporation
certification
Good answer by
@AJWVictoriaBC
even though
@BCorporation
is sponsoring - questions from crowd about what will be different for corporations under this legislation. Not a very clear answer from panel; talking a lot about opting in to legislation.
According to new legislation there will be no ability for stakeholders to sue?
@AJWVictoriaBC
spoke to many lawyers, and the "in the trench" lawyers are really worried about not having the certainty that legislation provides.
I asked another question: if current companies can adopt articles (as can proposed legislation), and can certify with third party organizations, what is different?
Detailed answer from
@Rick__Alexander
and
@AJWVictoriaBC
fundamentally comes down to having a "turnkey" benefit company that gives directors certainty that they CAN adopt broader stakeholders into articles explicitly without attracting additional liability.
Apparently a big feature in the legislation will be a non-financial, but injunctive, relief, though I'm not sure I saw who would have standing to bring it (shareholders or others?). In addition to oppression remedy, not in replacement of.
A co-op entrepreneur asks about how this new legislation relates to co-op; unfortunately second part of questions moved away from that so the answer doesn't address why or how legislation interacts with co-ops. Good answer on consultation. Questioner brings it back to co-op.
Some on panel not aware of a working co-op model, but corporations are really different beasts.
@AJWVictoriaBC
admits they didn't spend a lot of time investigating co-ops, as they see it as a different model. The government wants to explore that with coops, lots of time.
Good answer to a difficult question, I think. Hard to compare co op to conventional corp.
Next question about what happens if a company gets bought, presumably the new buyer can change articles.
@Rick__Alexander
notes that some B Corp and benefit corporations have...
... managed to keep their benefit status. Question is whether you can get sued if you are going for a transaction if the buyer doesn't follow the social benefits. Answer seems to be yes, through injunction. Unclear why this would give directors the certainty they want?
The phrase "triple bottom line" has probably been said 30 times today. Not that different than what I'm hearing from many existing boards.
@AJWVictoriaBC
indicates he is strongly motivated by having BC be a leader, because BC special position on social conscience, and...
... giving many businesses the ability to trail blaze. Cites
@patagonia
and
@hootsuite
as examples of companies that have blazed trails of BC ethos in business world.
Panel indicates that lawyers are leery to recommend changes to articles that benefit corporations legislation will permit, and give the corps some cover to do so. The "in the trenches" lawyers would apparently be very leery of recommending implementing article changes...
... without legislations protections. I guess it remains to be seen what the legislation actually does. I suspect there will still be some risks to taking on other stakeholders explicitly, though I'd point out that those stakeholders must already be considered under case law.
The certainty of the legislation (which can be amended) and the articles changes required (which can be amended) seems to be a big driving factor behind this as a first step, as opposed to the uncertainty of existing corp articles (which can be amended). Do I sound confused?
Overall I feel like the legislation will undergo significant changes since last version : no requirement to change name apparently, expanding best interests to include the corporation and other stakeholders separately, better limits of liability. Look forward to seeing the leg.
Apparently amended legislation will be introduced next week. Will definitely be reading it!